---
---
4 Men's Wallet That Can Never Go Out Of Fashion
---
9th June 2018
You can know a lady by the smell of her perfume and a man by the design of his wallet.
Elements of a Good Wallet?
When in search of a quality wallet to hold your hard earned pennies, look out for these five elements that ensures uprightness and longevity of the appurtenance.

1.Leather - When it's about leather grade, nothing can beat the quality of a full grain leather as it has been unprocessed thus adding a lush character that ages naturally.
2.Construction - Wallets are constructed by two methods: Turned or Cut Edge. When used the way of 'Turned', the leather undergoes a thinning process before stitching to attain a seamless bond. In Cut Edge method, the leather is cut and stitched and coated with resin on the edge.
3.Turnover - Testing a wallet's integrity is must if you plan to attain heavy monetary flow in it. The best way to do this is to look for narrow turnover and straight stitching.
Pleated Corners - Another key element of a well-crafted men's wallet is the pleated corners which bond the leather on the edge that has been thinned before turning into a strengthened corner. A poorly made wallet will have its pleated corners in the right.
4.Creasing - A quality wallet stands everyday rigours tasks.Look out for creases on leather made by hot iron on turned edge stitching when purchasing a wallet.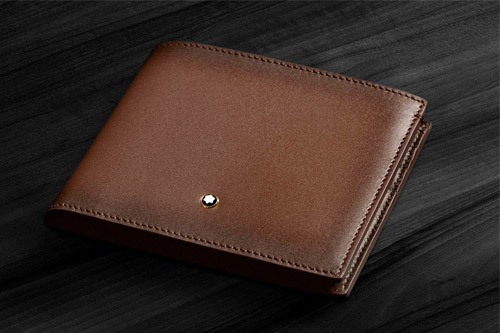 Which Are Some Of The Best Men's Wallet?
Tourmaline Intrecciato VN Wallet -
Bottega Veneta's famous intrecciato wallet is an affluent addition to a man's pocket and never goes out of fashion. Its modern design gives it a fresh look and refreshing vibe. The wallet has a space to hold six cards and has a central slot for keeping receipts. Being a compact piece with ample space, it takes care of a man's every single essential.
Meisterstuck Selection Sfumato Wallet -
Montblanc with its Meisterstück Sfumato Collection showcases the surprising discoveries from the past. An exclusive range made from the best quality leather, it highlights the painting techniques of the Renaissance period and features a delicate combination of colors, procedures, and tones.

Multiple Taiga Leather Wallet-
Louis Vuitton is a synonym of uncompromising style. The brand's Multiple Taiga Leather Wallet has an aesthetic design with ace quality materials and elite handcrafting. The vibrancy and color of the Wallet infuse a sense of style and class and the scuff proof leather has ample room for cards, receipts, and bills to be kept in the most proper manner.
Leather Card Wallet with RFID protection -
The luxurious creation of Harber London is a symbol of perfection for a man of quality and class. The RFID protection feature keeps your credit cards safe against skimming. Crafted from a vegetable tanned cowhide leather, this slim wallet holds around 16 cards.
---
Next