---
---
Indian polo | Jaipur Polo Season 2017
A Day Of Excitement On The 4th Day Of Princess Diya Kumari Cup
---
4th January 2019 | Jaipur
Sahara Warriors And Chandna Group Name Victory In Their Name On The 4th Day Of Princess Diya Kumari Cup
The Day opened with sunlight gazing towards the eyes of the crowd with sedating winds. Sun rising from the winter season to provide warm welcome to the afternoon. The crowd is waiting for the match to begin and horses are ready to show their incredible speed and bonding with the jockey. The 4th day of the 8th goal Princess Diya Kumari Cup of Jaipur Polo Season witness 4 teams contesting for a victory. Each team glancing towards the trophy and ready to leave their mark on this 4th day of the Cup for qualification.



SAHARA WARRIOR V/S JPRC
The 4th match of the 8th- goal cup of the Jaipur season, was in between Sahara Warriors and JPRC. Both teams show an incredible passion towards the sports and their capabilities are very strong.

Here are the team squad of both teams as follows-

| JPRC | SAHARA WARRIORS |
| --- | --- |
| Mr. Sunny Patel +1 | Mr. Hurr Singh -2 |
| Mr. Tarun Bilwai +2 | Mr. Vandit Golecha +1 |
| Mr. Vishal Nihalani +2 | Mr. Salim Azmi +3 |
| Mr. Vishal Singh +3 | Matthew Perry +6 |
The first chukker starts with both teams looking confident and ready to play the game with immense passion. Matthew Perry scoring two consecutive goals for his team, Sahara Warriors, to snatch the lead in the beginning of the game. Adding up to that, Vandit Golecha of Sahara Warrior scoring one more goal for his team to increase the scoreboard result as well as putting more pressure on the opposite team. Here ends the chukker with the results, Sahara Warriors-3 and JPRC-0.

The Second chukker under way with Sahara warrior looking comfortable but JPRC heading around with pressure. Here starts the chukker and Tarun Bilwai scoring the first goal for his team, JPRC. Vishal Singh adding to that, scoring 2 consecutive goals, one from strike and another one from penalty for his team so that his team can equalize with other opponent. The score is now Sahara Warrior-3 and JPRC-3. Seeking that, Salim Azmi scoring one goal and Perry scoring 2 goals for their team Sahara Warriors to snatch the lead again from the opponent team. Here ends the chukker with the result Sahara Warriors- 6 and JPRC- 3.

The third chukker undergoes with Sahara warrior leading with 6 goals and playing without any pressure. Vishal scoring one more goal for his team, JPRC, for an incredible comeback but out of sudden, Perry adding 2 consecutive goals for Sahara Warriors. Here ends the chukker with the results, Sahara warriors-8 and JPRC-4.

The 4th chukkers starts with Sahara Warriors looking handsome to win this match with good lead. Out of sudden, 60-yard penalty is awarded to Sahara Warriors team and Perry looking to add one more to his tally. He converts it beautifully and here ends the final chukker with the results, Sahara Warriors-9 and JPRC-4.

Congratulation to Sahara Warriors for victory. A great applaud to Matthew Perry's performance.

CHANDNA GROUP V/S ASC TEAM
The 4th day of the Princess Diya Kumari cup witnessed Asc and Chandna Group go head to head for the qualification. The 8-goal cup of the Jaipur Polo season Matchday 4 was full packed with total excitement and agony.

Here is the match squad for both the teams-

| CHANDNA GROUP | ASC |
| --- | --- |
| Mr. Ranshay Purohit -2 | Sep. Ravindra Mang -2 |
| Mr. Gaurav Sehgal +3 | Mr. Naveen Singh +2 |
| Mr. Ashok Chandna +2 | Mr. Maj Yatinder Kumar +1 |
| Mr. Manolo F. Llorente +6 | Mr. Shamsheer Ali +5 |
The first chukker under way with both team getting ready to mask the battle for glory to precedes in the tournament. Asc team favoured with half point advantage in the preceding of the match by the officials in the handicap. The first chukker ends with the scoreboard result Chandna Group- 2 and Asc Team-1.5.

The second chukker undergoes with game going end to end and Both teams looking for victory. Chandna Group out of nowhere scoring 3 more goals to made its lead higher. The Asc team scores only adding one goal to the scoreboard. Here ends the chukker with results, Asc Team- 2.5 and Chandna Group-5.

The third chukker undergoes with Chandna Group looking gloomy to win the match. The end result of the chukker was Asc team- 5.5 points and Chandna Group-7.

The fourth and final chukker started with both teams contesting for victory and score can balance towards any side. The chukker ends with final chukker Asc Team-6.5 and Chandna Group-8.

Congratulation to Chandna Group for victory.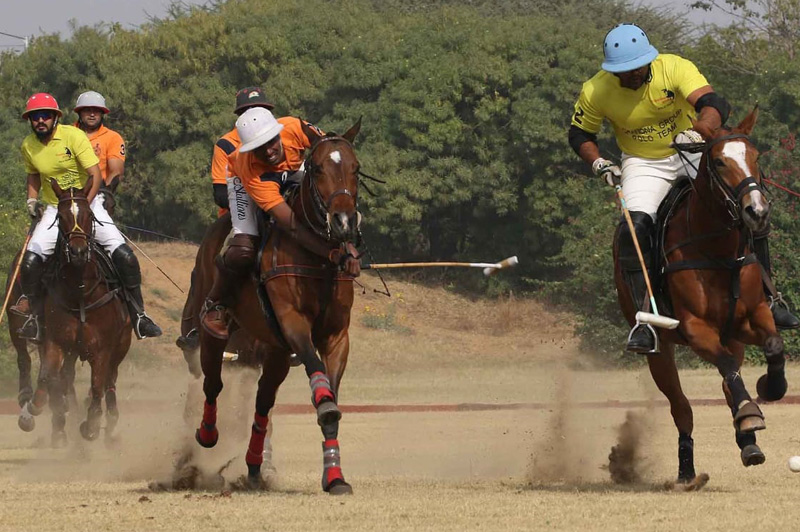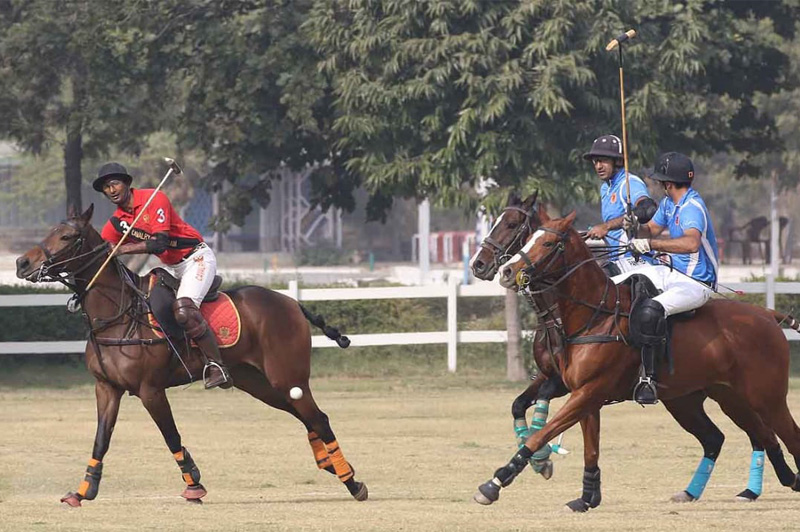 ---
Next