---
---
50 Things Equus
---
When we talk about equestrian life and love, it's not a small list of things that can be put in a bucket. A large variant of tales, festivals, beliefs, analysis and study make the equestrian world as graceful and polished as it is. As we reach our milestone, we remember some of them:
Horse Whispering


The technique of horse whispering has been critically questioned and doubted. People have also questioned it for being real. But experts from across the world, like Andrew Frogott, Manjeev Chaudhary, Frank Bell and Nicholas Evans, have explained how horse whispering offers a unique way of opening up a line of communication that is far more fruitful than the language of coercion.
2. Yoga and Equine
Equestrian yoga or horse yoga is all about connecting with nature along with the horses. It improves the connection between man and horse. The practice was created to work on core stability and balance. It focuses on balance, body awareness, strength, breathing and presence of mind. It is about working with the horses on an emotional and energetic level to overcome the fears that entrap us, for personal transformation and healing.
3. Making Of A Better Horse Rider
It is never too late to start, and if you are already a horse rider, here are quick tips to get you the extra mile ahead from the rest. For this, we suggest three go-to exercises, which are--Side Planks, Hip Stretch and Bent over Row.
4. Show Jumpers Life
In an open letter to LA POLO, Belgium Showjumper Nick Verlies shared his routine. He said: "Keep in mind that a good, flexible, well-schooled horse is the base for every good jumping routine. This is THE moment to work on your technique. During these technique-trainings, I focus on half-turns, straightening the horse, travers, renvers, shoulder control, and so on."
5. Coming Out Stronger
Following the suspension of sports around mid-March, the world witnessed a collective pause. The good news is that now equine sports is on track. The sport, which has been sidelined in comparison to other popular ones, has proved its uniqueness during these trying times. While most sports require human contact, they have been limited from play. Equine sports require less of human interaction, and more of the horse and its rider, which has been a boon. The animal is immune to the threat of the coronavirus, and that has emerged as a plus point for the sport. The opportunity has grabbed the attention of potential viewers, as horse races are broadcast, to remove spectators on track. According to a report: "Sports betting itself is poised to grow exponentially in the near future, with the growth expected to be nearly $140 billion through to 2024."
6. Basic Care
Horses are loyal animals that will fill you with unconditional love. But maintaining a horse can be a task. Till the day it goes on the field, a lot of hard work is involved. While most of us take care of the exercise and fitness of the horse, what we overlook is dental care. Horse dental expert, Dr Akruti Choksi, shared with LA POLO tips to take care of the oral hygiene of the horse.
7. Back In The Past
Talking of the threat to equine life, Dr Hasneyn Mirza, a well-known equine vet, said: "In the late 2000s, some areas in the world were hit by Influenza (horse flu), though it was not a pandemic. The Influenza outbreak was limited to its place of origin. The Australian Influenza remained and affected the horses in Australia only and the same was for the condition of Influenza in India. It never spread across to other nations, as the Covid-19 outbreak has done."
8. Farriers View
Duvernay elaborated on the importance of keeping the condition of the feet in good shape. "Horses' feet have to be kept in good condition. All sports activities are limited or stopped, nevertheless we have to keep the horses in good health, and the feet should not be neglected. If your horse has good feet and he is not exercising much, he can easily be kept without shoes. The trimming is the most important, keep the balance of the feet, keep them trimmed every four weeks and when their walls break a little, give a little rasp to prevent the wall from being too damaged."
9. Wrestling On Horseback
Sports in Kyrgyzstan are beyond amusement, they are training for life. To live in the ragged mountain steppes, people need to be tough and clever, and sports helped them gain these vital qualities and aptitudes. Horses, alongside chasing hounds, were fundamental. Even today, most of the provincial populace follows a semi-nomadic lifestyle. Nearly everybody can ride a horse, and an assortment of horse games is played to showcase expertise and alertness. Wrestling too became an important segment of conventional culture, and still has impact today.
10. Holding history and Tradition
The Kurultaj festival in Hungary stands out as an important event for professional horsemen and horse-riding enthusiasts. Kurultaj translates to "meeting of the tribes". History suggests that Hungarian nomadic tribes would come together once in a while in order to make important decisions, often pertaining to military strategizing. The celebration of the Kurultaj festival began as a homage to this tradition, with tribes from all over the country gathering to participate in the festivities.
11. Grooming
Grooming a horse is like taking care of a child. Hands-on horse riders invest a great deal of energy and time on the ground with their horses. Grooming, leading, cleaning up horse manure, feeding two-three times a day, lunging, round pen training, bathing, braiding for a show, sharing heartbreak or joy, these are all interactions taking place from the ground. This is how genuine connection with a pony is built. Says author Sharon Jantzen, presently looking at the equestrian network, regarding San Luis Obispo (SLO) county in California and beyond, through SLO Horse News (slohorsenews.net): "The more time I spend with my horse doing activities from the ground, the more my horse knows my cues, and trusts my leadership. All this interaction transfers to our ride time together. In return, my horse learns to read my body language, even my emotions. My horse can sense when I am happy or sad, tense or relaxed."
12. Nomadic Life of Tibet
Horse Racing Festivals are among the most well-known celebrations among the Tibetans. The Festivals are a mix of Buddhist ceremonies, exhibitions of Tibetan culture and life, and sports like horse races, yak races, tugs-of-war, and so on. Riders show their skills and crowds wear their best customary clothing and gems. Nagchu/Nagqu (TAR), Gyantse (TAR), Yushu (Qinghai Province) and Litang (Sichuan Province) are the most celebrated horse festival spots, with Nagqu being the most famous. The Horse Racing Festivals are the best time to visit Tibet.
13. The First Lady
Julie Harrington will take over as chief executive of racing's ruling body in the New Year, replacing Nick Rust, who announced his intention to leave in January. With a background in racing combined with experience of senior roles in other sports, Harrington was seen as a strong contender from an early stage and has been the bookmakers' favourite to take over since April, when it emerged that she was interested in the post. Harrington becomes the first woman to head racing's regulator. "Julie's hands-on knowledge of horseracing, coupled with her governance and business experience, make her the ideal person to carry on with the task of restoring sustainable prosperity after the Covid crisis," said Annamarie Phelps, the BHA chair.
14. Festivity of Mongolia
The Naadam Festival of Mongolia is a true specimen of its nomadic culture. The one-of-its-kind celebration brings together arts and sports. It's all wrestling, horseracing and archery coupled with performing arts. The Khoomei singing, the Bie Biyelgee dance, oral traditions, and national cuisines, make for major events at the festival that natives look forward to each year.
15. Royals and Their Horses
It is difficult to think of royalty without horses. Some of them, like Chetak and Leili are so famous that their stories and the bond shared with their masters, have been quoted in folklore and ballads.
16. Back On Tracks
With Covid 19 taking a toll on the world, it has created two types of people. Explaining it further, we had on board Monique Van Haarst, who said: "There are some who are suddenly super-fit and have been working out every day due to boredom, and there are some who have enjoyed the long holiday and devoured 1,000 books and snacks." Haarst says the former type are ready to get back in the saddle! "Just remember that you might be overfit so don't expect that from your horse!" For the latter type, it's important to get moving! "We don't want to be a clumsy heavy backpack on our horses!"
17. Horse Training
When a horse is trained, it is constantly getting sharper on the aids. So, in the game, riding should be easy and quick. Besides that, you want to make the horse stronger and flexible so its body can handle what we're asking for. To prevent injuries, getting your horse back to work has to be slow and steady.
18. Stable Management
Timely vaccinations and stable management go a long way in protecting horses. Since horses are at rest due to the Covid-19 interruption, they may suffer some loss of performance. However, the time can be utilized to take care of the horses. More ground work can be done to keep them flexible and responsive. "Education is the key. If you equip people with knowledge, they have no excuse for not being responsible. You'd never let a driver on the road without any lesson, so why do we presume every horse owner or breeder automatically knows what to do?" asks Lucy, horse expert and founder of horsefactbook.com.
19. The Kissing Game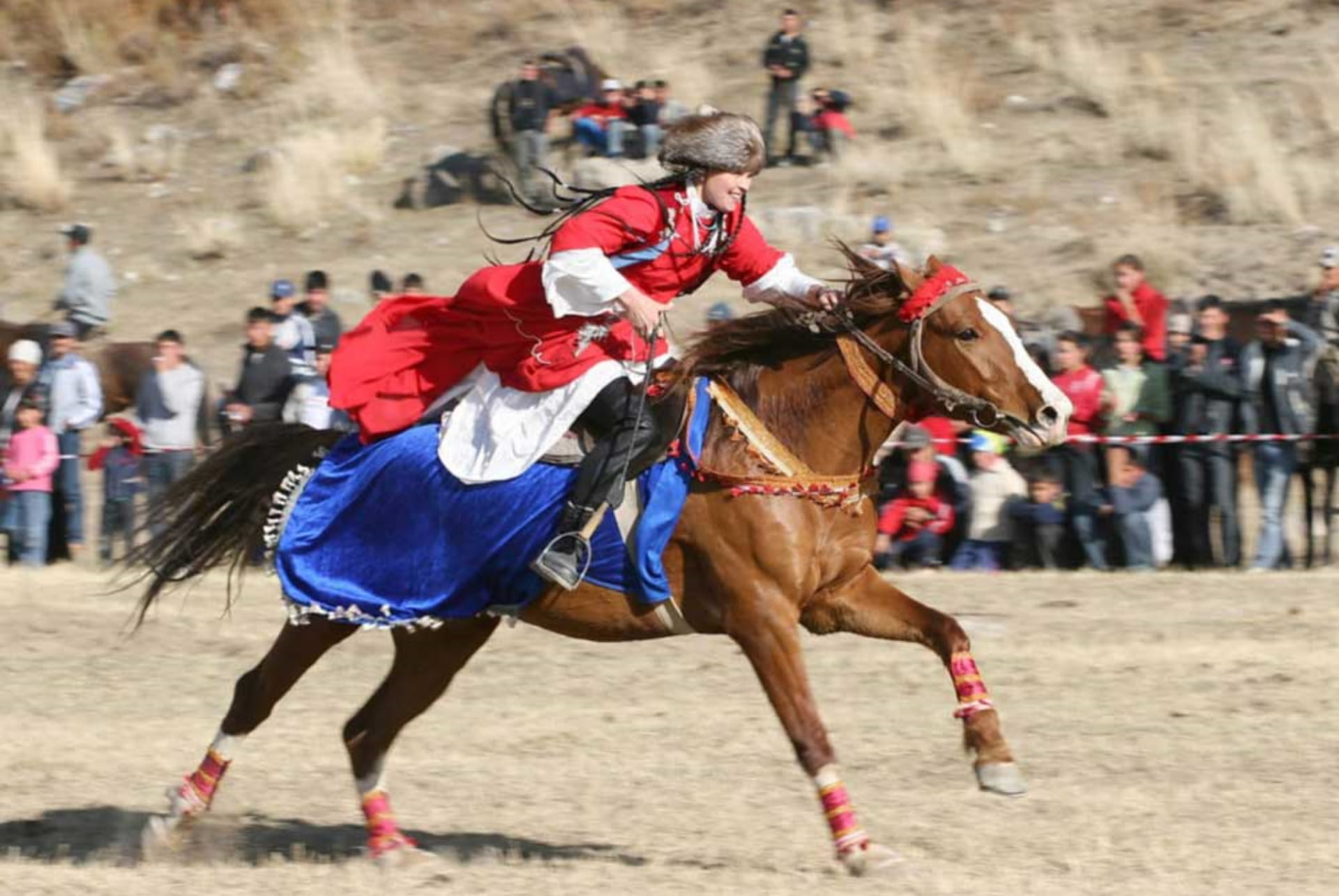 The Kissing Game is peculiar among the Azerbaijanis, Kazakhs and Kyrgyz, where it goes by the local name of Kyz kuumai, Kyz koo-meaning "chase the girl". An impressive portrayal of tradition, amusement and skilful horse riding, the game involves a guy mounted on a horse to chase a lady galloping a little ahead of him on a pony. Before arriving at the finish line, the youngster ought to reach out to the lady and "steal" a kiss from her to emerge victorious and make up for the time lost. However, if he fails to do either, the girl has to lead him back to the beginning line and also slash him lightly with a whip she carries which marks her triumph instead.
20. Panoramic Vision
According to scientific research, horses have a "panoramic vision". This means that the horses have "monocular vision" as well as "binocular vision". With the help of "monocular vision", horses are able to see their surroundings from both the sides, with either of the eyes. "Binocular vision" is straight away directed down to their nose and not straight, which proves that horses do have a blind spot just right in front of the forehead. On the other hand, horses do have an advantage because of their wide eyes. It is a horse fact that horses, due to their wide eyes, are bound to see a lot more. That is, they can even notice a slight motion. Also, in a research, it was proved that horses can see well even from a distance, that is 20/30, while for humans it remains 20/20.
21. Man and The Wild
Someone desiring to witness the taming of rugged, equine and lively festivities shall look out for Spain's S Rapa das bestas. Organised in the serene hills in the village of the same name, the festival tests the valour of the participants, where they are required to perform an apparently dangerous task of cutting the manes and tails of enclosured wild horses and tag them with a microchip. The locals also attach significance to the patron saint, whom they claim to shield the participants from any possible harm or danger. The Covid outbreak has put an uncertain halt on the organisation this year, but natives eagerly look forward to another rendition of the festival so as to not miss out the good food, wine, and dance.
22. The Partnership
A unique horse-man partnership is seen in the Moroccan Fantasia. The reflection of Moroccan culture is manifested in Fantasia and is a regular sighting at festivals and weddings. The sight of white-clad riders treading along a distance of 200 metres in a single queue to fire gunshots using muskets at the beaming sun is what we do not come across very often. However, what makes the equestrian sport stand apart is the incorporation of martial arts and cavalry raiding in it. Changing times have brought in women riders as well. The nomination of the festival's highlight Tbourida to UNESCO's World Heritage List marks its unquestionable position in Moroccan lifestyle.
23. Natural Horsemanship
Yet another Kyrgyz festival is the National Horse Games festival which is primarily organised to give a push to the travel and tourism industry. Apart from events ranging from racing, wrestling, and horse riding, the Tyiyn Engmei-meaning "grab the coin" demands intricacy and immense flexibility. Tyiyn is 1/100th part of a som (national currency of Kyrgyzstan) so the game involves Tyiyn coins laid on the ground while men have to snatch them while galloping on a fleeting horse.
24. The Fit Horse
Preparing your horse before the event should never be underestimated. The pandemic has put a long break to all the action, so we bring to you a few methods to get your horse back on track.

1. Take your horse on long walks.

2. Allowing your horse to do lunging once or twice a week enhances fitness greatly and is useful for developing the muscles that go under the saddle. Transitions can always be made here as per the requirement.

3. Long interval training is not an advisable option; long but low-intensity exercise sessions followed by high intensity work and a period of rest in walks is better.

4. Gymnastics and poles must be used to help the horse become agile and flexible. However, keep the jumps low to avoid straining the horse.

5. Hacking is a great option to build the horse's fitness without all that drudgery in the training school. An hour of hacking is more than enough here. Horse experts even speculate that restricting horses to stables may develop injuries in them. It is also suggested that basic care should never be overlooked, extreme training sessions should be avoided. Furthermore, the feet of horses should be trimmed every four weeks.
25. Soma Nomaoi
Soma Nomaoi is the showcasing of equine pride in the Japanese region of Soma. The sport was discovered by the founder of Soman clan in the 10th century who, in order to train his best samurais, released hundreds of robust wild horses on vast plains to be captured by these samurais. The three-day festival commences with a departure ceremony of the supreme commander with full pomp and splendour. A horse race Yoinori organised pre-event finds traditionally dressed men competing for a 1000 m loop using traditional techniques. This is succeeded by a monumental procession called Ogyourtesu-which is an attempted portrayal of invincible marching of warriors towards training camps. Another much awaited horse race is Kacchu-Keiba where one can acknowledge ancient banners uniquely fastened at the back of each rider. Cultural festivities are at their best with another event of scores of samurai rushing to open fields as two sacred flags are shot through the mouth of canons in the air. The lively festival concludes with a procession of horses dressed up in shiny white ready to be offered to the Odaka shrines.
26. The Loyal Animal
"Horses not only remember people who have treated them well, they also understand words better than expected, research shows." -Jennifer Viegas

Horses are claimed to be among the most loyal animals. It has been scientifically proven in various research and studies that horses are friendly animals. They not only remember their trainer or master but also are willing to remember anyone good towards them. As a matter of horse fact, horses remember a good gesture by any human forever. Humans friends may come and go, but a horse will remain forever!
27. The Palio
The scenic city of Siena hosts a euphoric crowd every year for the oldest horse race in the world--Palio. The city turns different at this time of the year as everyone takes part in this guessing game. The rule of the game is that there are no rules--the jockey can physically drive away other jockeys and even hit other horses. The sight of unmounted horses reaching the finishing line is not uncommon in the race. Spanning over four days, Palio begins with a lottery system where each contrade can choose the jockey but not the horse. The love-hate relationship for jockeys is fuelled by the presumptions of them being bribed by the rivals, which is why winners are adored and losers are mistrusted.
28. Horse Goddess
The Celtic Horse Goddess Epona was a deific figure in Western Europe and Rome. The ancient Roman cavalry has shrines glorifying her. Epona appeared as a divine white mare with cornucopia that bestowed fertility. She was the protector of horses, horsemen, and chivalry according to the ancient Roman text. Some Roman texts portray Epona as Mother Goddess. She has an official feast day celebrated on December 18th with the hope that Mother Goddess Epona will shower support, abundance and fertility on the Romans.
29. Mongol Derby
Mongol Derby has the reputation of being the world's longest horse race and being the epitome of strength. The event came into being after the first great Khan of the Mongol Empire, Genghis Khan, wished to set up a huge postal transmission system which later comprised half of the planet. So his messengers set off on their journey on the Mongolian beasts who are known for their impressive speed and stamina, apart from their sturdiness. It is said that the present-day festival is an attempt to trace this trail in the form of providing people with the best racing experience. What makes this event unique? Well, with riders having to endure the vagaries of extreme temperatures drooping to as low as -40 degrees, they have to cover a distance of 1,000 kms as a test of their survival instincts. Rescue and emergency services are obviously taken care of. Nonetheless, the picturesque locations and the thrill involved is unmatched.
30. Can Horses See In The Dark?
Horses have rods in their eyes, which help them to see more clearly in the dark. A superiority in the amount of rods, approximately 20:1, along with tapetum lucidum enables the horses to see in the dark. In fact, it has also been studied that horses are able to differentiate between distinct objects in low light. With conversion from low light to dark space, the horse is unable to differentiate between the shapes of the objects but is still able to identify the enclosure of equipment. Therefore, it can be said that horses are able to see in the dark.
31. A display Of Discipline
Not many people have heard of a mule display. It is a dense combination of discipline, bond, and understanding. The origin of mule-human relationship has been connected with wars-particularly World War II and the Kargil War. The use of mules to ferry arms and supplies in inaccessible areas stealthily by removing their voice box, has been prevalent. Each team comprises 12 mules and one pony called as Jhamoora which becomes the biggest attraction apart from one of the mules dressed as a zebra. Jhamoora becomes all the more intriguing because of his role-change from a hostile animal in the stable to a zealous and chirpy animal during the performance. Mules seem to be the most comfortable around their handler with whom they learn some skills apart from carrying loads. Some of the popular and unseen antics by teams have been picking the mule on its shoulders and making him cross the ring of fire. The fitness level of handlers is also displayed. 32. Worshipping Horses
Ashwa Poojan is a tradition exclusive to the western region of India. The tradition is performed on the same day as Dussehra to honour the animals which have been loyal companions to humans in wars--horses. The House of Mewar is known for performing it with grandeur. The endearing bond of Rajputs with horses can be traced back to the companionship of the immortal horse Chetak and Maharana Pratap. More than anything, it is the legacy of Shriji Arvind Singh Mewar of Udaipur which is being carried forward by his successors. The procedure involves the king arriving in a vintage car carrying two long gold staff, two Gota walas carrying short gold batons-symbolic of the authority of the state. Two men carrying Fly-Whisk are then positioned at the back of the horse carriage.
33. Treating Your Horses
Fouaad Mirza is an equestrian by profession and the recipient of the Arjuna Award. Talking to us, he said horses need not be confined to stables which can trigger problems; they should be made to exercise. Apart from basic grooming, safety measures of horses in the testing times of pandemic should be practised by riding schools and training establishments. He hopes for greater Governmental involvement in animal husbandry and maintenance where staff should mandatorily be provided with PPE kits. He also commented on the bleak chances of early resumption of sport events, including the Tokyo Olympics 2020, but expressed his faith on scientists to formulate an effective solution soon so that large sporting events may be held.
34. Surya God
Surya is the god of the sun as per Hindu mythology. He is the chief of the Navagraha or the Classical planets and is regarded as an indispensable element of Hindu astrology. The description of sun god Surya is of a divine and powerful male riding a chariot harnessed by seven horses. These seven horses are a representation of the seven colours of the rainbow. Some theories claim the seven horses of Surya to be the ideogram of the seven days of the week. Surya is worshiped in the five primary forms of God.
35. Learning Leadership With The Loyal Animal
Isabelle has ventured into the unsung profession, leadership training with horses, which is primarily aimed to show how horses influence the human mind and personality. Coming to India for an engineering internship, she revived her childhood love for horses through horse quotient leadership. Her in-laws used to run an equestrian centre called Chennai Equitation Centre which is focused on encouraging children and young riders in various equestrian sports. It is here where she conducts her leadership programmes. Contrary to schooling in the classroom where participants are engaged in rational thinking, training with horses opens up the emotional state of people, which is important. Her venture is the first-of-its-kind in India.
36. Skill of Trick Riding
Trick riding is basically equestrian gymnastics. It is about doing tricks on horses while they run with speed. There are a few trick riders that we know of, and the existing ones have a well-knit community. A few experts say that getting in time with the horse helps one switch to different positions for trick riding, thus, building technique and a sense of timing is huge for trick riding. The horse needs to trust the rider as much the rider trusts the horse. The sport can be dangerous, and there is a special skill to get out of difficult situations which one only learns with experience.
37. A Novel Test
Marwari horse breeders nursing the dream to run their horses in races at turf clubs could soon see the light of day. Indigenous Horse Society of India (IHSI) has sent a reminder to Zavaray Poonawala, the current chairman of Royal Western India Turf Club (RWITC) in Mumbai, reminding him of the draft memorandum of understanding (MoU) prepared in February 2019 for races and auction of indigenous horses at Mahalaxmi Race course in Mumbai.
38. The Oldest Horse
Born in England in 1760, Old Billy served as a workhorse, pulling barges up and down canals. Old Billy lived until 1822, retiring at the age of 62. Old Billy's head was then preserved, and is currently on display at the Manchester Museum.
39. Sharing Birthdays
For standardization purposes, most competition horses disregard the actual month and day of their birth. Instead, they share January 1 as their birthday in the northern hemisphere, and August 1 in the southern hemisphere. The exception are horses meant for endurance riding, which continue to use their actual birthdays to determine their age.
40. Horseshoe and Its Good luck
The widely-accepted notion of horseshoe as the harbinger of good luck is not unbeknownst to anybody. The belief was fuelled by the tale of the devil asking a blacksmith to attach a horseshoe to his feet, which he obliged. This led to the devil suffering a lot of pain. The blacksmith vowed to remove it only when the devil affirmed not to enter anyone's home where a horseshoe was hung. Horseshoe has also performed a protective function because of the tough material it is made of. In ancient times, it was embedded on the coffins of witches to prevent them from taking rebirth.
41. The Red Mare Goddess
Irish folklore mentions Fairy Queen Anie who bestows robustness and fertility on her devotees. Anie appeared as a beautiful red mare and was worshiped in Limerick and other neighbouring areas. As per the Celtics, the colour red symbolizes bloodline and mystery. Thus, Fairy Queen Anie was idolized as a guide for her followers. During the ancient times, she was seen as the god of fertility, healing, and abundance. The Irish royalty believed in performing a marriage on the top of Con Anie hill so as to seal the wedlock with Mare Goddess's blessings.
42. Conquering It All
The story of Avery Carlson is as overwhelming as it is inspiring. Since an early age, Avery has worked towards the rescue of slaughter-bound horses, one of whom she saved from a deadly fire accident. Emma, as we know her, is assumed to have been injured due to lightning or wildfire. From being a malnourished and deeply injured horse, the care provided by Avery and her family led Emma to her blue ribbon at her very first attempt in a horse show at Harvard. So how was the road like? At first, Avery used human creams and cold laser treatments to positive effect. As her pain began to subside, Avery used to take her for little rides and left no stone unturned to prepare her for competitions.
43. The Pegasus
The god of sea and the protector of aquatic existence, Poseidon was the son of Cronus and the brother of Zeus and Hades. After his father was overthrown, Poseidon got the charge of sea and was worshipped as sea god by seamen. Poseidon is frequently denoted as the creator of Pegasus, the gorgeous white horse. Although married to the granddaughter of Titan Oceanus, Amphitrite, he fell for Demeter, the harvest goddess. With the urge to impress her, Poseidon desired to create the most beautiful animal and gift it to his Demeter. After many unsuccessful attempts, he created Pegasus, the first horse.
44. Breaking The Myth
There is a strong belief that claims horses to be colour blind. According to research, we found out that is not true. It's a fact that they have a dichromatic vision. They differentiate between colours on the basis of the two-wavelength region of the visible light. Humans on the other side have trichromatic vision. It has been proved that horses can see a spectrum of blue and green colours. Horses can recognise colours based on this spectrum, but they cannot distinguish the colour red. Clearly, the horses are NOT colour blind.
45. For Active Horses
Yoga is great to create suppleness and balance. Strong legs, balance and stamina are required. Horses need to get active again too. So, slowly we should start building their stamina. We should start with walking and trotting and increasing it every week. Since horses are in an open environment, they naturally love it.
46. Love In The Saddle
Necessity is the mother of invention, and when humans were still devising ways of efficient public transport, they found equines. However, the discomfort of sitting on a horse for long hours was a topic of concern when we came up with these supportive structures called saddles. A saddle comprises a tree, seat, and stirrup which are the leather-covered wooden base, place for sitting, and structures on the sides to climb the horse or place feet respectively. Since customised saddles can be heavy on the wallet, the most preferred option nowadays is the English saddle. Used in Olympic practices, the laminated wood of the same provides both quality and durability. Side saddles are another feasible option. 47. The Perfect Companion
A lot of people misconceive horse riding to be a Herculean task which requires a lot of time and effort. Rightly so, given the hours of practice, bruises and mental pressure on the riders. But the benefits of this sport cannot be ignored. Maintenance of discipline between the horse and the rider is the foremost thing. A horse moulds the way the rider wants it to, and taking control of the reins is no less than performing gymnastics. Horse riding has cardiovascular and muscle conditioning effects, improves body posture and agility of hands. Furthermore, the strategic and general reasoning required by the sport helps one on and off the ground.
48. The Principle God
Norse mythology believes in the presence of a one-eyed principle god, Odin. The ancient scripts from the Norse mythology talk about a grey horse with eight legs called Sleipnir. Sleipnir was a magical stallion who could gallop easily through air over land. Mythology states trickster god Loki to be the mother/father of the eight-legged horse. According to the theories, Loki once transformed himself into a beautiful mare and mated with Svadilfari, the giant stallion. This union gave birth to Sleipnir whom Loki gifted to his father Odin. 49. The Art of Riding
Dressage is a systematic and progressive training of riding horses. The purpose of Dressage is to strengthen the horse while maintaining a composed and focused demeanour. Dressage is a unique discipline for riding a horse. It is as unique as Hunter/Jumpers, Tennessee Walkers, Three or Five Gaited Horses, Reining, Endurance, Eventing or any others that come to mind. Dressage is an Olympic discipline that enjoys international popularity. The horse and rider are judged on how well they can perform a series of prearranged movements in a dressage test.
50. Horse Bite
Horses can be furious at times, which can result in them behaving in a different manner which is not comfortable or welcoming. Horses, as a matter of fact, do bite. But it is also to be said that it is no t good for a horse to bite itself, for it can lead to cribbing, injuries and bruises which are deep. What is even more of concern is when a horse bites a human. It is not just annoying but can be really dangerous too. A biting horse can lead to severe injuries and bruises, which might take a lot of time to recover causing a lot of pain. In such a scenario, it is of great importance to teach your horse to be obedient. This should be done from its tender age, for the horse will build a habit of biting everyone from that age. Hence, it becomes necessary to stop it then and there.
---
Next