---
---
We Bring To You Not 1 But 6 Horse Exercise
---
LA POLO brings to you a whole lot of 6 Horse Exercise that you can practice with your horse
LA POLO brings to you a whole lot of 6 Horse Exercise that you can practice with your horse Body: Just like humans, horses quench for love too, hence performing some fun groundwork activities with your horse can be an articulate way to bond with a horse. Here, LA POLO combines 6 horse exercise for the best of your horse.

1. STROKING AND GROOMING
Coddling and cosseting along the horse's mane, thereby making him sense the purest form of divine pleasure is the best way to shower your love on him. Win his trust by caressing the sensitive areas like, groin, loin, ears, mouth and eyes. Also it is believed that a horse can sense the underlying fear of the rider, similarly it can sense the immense love and care that his human feels for him. Thus, the first exercise out of the 6 horse exercise is stroking and grooming.




2 TAKE HIM ON A TRAIL
Horses are one of those nimble and soft hearted creatures who love to linger in the lap of nature, hence the next horse exercise in our list would be going on a stroll along with an equine buddy. This will not only be soothing for the rider but would also proffer a subtle amount of respite from his routinely errands of strenuous cantering and riding. Over and above, a strong and fervent bond could be forged, thereby making the rider and the horse closer to each other.




3 BRAID HIS MANE
Every female in this world has an underlying obsession and love for her tresses. Similarly, a horse's mane is like the natural wig of his tresses and is as remarkable as a crown. His Mane should be groomed by using several types of brushes in order to make him feel special. Therefore, carefully brushing out any tangles in his tresses and then tying them up into a beautiful rope like braid would certainly make the horse look well groomed, gentle and attractive. Also while galloping on the grounds his tresses would sway along the breeze, thereby making it a site brimmed with extravagancy.

Hence, the third horse exercise on our list is braiding. The riders should dapple his soul into coddling and corseting the horse by showing such trivial gestures of love and care.




4 PILATES WITH THE HORSE
Playing and performing fun groundwork exercises with the horse can be one of the significant tricks to teach the horse. Therefore, the fourth exercise in our list of 6 horse exercise is Pilates with the horse. Similar toys and balls like Pilates can be one of the flexible toys for the horses. Rolling and spinning the ball can trigger the inner child within the horse and he would probably end up dodging and striking it with his muzzle. Hence it can be one of the best ways to spend some quality time with the horse, thereby boosting his efficiency by performing several different horse activities.




5 PUT A LUNGE LINE
The next horse exercise on our list is the lunge line. Tying the pony up with a single reign and standing in the center of a rounded pen , thereby making him walk and trot along the edge of the round pen and making him lunge would not only make him feel more comfortable and flexible, but would also trigger his mind with a sense of trust for his rider. Also in a medical perspective such kind of horse bonding exercise can improve his digestion and would also stimulate the blood to flow and cascade like a streamline.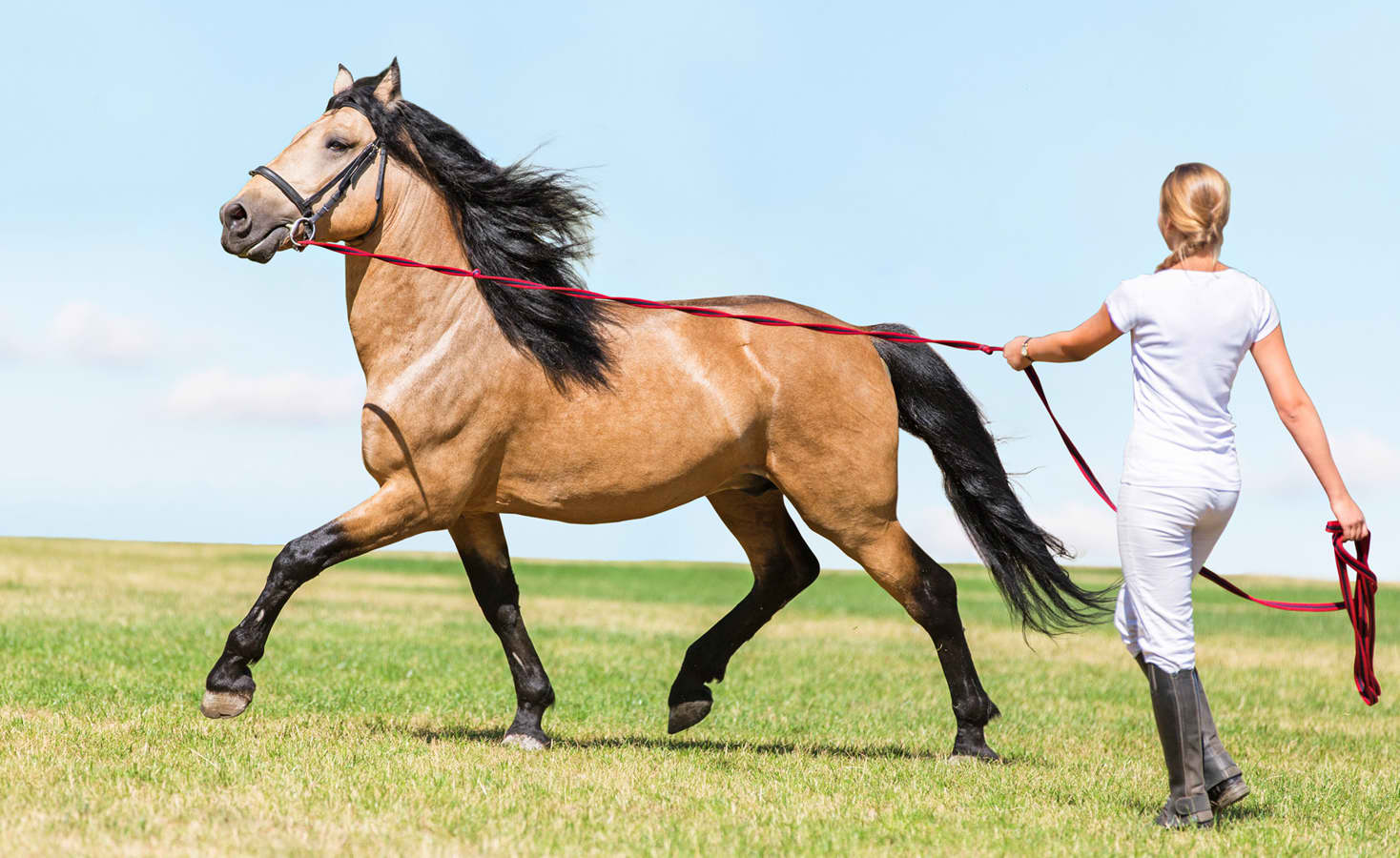 6 CROUCH UNDER HIS CINCH
It is quite a perilous affair to stroll down from behind the horse's hind legs, since even a nimble buck can cause the bones to fracture, no matter how amiable and scrupulous your horse is, always avoid passing by from his back. Hence for making it to another side of his body, one can crouch under his cinch by barging out to another side. This act would not only make it feasible for the rider, to make it to the other side of the horse but would also harbinger a sense of trust and love.


---
Next