---
---
Audi And Iconica Battle It Out For The East Coast Open
---
12th September 2018
The 2018 East Coast Open Final, presented by Audi, took place this Sunday at Greenwich Polo Club.
A fiercely contested final between the two top teams in the tournament, Audi and Iconica took place on Sunday at the Greenwich Polo Club. In their last meeting Iconica staged a late match comeback to beat Audi by 1 goal in the final chukker, one of the most exciting matches of the tournament so far. Exactly one week following the Pacific Coast Open in Santa Barbara, California, all eyes turned to Greenwich Polo Club in Connecticut for the final of the East Coast Open. The match start time was advanced two hours to avoid cancellation due to rainy summers. A brilliantly staged match, had both the teams dominating from the start. Despite Iconica's perfect record leading up to the final, a fiery and determined Audi never relinquished the lead taking home the Perry Trophy with a final score 11-9.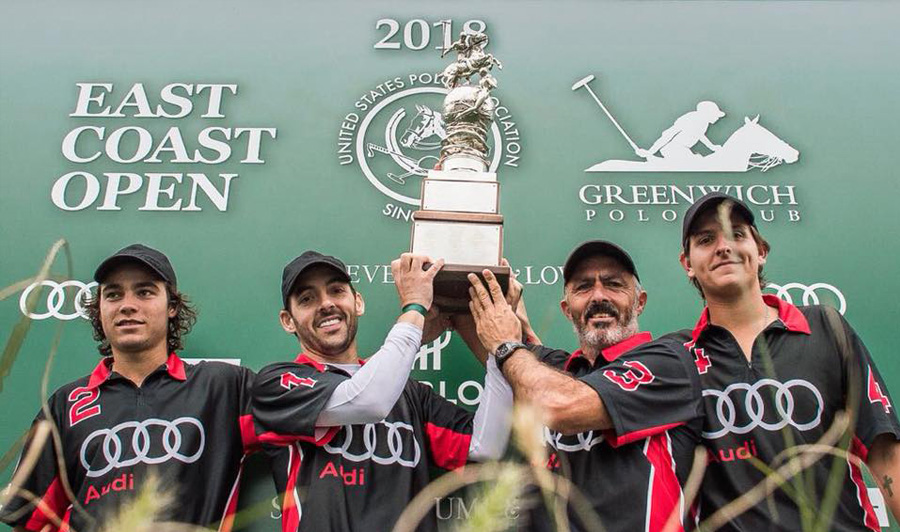 In the first few minutes of play, Audi's Toro Ruiz set the tone with back-to-back goals, the other an incredible cut shot off the end line for an early lead. Iconica caught flat-footed, a penalty in favour of Audi widened the margin as Joaquin Panelo sent the ball straight through the uprights to end the first 3-0. Iconica rallied in the second however, keeping Audi scoreless and closing the gap with two penalty conversions from Mariano Gonzalez. Their momentum continued into the third with two field goals from the father-son duo Peke and Mariano Gonzalez, closing the first half trailing by one 4-5. Audi continued in the second half matching Iconica goal for goal and sinking another penalty conversion to increase their advantage to two 8-6.

Game high-scorer Ruiz nailed his fifth goal of the game in the fifth chukker as Audi began to run away with the lead 10-6. Two automatic goal penalties in the final two chukkers kept Iconica in the game as time wound down. Thirty-five seconds remaining in regulation time, a centre hit following a Penalty 1 gave Iconica a flash of hope to tie. The shot was intercepted by a back from Mariano Aguerre, dashing their hopes as Panelo raced down field riding Lucky Five and scoring a final goal to cement the Audi victory.

Panelo garnered Most Valuable Player for exceptional accuracy from the penalty line. Similarly, his 7-year-old Argentine Thoroughbred mare Penelope, played in the first and the fifth, was awarded Best Playing Pony honours. Meanwhile, Ruiz was all smiles having played in and won his second East Coast Open, the former with team GSA last year. Joaquin Panelo said, "It feels amazing, but I think it's a team effort, a team trophy. I just went out there to help my team and went to every ball like it was the last—I guess everyone saw that and it feels great."

---
Next