---
---
Dressage and more with Carly Heath
---
In conversation with dressage player and author Carly Heath, LA POLO brings to you the equine world from the eyes of an insider.
Dressage player and author Carly Heath became involved with horses at a young age. Her mom had horses before she was even born, and she got her first pony, a wonderful, naughty Welsh palomino gelding, when she was five years old. Since then, she began competing in local schooling shows, in Hunter Pleasure and Jumping. A few years later, when she was about eight, Carly got an untrained four-year-old Arabian mare named Dawn who gave her the first experience of training a horse. Carly says: "With my Arabian, I competed in Endurance and Competitive Trail Riding, Jumping and Dressage, and also began experimenting with trick training and riding bridle-less and bareback."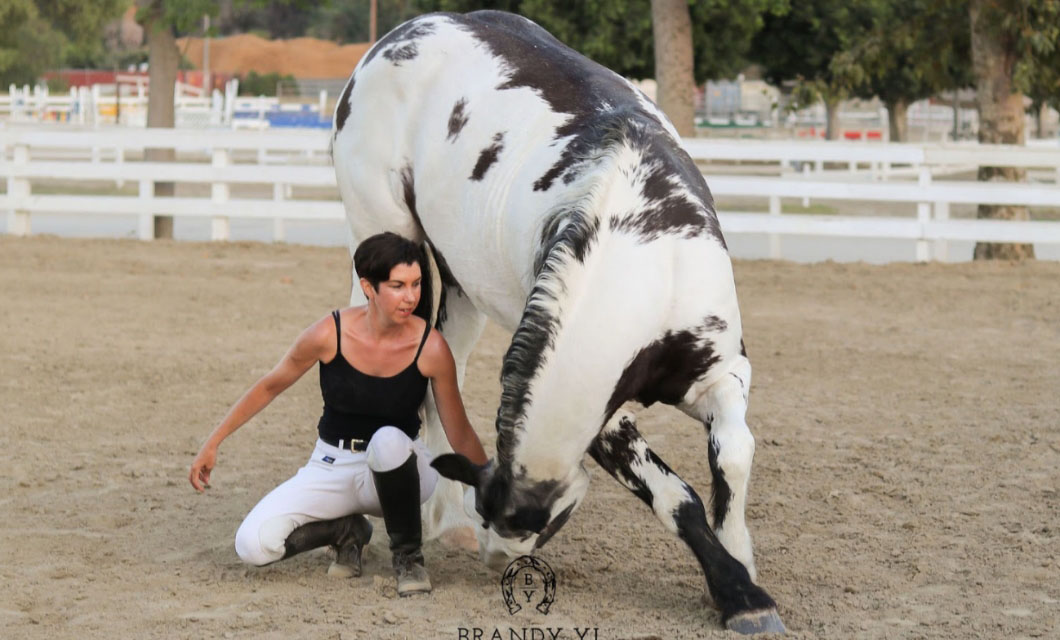 Talking about her journey, Carly says: "As my Arabian got older and became a pasture pet, I adopted my current horse, Mystique, a Draft/Paint cross from a rescue. She was nine years old and completely feral. The rescue said she was a PMU mare used as a broodmare to produce urine for Premarin—a drug given to people going through menopause. Later, I found out the ranch she originally came from was also using her as a bucking horse for cowboys to ride during rodeo saddle bronc competitions. This explained why my horse was so fearful and didn't want anyone handling her. It took a year befriending her and teaching her games and groundwork before she became calm enough to let me sit on her back. My approach to training has always been based on positive reinforcement and lots of treats (Mystique likes Oreos) and, eventually, we were able to compete Third Level in Dressage."
BOOK INSPIRED FROM HORSES
Carly's debut Young Adult novel, "The Reckless Kind", is set in 1904. The book follows a trio of teens who leave their families, to live on their own, but need to figure out some way to make money. They decide to train a feral filly for the region's annual winter horse race. It's a book about love and compassion.
The book is inspired by Carly's bond with her horse. She says: "One major part of the novel is about a compassionate, yet outcast family—the Fuglestads—who always take in the horses that no one else want. The Fuglestads believe themselves to be cursed with perpetual bad luck because everyone in the family keeps getting seriously injured. They represent a period in my life where I experienced injury after injury and endured a lot of judgment from those who wanted me to give up on "broken" horses and get a safer, completely trained mount. I think that theme might resonate with those of us who have a heart for the abused, scared, and unwanted animals of the world. Yes, these large frightened animals can injure us, and that's the risk we take, but I feel really good about how my once very timid mare is now calm and happy. It's a wonderful feeling knowing the part I played in making her life better."
KNOWING DRESSAGE BETTER
Dressage comes from a French word that means training. It's a systematic approach to developing the horse starting with the basic rhythm and regularity, and then proceeding up the training scale, ultimately learning to achieve the top of the scale which is collection. Though most people think of dressage as a competition where horse and rider perform tests at different levels, there's a whole side of dressage world that's about building a relationship with the horse. You don't have to compete to be a dressage rider. If you ride to improve your relationship with your horse, and are interested in a systematic way to help your horse and yourself improve, then dressage is for you.
"I believe any horse can do dressage and the horses that benefit the most from it are rescues, horses in rehabilitation, and those who've had difficult experiences with humans in the past. While it's entertaining to see really expensive and well-bred Dutch Warmbloods competing at the Olympic level, it shows a lot more skill when a rider takes their $200 grade rescue horse through the dressage levels (even if they never end up actually competing). I remember riding an off-the-track thoroughbred who simply couldn't canter to the right ultimately being transformed with the application of dressage principles," she says.
Dressage horses are elegant, graceful and classy, especially with their braids. And Carly could not agree more on this. She adds: "I love braiding my horse's mane and she looks so pretty when she's ready for competition! My horse's mane is too pretty to cut, so instead of doing button braids, I do a long French braid. There's some really great braiding tutorials on Pinterest and YouTube if any readers want to learn more about it."
Talking about her experience in dressage, she says: "I've done some competing up to Third Level and I was thrilled my horse was able to get that far and also deal with the stressful atmosphere of a competition. The first show I did with my current horse, Mystique, was Training Level and it was our first time riding in an arena she wasn't used to. She spooked at everything—the flowers, the photographer taking pictures, and all the people watching. I was proud that she was able to make it through her test, though, and the judge gave me a hilarious comment on the scorecard: 'Tactful ride on a wiggly horse'."
"Our first competition at Third Level had me pretty nervous because it's a lot to ask of a horse. Usually, when I'm practicing on my own, I give her a cookie after each difficult movement, but in competition, you can't stop and give your horse a cookie, so I was worried she might have a temper tantrum for not getting her treats. You're not supposed to talk to your horse in a dressage test, either, but I did very quietly tell her "good girl, good girl" hoping she'd forgive me for making her wait until the end for her rewards."
CAREER IN THE EQUINE WORLD
There is a huge need for compassionate people to become involved in the horse industry—rescuing horses and to rehabilitate traumatized animals. There are so many wonderful horses out there who get cast aside and end up in bad situations because there aren't enough knowledgeable people who have the experience and time to help them achieve the quality life they deserve. Often, impatient trainers will encourage owners to simply sell their horse whenever they have issues. "That's tragic. There's definitely a need for more people who are willing to give these horses a chance. Luckily, there's a lot of great resources online now for those who are interested in learning more about a better kind of horse training,: she says.
WHAT NEEDS IMPROVING
Instead of competitions being dominated by those who have millions to spend on six-and-seven-figure-priced horses, Carly says, we need to find a better way. In the United States, there have been mustang and colt training competitions and those are perfect for the current generation—everyone gets a feral mustang or untrained colt; they have a set amount of time to train the animal, and at the end, they perform for an audience and get scored on their training abilities. It's a perfectly level-playing field and at the end of the competition, the horses get adopted into loving homes.
THE UNBREAKABLE BOND
Carly has had a horse for over nine years now. When we asked what kind of a bond she shared with it, she told us about a rather sweet journey. She said: "When I first adopted her, she was dirty, frightened, had a stomach full of ulcers, and her hooves were long and cracked. She wouldn't let anyone touch her, so I spent a lot of time feeding her by hand and slowly letting her get used to my presence. The most important thing she needed to learn was to trust me to handle her legs and hooves, so she could have her hooves trimmed by the farrier. I worked every day to slowly get her accustomed to letting me touch her. Because she was fearful, it took about three months working with her several times a day before she became comfortable enough to let me handle her legs and lift her hooves. That gives you an idea of just how distrustful she was of people. Now, we are best buddies."
---
Next