---
---
Even Horses Know A Woman's Kind Heart!
---
In equine sports, women have held their ground for a long time.
Your gender does not define your ability to chase dreams. It's a cliché said often that girls dream about their knights in shining armour, riding a pure white horse, who will take them to the lofty tower palace, and thence they will live happily ever-after. Why can't girls dream themselves riding that white horse and saddle towards their goals and aspirations?
Gender equality has always been a discussion point in all spheres, whether corporate or sports. But in equine sports, men and women compete on a level-playing field, following similar rules and regulations. It's been around 66 years since Dressage became the first event to commingle in 1952; followed by show jumping in 1956; and, eventing in 1964. We can clearly say that equestrian sports are the trailblazers for gender equality. Does this equality show on the ground? How?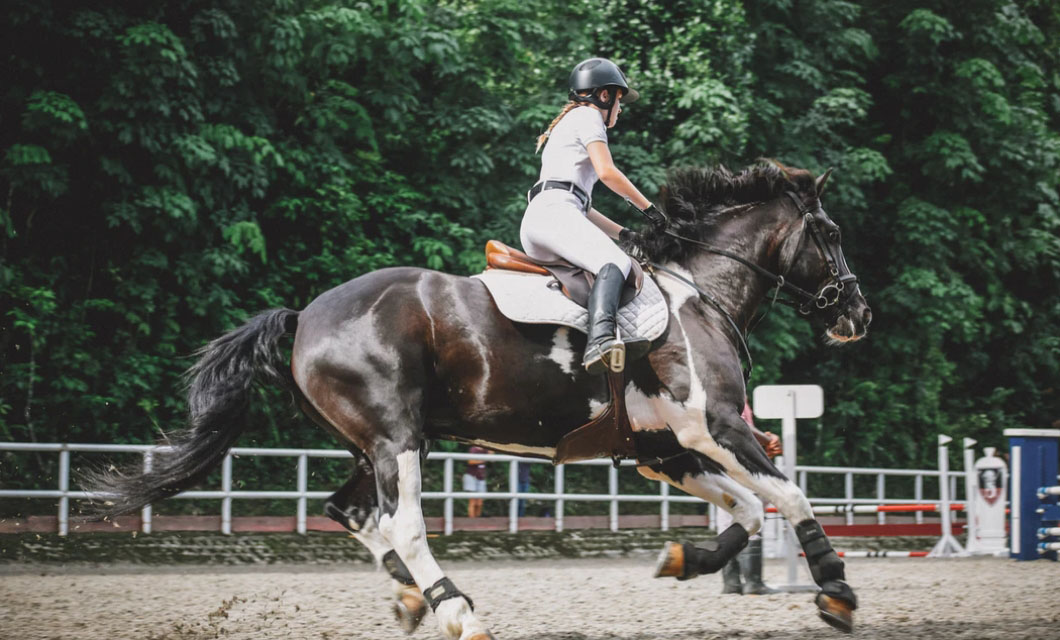 Rather than going back into the long tiresome journey of tracing the origins of equine sports like Polo, consider a small incident… in India the soldiers of the East Indian Company saw some exiled Manipuri princesses playing a sport which looked like hockey on horseback and teams of men wearing turbans, dhoti and shin guards holding mallets. This shows that women were a part of this sport from an early stage. Let's see it from the Persian view where Polo was first played. The reference which proves that Polo is a sport for both men and women is indicated by "the queen and her ladies engaging King Khosrow II Parvīz and his courtiers in the 6th century AD".
Though being a part of the sport from an early stage, women were not allowed to wield the mallets. Manipur, which is not only termed as the birthplace of modern Polo, but is also the home for a formidable women's team, started a revolution two millennia after the first match of Polo that was played, by passing the mallet to women. And now the state has about two dozen women polo players, which amounts to about two-thirds of women polo players in India.
In the 20th century, Polo became common among the women of United States and Britain. In the US, the women compete against other women at the collegiate level and they have a women handicap competition. Apart from women against women, women occasionally are the fourth member of an all-male team
Why women prefer to be in equine sports? What draws them towards it? Women by nature are patient and humble, thus many believe their affection and good behaviour can easily tame a wild horse!
Yes, there isn't a gender bias when it comes to horse riding, even horses want to be treated properly and as the facts state, equestrian sports are 70 per cent about the horses and 30 per cent about the rider. Thus, when it comes to demeanor, women are capable of handling the horses pretty well. Hence, if a perfect balance is created between the horse and the rider, they can withstand every hurdle and stand on every podium.
Some illustrations by equine artist Sir Alfred Munnings named "Portrait of Lady Barbara Lowther on Horseback" and "Miss Millicent Baron on Magpie" showcase the ease and understanding that women riders have with horses.
Regarding Manipur women polo players, their stories have now taken the form of a film, Daughters of the Polo God by Roopa Barua; and it has won the Festival Director's Award—the highest honor—and the Best Documentary Short Award at the Equus Film Festival, New York, in 2018. The film tracks the journey of the matriarchs of this game who overcame adversities to gallop ahead.
According to an interesting anecdote that is traced back to the '50s and '60s, when Polo was a male-dominated sport, a woman disguised as a male and donned a moustache to compete in professional Polo; her name is Sally Hale and is referred to as the pioneer of women's polo.
Duncan Huyler, CEO of the United States Polo Association, says, almost 40 per cent of the association's members are women. "In the early '70s they weren't even allowed in the association, so their numbers are really grown," says Huyler.
---
Next