---
---
Guess Who Is The First Love Of Sylvester Stallone?
---
01st October 2018
Playing polo is like trying to play golf during an earthquake" – Sylvester Stallone
No one has ever been as lucky as him that being Hollywood's one of the most iconic action heroes, the famous American actor Sylvester Stallone also has a verve for the opulent and refined polo lifestyle. In fact, there is a profound history of Stallone vis-à-vis the famous equestrian sport.

Sylvester Stallone's polo journey begins when his father Frank Stallone started steering horses in their native place Italy. Later, after their arrival in the United States, in the early 1930s, Frank staunchly served in the U.S army cavalry, which increased the ambit of his equestrian abilities. In around 1950s, he played polo for the Potomac Polo Club and soon became an ace player of the club. Later on, as a father's blessing to his son in the form of teaching, Frank imparted his equestrian skills and knowledge of polo to his son Sylvester. Hence, at a very young age, he was skilled on horseback and practiced the sport at Frank's farm in the vicinity of Potomac club.

After the divorce of Sylvester's parents, though he used to live with his father, seldom they meet. However, it was polo that brought both father-son duos sentimentally close to each other. Likewise, the Washington Post quoted, "Mr. Stallone and his celebrated son Sylvester does not have healthy relations. While the pair sometimes argues adamantly, they share an everlasting link through polo."
As a matter of fact, the verbal translation of the name Stallone is 'stallion' which means horse. This is to say, almost everything about Stallone invites his love for thoroughbreds and the luxurious sport of polo. Fascinating is the fact that Stallone came to America as a view to move on from his childhood affection- horses and to become an actor.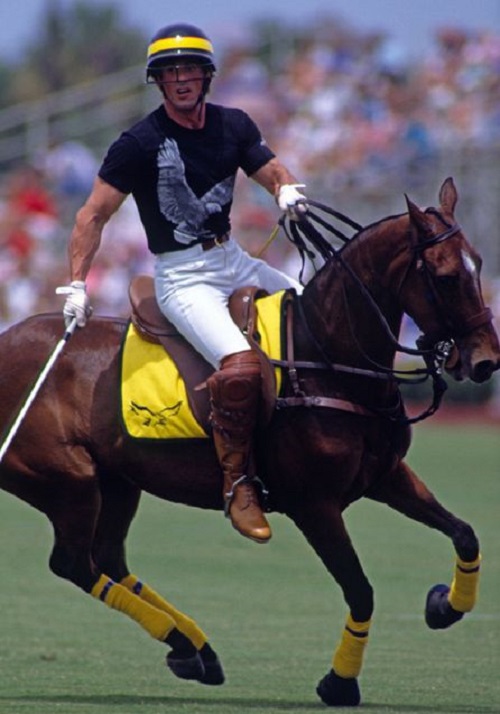 "My family were horse people, to begin with, going right back. But, they were not rich people, they were peasants. I had a very tough relationship with my father, which also made me very combative and resilient. Polo has often acted as the bond between me and my father. "
- Sylvester Stallone
The top-notch action hero, who is a Hollywood legend, gave some larger than life cinematic appearances in movies such as Rocky, Rambo, and the Expendables. Nevertheless, his attachment with polo was, in fact, inevitable, stated the profound equestrian history of his family.

---
Next