---
---
Polo At 1,000m Above Sea Level: Hublot Polo Gold Cup Gstaad 2018
---
21st June 2018 | Canton of Bern, Switzerland
Gstaad hosts the 2nd highest summer polo tournament in the world.
At an altitude of 1,000m above sea level, with breathtaking views of beautiful green valley on all sides, Gstaad will host the Hublot Polo Gold Cup 2018. Saanen, the only flat stretch of land in the area, accommodates an aerodrome and a polo field. Amidst the continuous movement of private jets over the field, it is an exhilarating experience to play or spectate a game of polo here.
After the famous tribal polo tournament at Shandur Top in the Hindu Kush region of North Pakistan which measures 3,719m above sea level, this is the 2nd highest summer polo tournament in the world.




This year marks the 23rd edition of the tournament and will takes place from 16th to 19th August 2018. Four 12-14 goal teams will enter the tournament to battle it out for the cup and the Hublot watches awarded to the winning team members.
Teams at the Hublot Polo Gold Cup Gstaad 2018:
Team Banque Eric Sturdza
The defending champions, led by Cedric Schweri, have added two Argentineans and Brazil's 5-goaler Joao Novaes to strengthen their squad.
-Cedric Schweri (0)
-Marcos Rigios (5)
-Nico Lopez Fuentes (4)
-Joao Novaes (5)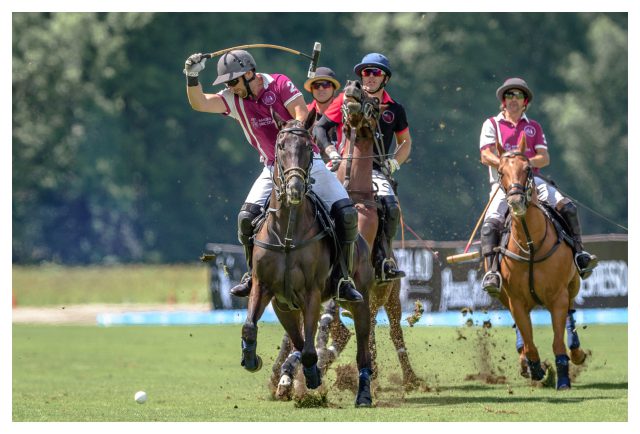 Team Hublot
Swiss captain Matteo Beffa added a 'big handicap' to his squad in the form of Julio Novillo Astrada, a 7-goaler, from a popular Argentine polo family.
-Matteo Beffa (0)
-Gerardo Cosentino (0)
-Julio Novillo Astrada (7)
-Santiago Schweizer (5)
Team Clinique La Prairie
Making their debut in the tournament is Faris Al Yabhouni's Abu Dhabi team, playing for the new sponsor's team Clinique La Prairie.
-Fair Al-Yabhouni
-Augustin Canale
-Hugo Barabucci
-Gonzalo Bernal
Team Gstaad Palace
Marco Maximilian Elser's team will be counting on Argentina's 5-goaler Pedro Fernandez Llorente.
-Marco Maximilian Elser
-Marcos Antinori
-Nicolas Antinori'
-Pedro Fernandez Llorente

After qualifying round matches on August 16, the semifinals and final will be played on August 17 and 18 respectively.
---
Next