---
---
Looking For Wider Appeal
---
Player Taimur Noon gives a 360-degree view of Polo in Pakistan
Momentous tales of Polo reside in Pakistan, which hosts the popular Shandur Polo Festival. The Pakistan Polo Association (PPA) is set to work at popularising polo with a futuristic approach. Player Taimur Noon, who has represented his college Royal Agricultural University and his country at various polo tournaments, talks about Polo in Pakistan.
Noon wants Polo all over the world to be made a more popular sport. He says: "Polo must be taken to larger crowds so that it remains a prestigious sport." Pointing to the role of Pakistan in this, he says: "Pakistan is making good strides in this, and we are slowly increasing activities in order to entice larger crowds to higher goal games and even the finals of low goals."
The PPA is working towards improving the standard of polo and the clubs are developing their grounds to international standards. PPA is all set to start training camps for umpires and young players. This, as Noon said, would make the country "rely less on international players and rather develop own professional players for high goal tournaments."
Polo in Pakistan has been great over the past years, but the country's association aims to develop it to an even higher standard. Better quality of sport requires younger generation and enthusiastic players. Is the country able to attract the youth? Noon says: "There are a very limited people who play polo in Pakistan, but there are many youths who are showing interest in the sport and we have some very promising young players coming up. With the help of the PPA, there has been an even more interest in the sport among the younger generation. The more experienced players at our clubs are very helpful to newcomers. Such players are given opportunities to play in low goal tournaments and develop their skills."
What about plans that have been scuttled due to Covid-19? Noon says: "We have been lucky as we have a stud farm where our ponies are paddocked during the off season. This allowed us to move our ponies there. There were very limited effects of Covid-19 as the stud is based in the rural areas, and therefore not densely populated."
Not all of it was an easy-breezy. Noon added: "We experienced problems with our vet visits as he was not able to do so for two months, whereas we normally have fortnightly check-ups. We were able to deal with this through video consultations, and having a team that knew how to treat minor injuries or illnesses. We were also lucky as during this time there was only one pony being treated which our onsite team was able to handle."
Talking about plans, Noon said: "We are all hoping that Polo starts as normal towards the end of September in Lahore. There are parts of Pakistan where practice chukkas are still being played, on observing the precautionary measures."
The new normal does involve a lot of preventive measures. Noon said: "In the coming season, measures will have to be taken at all polo clubs for players and grooms, but by then we will be able to deal with such measures and continue to play the sport we all love. I expect some rules to be put into place by the PPA, like face coverings must be worn by all players."
About widening Polo's reach, Noon said: "The broadcasting of polo needs to be improved all over the world, but if one looks at this from a news channel or sports channel's point of view, it is difficult for them to go ahead monetarily. The percentage of people who watch polo is very small compared to other sports such as football, cricket, or tennis. The broadcasting of Polo can only be increased when the sport gains popularity among the masses. We do get a fair amount of publicity through newspapers, but I don't think polo will ever be a sport which is watched by people in the same way as football."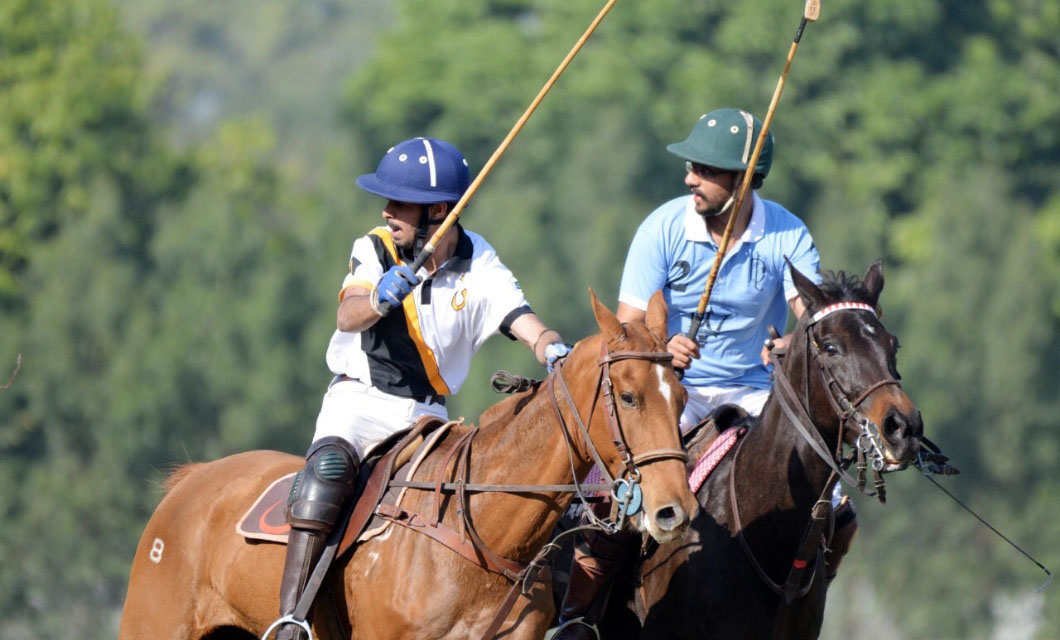 MORE ABOUT TAIMUR NOON:
How often do you play polo?
I have been playing every year since my first tournament in 2012, and was riding and playing unofficial games for years before that. My play has suffered a bit over the past five years as I have been studying in England and not been playing as much as I would like to. As my studies are finished, I look forward to playing the whole Pakistan season.
Your favorite pony?
It has to be Pluto. He is homebred, born at Noon Stud Farm. His dam was an Argentine mare and sire is a thoroughbred we purchased from England; his progeny have performed exceptionally in equestrian sports.
Any other sport you enjoy?
I used to play a football, badminton, volleyball, basketball and cricket for fun. But there has never been a sport I have enjoyed as much as Polo.
What has been your highest point in polo?
Many years ago, our club hosted a tournament at which many viewers were children with cancer, and the tournament acted as a fundraiser for them. This was a great project to be a part of and through the Junior Polo League (JPL), we helped set up the necessary arrangements and played a game before the main game as a juniors tournament.
Your favourite polo player?
Facundo Pires, but now the Castagnola boys are preforming very well and I love the way they play, so I would have to say these three are my favourites.
What was your inspiration in choosing the sport?
My inspiration for joining the sport is my family as I was born into a family of Polo players. This made it a lot easier to start learning the sport.
Which is your favourite place to play Polo?
The Lahore Polo Club as that is where I learnt to play and it is my home club. I also really enjoyed having the privilege of playing some games at Guards Polo Club a few years ago, the grounds over there were immaculate.
What does a day in your life look like?
At the moment there is not much Polo going and everything is a bit different due to Covid-19. But hopefully, as things get back to normal, I plan to be at the Polo club to ride around 6:30 am and then go to work and spend my evenings at the club, either riding, stick and balling, or playing in a tournament.
What challenges have you faced in the sport?
The main challenge I faced was that I am left-handed. As any Polo player knows, you must play with your right hand; it took me months of muscle development and practice to train my brain to be able to have the same hand-eye coordination for my right hand as I do with my left. It took many evenings of sitting on a wooden horse practising my swing but eventually I got there and was able to start playing Polo.
---
Next