---
---
A Man Of Many Facets: Walt Disney
---
Walt's love for animals, horses, in particular, became one of the most important reasons for him joining a local riding club where he tried horseback riding and succeeded with pleasure
Apollo, the God of music, poetry, light, prophecy, and medicine and the creator and caretaker of the oracles that are on the Earth, was exiled on the Earth by his father Zeus, the king of the Gods of Mount Olympus, for 9 years. After arriving on Earth, Apollo became aware of the fact that the Oracles were in danger and it became his sole mission to protect the oracles. For 9 years, Apollo lived as a mortal and protected all the Oracles and living on the Earth made Apollo realize that the people on Earth are focused and determined but are afraid to follow their dreams and they run in the herd following one after other.

After completing his exile, Apollo returned back to Olympus where his father, Zeus, welcomed him quite warmly and keeping his promise asked Apollo, "I promised you a kind of power before sending you to Earth and told you if you make me proud and complete your 9 years of exile, I'll provide you with that power no matter what," trying not to choke and controlling his tears Zeus continued, "Son, by protecting the Oracles you've not only made me proud but also protected Earth from getting destroyed. I'll gift you any kingdom you want, any position of respect. You just have to name, it'll be yours."

Apollo asked Zeus to help the people on Earth overcome their fears and give them the power to follow their dreams so that they don't live like sheep in the herd and live their lives just for the sake of living. Saying this Apollo concluded with, "I want the people down there to live the life they want to and follow what they want to do. I want them to believe in themselves and have the courage to follow their dreams and don't follow each other like sheep. Father, can you gift me this?"

Walter Elias Disney, an American motion picture and television producer and showman, founded the Walt Disney productions along with his brother Roy, which became one of the best-known motion-picture production companies in the world. The creator of Mickey Mouse, Walt Disney won 22 Academy Awards during his lifetime and was the founder of theme parks Disneyland and Walt Disney World. The man with an amazing work ethic, Walt was a micromanager and tried to look over everything personally. Walt decided to move out of Chicago to Kansas to follow his dream of becoming a cartoonist in 1919. Starting his career with creating advertisements for magazines and movie theatres, Walt Disney decided to set his step in the animation field and make animated cartoons.

Walt Disney, or 'Walt', as he always preferred to be called, was the designer of Disneyland, the father of Mickey Mouse and the man who made millions of people believe that indeed dreams can come true. One of the greatest innovators and storytellers of all time, Walt Disney is known as the man who dared to make his dreams come true and thought it was fun to do the impossible. A man of many facets, Walt Disney worked tirelessly, and even after achieving major success, spent countless hours at his studio, visualizing different characters and bringing them to life. Walt's amazing ability to garner the best from those who worked with him made him one of the greatest innovators and animators of all time.


Image Credits - New Indian Express


One thing that all Disney fans and history buffs agree on is that Walt Disney was one of the industries greatest innovators and storytellers. His amazing ability to garner the best from those who worked for him is legendary. Walt also had an amazing work ethic, most likely gleaned from his stoic father' hard-scrambled life and Midwestern values that Elias instilled in him and his brothers, Roy, Herbert, and Raymond. Walt worked tirelessly, and even after achieving major success, he still spent countless hours at his studio, overseeing almost everything. In fact, many will also agree, Walt was a micromanager, and over the years, the stress began to show its toll. With so many demands of running and growing his studio, schedules, going over the dailies from the Mickey cartoons, future projects, etc., and trauma from home also added to the mix.

The two miscarriages experienced by his wife, Lillian, was the straw that broke Walt's back. After Lillian's miscarriage, Walt insisted he was fine, but he revealed that in 1931 he had a hell of a breakdown. He even admitted that he got to a point where he'd talk on the phone and start to cry. Even the great Walt Disney could only stand so much pressure and was advised to pick a sport by his doctor. Walt Disney was fond of the royal sport Polo and began his training of the sport.

Walt's love for animals, horses, in particular, became one of the most important reasons for him joining a local riding club where he tried horseback riding and succeeded with pleasure. It was a perfect solution for Walt as at the time in the 1930s, polo was an extremely popular sport, especially among the Hollywood elite and Walt always wanted to be a part of them. Considered to be one of the oldest team sports in history, Polo had a deep impact on Walt Disney's life at the studio and home. By the '30s, there were more than 25 polo fields in the Los Angeles area. Some of the fields Walt played on were the Riviera Polo Field and the Uplifters Polo Field. The iconic Beverly Hills Polo Lounge was used as a magnet for the Hollywood crowd of the time to hold court.

"I don't believe there's a challenge anywhere in the world that's more important to people everywhere than finding solutions to the problems of our cities."

-Walt Disney
As Walt became involved deep in the sport, he recruited his brother Roy, and other studio members who included, Dick Lundy, Norm Ferguson, Bill Cottrell, Jack Cutting, and Les Clark. Walt was so ardent about the sport that he constructed a polo cage at the studio for practice during lunch where he used to hit the ball in the goal. He had a horse dummy placed in his backyard to get practice before going to the DuBrock riding academy. Walt and his team, dubbed "The Mickey Mouse Team" started having matches with other novice teams at the Riverside Drive stadium. Polo had a great impact on Walt Disney's life and the sport helped him get back on his feet. To pay his respects to the game, Walt released an animated short film, 'Mickey's Polo Team' which featured a game of Polo played between four Disney characters, led by Mickey Mouse, and four cartoon version of real-life movie stars.


Image Credit- Mark Sonntag


An animated short film released by United Artists and produced by Walt Disney productions, Mickey's Polo Team features a game of Polo played between four Disney characters, led by Mickey Mouse, and four cartoon version of real-life movie stars. Inspired by Walt Disney's love of Polo, and directed by one of the finest animation filmmakers at Walt Disney Productions, David Dodd Hand, the film was released on January 4, 1936. The 8-minute short film features cameos of many Disney characters from the Mickey Mouse and Silly Symphony film series, as well as several real-world 1930s entertainment figures. This was a short nod to Polo and had no real storyline. A Polo game between Team Mickey, comprised of Mickey Mouse, Donald Duck, Goofy, and Big Bad Wolf, and Team of Hollywood Stars, comprised of Harpo Marx, Stan Laurel, Charlie Chaplin, and Oliver Hardy. A gaggle of stars even in the spectators featured Shirley Temple, Clark Gable, and Edna May Oliver along with the Three Little Pigs, Clarabelle Cow and Max Here. The short film was to have a caricature of "Oklahoma's favorite son", Will Rogers with whom Walt became great friends through the Polo network. Will Rodgers, a motion picture star, worked in Vaudeville, was a cowboy, newspaper columnist, and humorist. He was idolized by America and was the highest paid actor at that time. A Polo enthusiast, Will Rodgers promoted the sport among the Hollywood elite. Fond of Will Rodgers' work and ethics, Walt Disney always wanted to work with him. Developing several possibilities to work with him, Walt finally got the chance to work with him in Mickey's Polo Team where Will Rogers would play Rip Van Winkle and interact with the animated characters. Will Rogers tragic death in a plane accident in 1935 forced Walt Disney to remove his caricature from the cartoon and any future plans of a feature film were finished.

Walt once joked that to him Polo seemed to be just "golf on a horse". As he played more and more of the sport, he started involving deeply in the sport and along with his studio members had a group study of the book called, "As to Polo" by William Cameron Forbes, an American Investment banker and diplomat. In 1934, Roy Disney bought four Polo ponies, and Walt had more than a dozen ponies in his stable. The brothers would take time from their hectic schedules and studio meetings to play and practice with the team on Wednesday mornings and Saturday afternoons. They joined the prestigious Riviera Club, home to famous actors such as Darryl Zanuck, Leslie Howard, and Spencer Tracy. It was through the Polo network that Walt met with Harry Tytle, who eventually with Walt for 40 years as the production manager. Harry was an excellent Polo player in his college and was introduced to the Rivera Country Club by Walt. The "Mickey Mouse Team", headed by Walt Disney, was comprised of Walt Disney, Robert Presnell, James Gleason, and Happy Williams. The "Mickey Mouse Team" was not the only team under the Disney productions. Many don't know about the "Donald Duck Team", which was headed by Harry Tytle. He used to teach Polo to editors from other production houses and they played all over the southwest. In his biography, Harry Tytle talked about Walt Disney's clever strategy of having a picture of Donald Duck on their shirts so that the team was never taken seriously.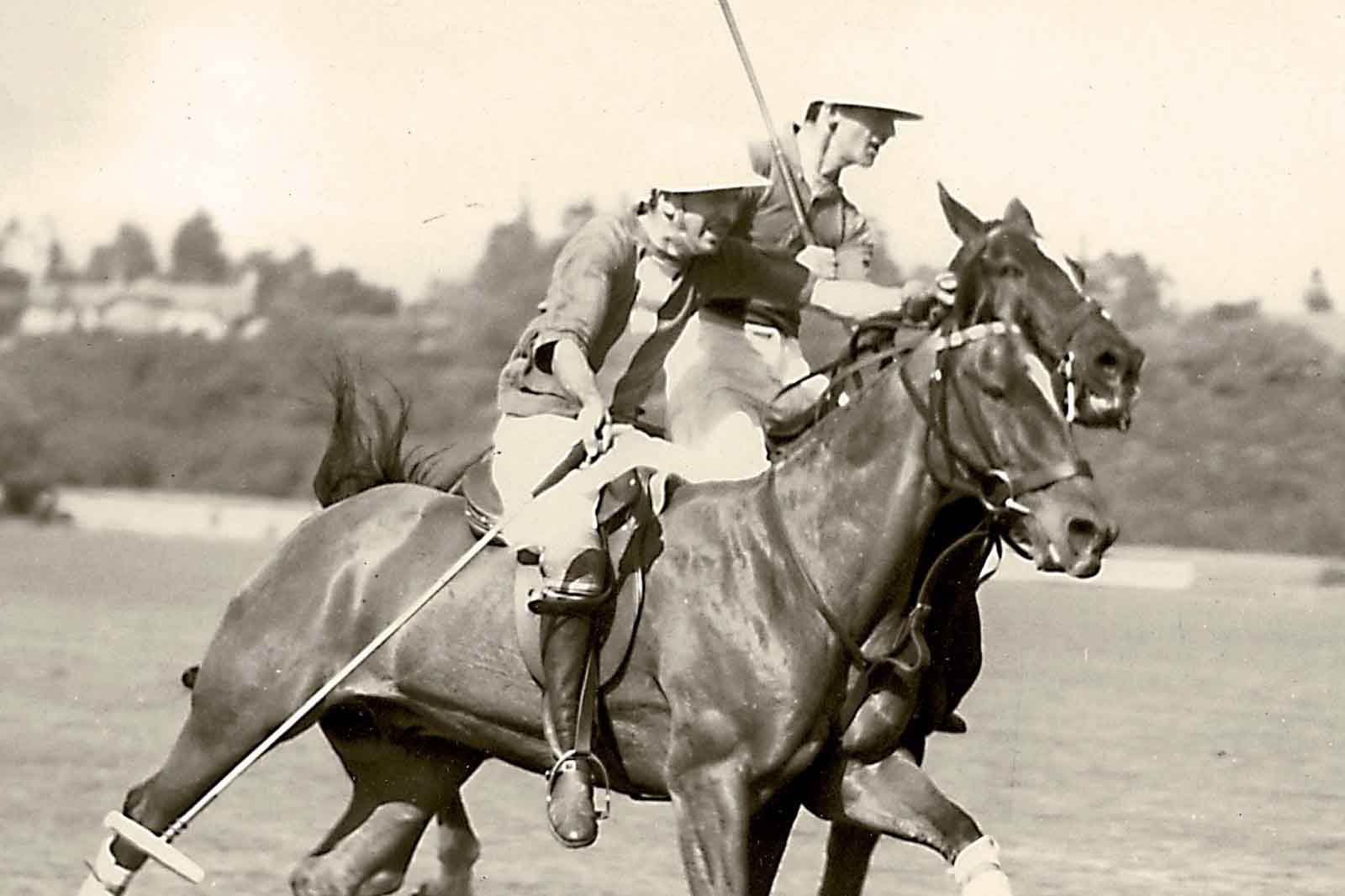 Image Credit - laughing place/Disney family museum / www.disneyhistoryinstitute.com


Walt's brother Roy was a decent player, but although Walt was not that physically strong, he made up for that with his aggression. The aggression worried Walt's brother as Polo is itself a dangerous game and he was concerned that this aggression could lead to serious injury. In 1938, Roy quit the sport and sold all his ponies in the hope that Walt would do so. Always the competitor, Walt wanted to play with better players and went out to practice with a South African Team, "Argentines", at the Riviera Polo Club. Walt played with the professional team despite all the warnings from his brother and during the match a ball, struck hard by one of the players, smashed into Walt and knocked him from his mount. The injury was quite brutal and four of his cervical vertebrates were crushed. In the rush of the hour, Walt went to see a chiropractor instead of a doctor. The injury haunted him for the rest of his life causing unbearable pain and arthritis. Hazel George, Disney Studios' nurse, acted as Walt's personal nurse and would treat his injury through massage therapy. It was from her suggestion that Walt took up railroading as a hobby.

Did Walt Disney accidentally kill a player during a game of Polo?
In an episode of the popular series "James & Mike Mondays", Mike Matei makes the claim that he once read on a card of the game Trivial Pursuit that Walt Disney once killed somebody by accident during a game of Polo. He further claimed that information on the incident is hard to find and implied that the Disney Corporation may have attempted to keep this information hidden.
Michael Barrier, an animation historian, in his blog mentioned that the Trivial Pursuit question was actually:

How many people died from injuries incurred playing polo with Walt Disney?

To which Michael Barrier stated in his blog, "The two deaths were those of Gordon Westcott, an actor, in October 1935, and Winslow Felix, an auto dealer, in May 1936. Both men were fatally injured during matches at the Riviera Country Club. The newspapers said that Gordon Westcott was crushed under his own horse and died of a basal skull injury. Winslow Felix was playing a Polo match from the Freebooters team against the Riviera Blues at the Riviera Country Club. Minutes into the game, Felix's horse collided with Reginald 'Snowy' Baker's mount, throwing both riders to the ground. Baker ignored injuries to his head and shoulder to get himself and Felix off the field before they were trampled. Baker went back to the game while Felix was rushed to the hospital, where he died the next day of a head injury."
---
Next