---
---
PALACIOS BROTHERS: Binding Over Polo
---
The three siblings talk about their love for the sport and the horses, and how each of them contributes in improving their game
The Palacios brothers are a rare family that can boast of a polo heritage, with all the three siblings—Liam, Morgan and Taylor—actively playing polo. "Polo has become a huge part of our lives. Whenever we have a game or a tournament, everyone in the family is involved, whether we are playing, grooming, shipping horses, or just helping prepare for a trip. We are grateful that our parents are supportive and want to help us be the best we can. Polo has become a family sport and brought us closer together. Through polo, I also met my wife, Anna Winslow," says Liam Palacios, eldest of the three brothers.
Morgan echoes a similar sentiment: "We are constantly trying to find tournaments to play as a team. Although my brothers and I don't live together, polo keeps us connected." They admit that polo strengthens their bonds. There's another point of similarity amongst these three--and that is their love for horses.
Talking about their introduction to the game, Liam says: "Morgan and I were introduced to polo though our pony club at Yale Polo, but we didn't get hooked until we participated in a summer camp in Maryland. I went further into polo at Cornell University and joined the first-year polo team. After a year, I made the varsity team, where I was able to expand my skills."
Taylor continues: "We were looking at a pony in Maryland and the farm happened to be a polo farm. We took a lesson and were immediately hooked. We started playing in Saratoga after that." Taylor is an instructor at Saratoga Polo School and Morgan's polo journey was significantly influenced by his time at Saratoga with Mario Dino DiSalvo.
We were curious to know how they handle competition on field, especially when playing in opposite teams. They all agreed that it is fun to play against one another. Morgan sums it the best: "Playing against a brother makes things interesting. We are a very competitive family and when we play on opposite teams, we push each other to go out of our comfort zone. Our mother doesn't like it when we play against each other because she says we sometimes get too reckless. However, the game ends, and my brothers and I come together and appreciate any great plays or smart moves that any of us pulled off." In other words, there's competition, appreciation and also learning – the best atmosphere to be in.
Sharing more insights into the training, Taylor says: "Liam was studying at Cornell while Morgan and I were on the same high school team, so I got more chances to play with him. We were put against each other for scrimmages and we didn't play on the same team unless we were playing an official game. It's like our coach knew what would happen to the group morale if we were on the same team! Training against each other gave us a stronger bond because we were forced to discover each other's weaknesses and strengths. This gave us the knowledge to cover each other and let each other play to our strengths during games. There is a connection between the three of us when we play together. There is an unspoken communication; we know where the other is or what he'll do with the ball. Even if we have not trained together for a long period of time, we can play on a team together, exchanging minimal words and still understanding each other's thoughts."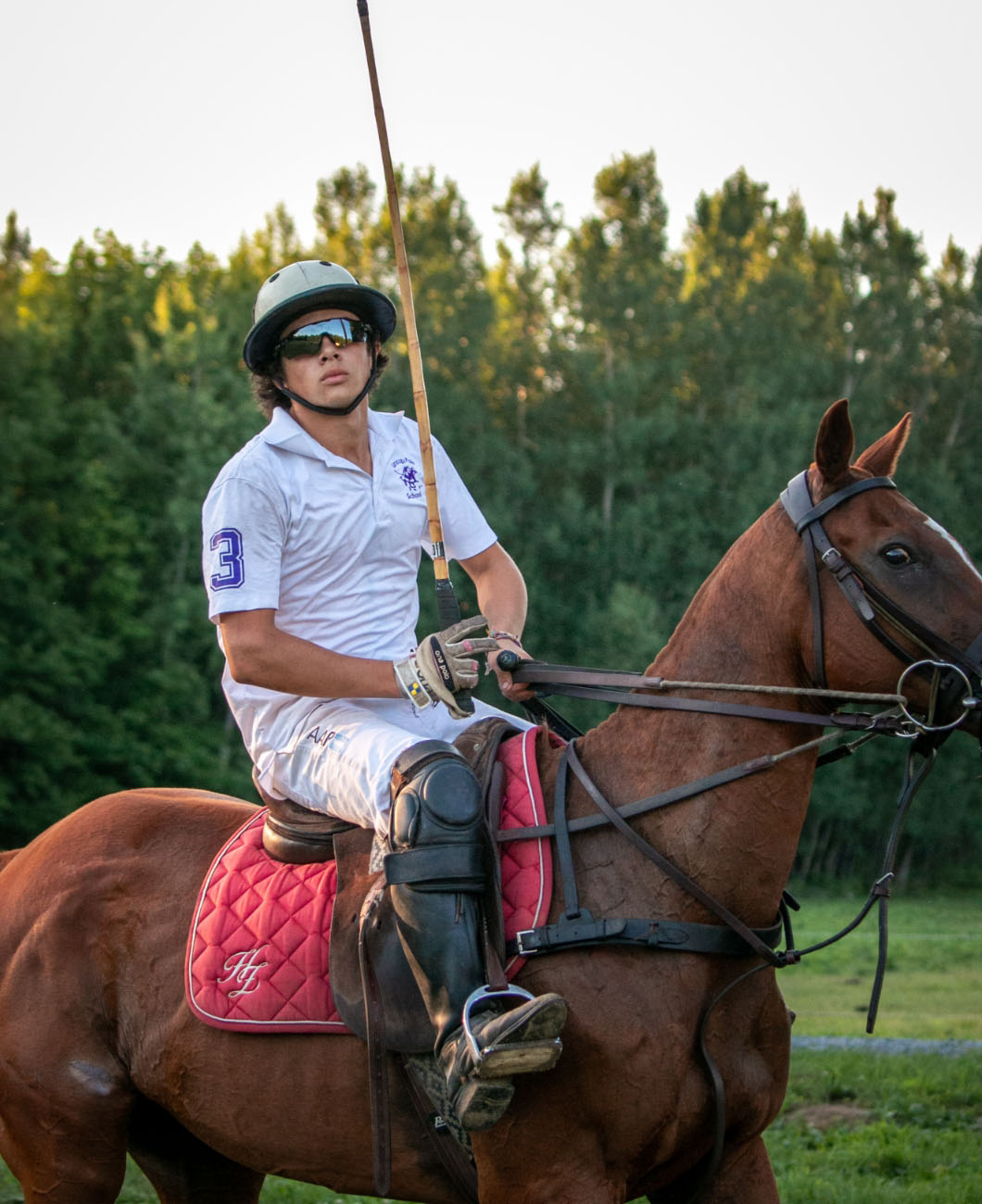 Call it telepathy if you may! Morgan opines that this pushes him to up his game in order to swerve Taylor's defence.
So how does a typical day look like in a polo family? "There really is no 'typical' day in our household. Our family lives on a farm where we raise cows, pigs and chickens, as well as keep our ponies. We also run a family business doing equine dentistry. Each day varies," Liam tells LA POLO.
Morgan adds: "Having so many polo players in the same household makes it easier to take care of the horses and keep focused on polo strategy. When the weather is nice and the horses are off, we usually end up having foot mallet games in our backyard or play bike polo."
Unsurprisingly, even the dining table discussions are centred around polo and horses. It won't be wrong to say that the Palacios family eat, breathe and live polo. However, Morgan nurses other dreams too. He prefers drawing and designing in his leisure. "I would like to go to graduate school for architecture," says the young polo player.
A life in a farm and in polo means an intimate bond with horses. "I grew up riding and never really did any typical team sports, so when I was introduced to polo, I enjoyed being able to ride and be playing a team sport. Polo is very unique in that it is one of the few horse sports that is a team sport," says Liam Palacios.
Do they fight over a particular horse, which would be quite natural amongst siblings? Taylor clarifies: "All three of us have very different playing styles which means we all like very different styles of horses. This ensures we don't fight over horses unless the horse is extremely versatile and able to adapt to our playing styles."
Regarding their best memory in polo, Liam said: "At Myopia, Morgan, Taylor and I were able to play in together. We had a lot of fun playing with each other and made it to the finals, where we unfortunately lost."
Taylor reminisces: "This past summer, I was working on a polo farm in Saratoga. Morgan was in Chatham and Liam was in Maryland, so we didn't get to spend a lot of time together. One weekend, I convinced them and the rest of my family to come to Vermont and play polo. It made me really happy to be able to play with my brothers again. I'd forgotten how effortless it is to play alongside them."
Polo, like any other sport, can grow only through constructive criticisms and reformations. And who can do that better, than those who are so passionately involved with the game? "I think the sport has changed me for the better, and I wish more people had the opportunity to play and experience the sport," says Morgan. Taylor speaks in the same strain: "It often has a negative connotation; people think it's only a sport for rich kids. I want people to know that polo is about a lot more than fancy clubs, it's about passion, hard work, and building relationships. I want young, talented players to have more opportunities to succeed in the sport."
The Palacios brothers describe their mantra for success. "Hard work will pay off," says the optimistic Taylor Palacios. His elder brother, Morgan, believes in the simple but effective mantra: "Practice makes perfect."
Whoever has come in contact with polo, has admitted it's a life changing influence. The siblings agree. "Yes, it teaches hard work and dedication. Whether it is on the polo field or in the barn, you need to give 100%," says Morgan. Taylor is of the opinion that "Polo doesn't allow a lot of free time, and even when you have a break, you find yourself doing something related to polo in some way or another. Its power is in making you fall in love without even realizing it." We cannot agree more, for only sheer love for the sport can inspire a player to look beyond the adversities of polo.
Quick bits to get to know the Palacios brothers better:
Liam Palacios
Inspiration behind Polo: None
Favourite Polo player: My wife, Anna Palacios
Favourite polo pony and why: I don't really have one favourite.
What breed of polo pony do you prefer and why: Thoroughbred
Favourite place to play polo: The summer of 2019 we were all able to play at Saratoga Polo together (either with or against each other) which was a great deal of fun. The main field was maintained very well, the polo was competitive but also fun.
Best match-ever: In China, where I was able to represent Cornell with some of my teammates and compete against five other universes from the United States and England.
A fall that you can't forget: I have not actually had a fall in my polo career, but I have gone down with a horse once in arena polo during an I/I game at UVA and an outdoor game at Saratoga.
A dream tournament that you are yet to play: I do not really have a specific tournament that I want to play in; However, I really want to play in a tournament where the three of us and Anna can play together in. This has been something we have been trying to do for the last two years but unable to find a do.
Five years down the line: We are constantly working on bettering our string and how we play together. I hope we will be able to play in more tournaments as a team unit in the future.
A message to young, upcoming players: Work hard, play hard.
MORGAN PALACIOS
Inspiration behind Polo: The feeling in your stomach when you are speeding down the field or just scored a fantastic goal.
Favourite Polo player: Mariano Aguirre.
Favourite polo pony and why: Tosca because she always taught me something new when I played her.
What breed of polo pony do you prefer and why: I like Argentine Thoroughbreds for Arena polo and American Thoroughbreds for Outdoor. The Argentine ponies are agile so they can turn on a dime, while Thoroughbreds are fast and have a quicker recovery.
Favourite place to play polo: Florida
Best match-ever: My first outdoor game where we were underdogs and we won the tournament. A fall that you can't forget: In regionals for high schools, my horse fell with me, knocking me out, and the horse after me fell on top. I don't remember the fall or the day leading up to the game and was taken to the hospital where I spent a day.
A dream tournament that you are yet to play: I would love the opportunity to play in a high goal tournament. What aspiring polo player wouldn't want to?
Five years down the line:
I plan to work on improving my skills and my string of horses, while also pursuing a career that can support our polo.
A message to young, upcoming players: Never let your failures get the better of you, and always find a success in every game you play no matter how small.
TAYLOR PALACIOS
Inspiration behind Polo: I want to go as far as possible in the polo world and have everything necessary for my kids to continue playing the sport.
Favourite Polo player: Hilario Ulloa
Favourite polo pony and why: Luna was my first polo pony who taught me a lot and will always be my favourite.
What breed of polo pony do you prefer and why: I love the Argentine polo pony, which is a cross between the thoroughbred and a native Argentinian breed called the criollo. They are small and agile but still very powerful animals.
Favourite place to play polo: 25 de Mayo, Argentina
Best match-ever: In high school my brother and I were playing in the regional semi-finals when he got hurt and I had to play without him. I don't remember the game at all but people told me I played the game of my life.
A fall that you can't forget: The most memorable fall was not mine but when my brother's horse fell and rolled over him, knocking him out while I was riding right behind him
A dream tournament that you are yet to play: I'll see where life takes me.
Five years down the line: I'm currently in my first year at Cornell where I'm studying hotel management and playing on the polo team. I will continue to play and expand my connections in the polo world in my time off from school. By the time I graduate I would like to have a job set up for myself in polo.
A message to young, upcoming players: I think it's important to have clear goals and to stay focused on them.
---
Next