---
---
THE PINK CITY HOSTS THE RAJASTHAN POLO CLUB 4 GOAL TOURNAMENT
---
A quick glimpse of the 4 goal tournament
The pink city brought a smile to sports enthusiast's faces when they hosted Rajasthan Polo Club 4Goal Tournament started on 12th January 2021. The teams were divided into two pools: Pool A: Mayfair polo, Chunda polo, and EL Dragon polo. PoolB: Jaipur polo and Krishna polo.

Day1:
The first day saw two teams from pool A, Mayfair Polo & Chunda Polo, striving for victory. Mayfair maintained its lead throughout the four chukkers, but it was walking on a tight rope as Chunda was not giving up till the last chukker. The match ended in Mayfair's favor with a lead of 1 goal, but the crowd appreciated the effort put by Chunda Polo.
Day2:
A day for teams from pool B, Krishna Polo & Jaipur Polo, to show their prowess. The intent with which Jaipur Polo played the first chukker said a lot about who will dictate the match. The first chukker finished 6-0 in Jaipur Polo way. Well begun is half done; Jaipur Polo made sure the rest half also goes their way with an aberration from Krishna Polo in the last half but not enough to close the margin. The game ended with a scoreline of 10-5, ensuring Jaipur Polo's comprehensive win.
Day3:
The 3rd day witnessed one of the enthralling matches of the RPC 4goal Tournament between Mayfair Polo and EL Dragon. The first chukker saw a close contest but tilted in favor of EL Dragon and maintained it through the 2nd chukker. When EL Dragon was sniffing victory to be around the corner by the end of 3rd chukker, Mayfair Polo came from behind and crossed the finishing line with a close margin of 1/2 points.
Day4:
Having tasted victory in the first encounter, Krishna Polo was etching to balance it against Jaipur Polo. The first chukker went to Jaipur Polo, and the second chukker did not make any difference to the scoreline. It was the 4th chukker that got the fans excited as Jaipur Polo turned the table, but they were so near yet so far. The match went to Krishna Polo, and they redeemed themself from the previous loss.
Day5:
On the final day, Jaipur Polo and Mayfair Polo put their blinkers on and chased the silver trophy as the ultimate goal. Jaipur Polo was not awed by the final match and made a statement by scoring three goals in the 1st chukker. Mayfair Polo found a glimmer of hope in the 2nd chukker with two goals, but it was a downhill story from thereon for them. Sawai Padmanabh Singh and Ashok Chandna made sure the beautiful sliver trophy went to Jaipur Polo. The winners were presented the award by Maharaj Narendra Singh.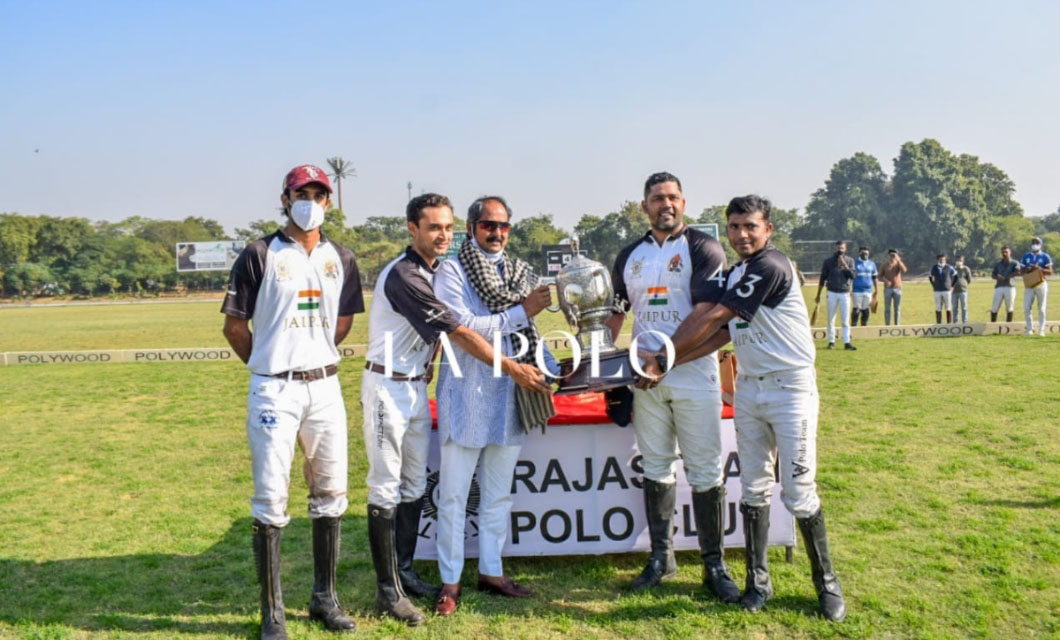 ---
Next