---
---
"Polo has made me more focused": Sunjay J Kapur
---
LA POLO in a conversation with the playing patron of Sona Polo Sunjay J Kapur about faces of polo
Sona Polo's Sunjay J Kapur, in a candid chat with La Polo, talks about the facets of the game, what drives his passion, the strategies on the ground, and the thrill of the game.






LAPOLO :You are an accomplished entrepreneur and a polo player. How do you juggle both?
Sunjay J Kapur :In life, you've got to make time for things, …you never have time, you need to make time. Polo is a passion for me. It's a sport I love to play and support, so I play as much as I can. Work is extremely important for me as well. I try to strike a balance, and therefore, my days are jam-packed. You need to make time for the things you want to do.
LAPOLO :How did polo come into your life?
Sunjay J Kapur : I started riding when I was very young. One day, someone handed me a polo stick and said, "let's try this". To that, I said, "Ok, let's try it",' and that's how it started. I had seen a polo match when I was eight years old in Chicago, and I got introduced to the game from the spectators' perspective. Then I joined riding and I enjoyed that a lot. I enjoyed the thought of getting into the game, the speed, the animal and the excitement around it. Adhiraj, my friend, brought me to polo. He got me started and helped me with the horses. I remember the first time I played polo, I put up my team. I think it was a 10-goal tournament, and that was really special.
LAPOLO :Is polo an escape, or is it another way of broadening your horizons?
Sunjay J Kapur : It's a passion for me. It is also meditative. I am away from everything when I am focusing on the game. It is a dangerous sport, a fast sport, and so it requires focus. That helps me get away from everything.
LAPOLO :Do the risks involve in polo make you more confident overall, in business aspects too?
Sunjay J Kapur : It's a very different kind of risk. In every field, there are certain risks that you are willing to take, and certain that you don't want to. In business, and in polo, you need to calculate the risks. As long as you play safe, and by the rules, you can obviously mitigate the risks.
LAPOLO :How has polo changed your life?
Sunjay J Kapur :It has made me more focused. I do a lot of yoga as well, that too gives me opportunity to meditate and focus. I have combined the meditative part of yoga with polo. Polo is a fast game, and risky; you can't really have your mind out of place. It has given me a lot of opportunity to concentrate and focus, and I can take that to every aspect of my life.
LAPOLO :Being a player is different from being a patron, and you are a playing patron. What sort of emotional tension do you take along on the field? Or, should I say, looking at the track record of Sona Polo, what sort of emotional satisfaction do you bring along?
Sunjay J Kapur : It's a competitive game and when I am on the field, I want to win, my team wants to win. We go for winning and that is the reason we play and participate in competitive polo. I drive myself and my team. We must do our best to win.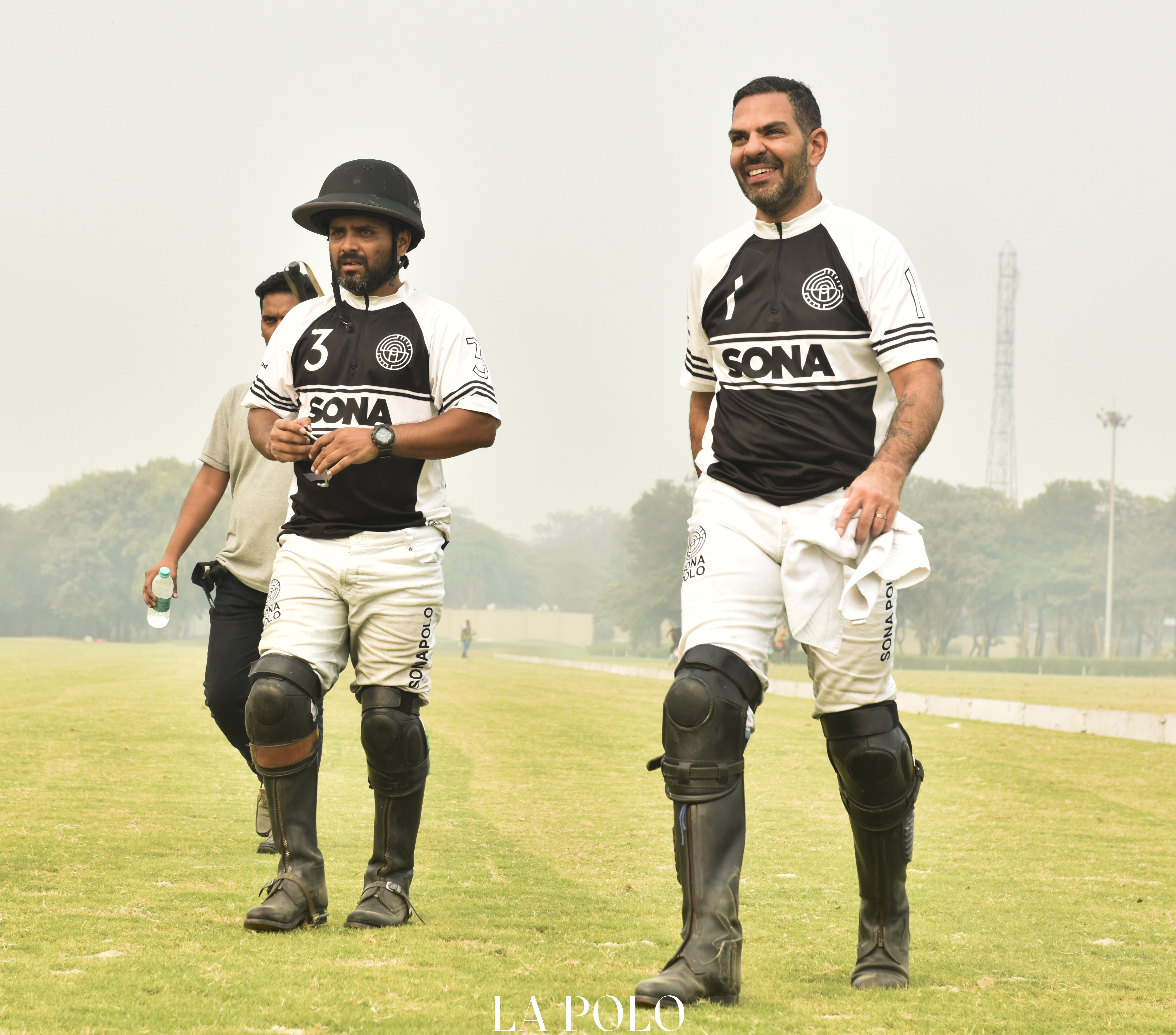 Because polo is a team sport, the players in the team think about each other as well. It is not an individual sport, from any binding aspect of it. There's a lot of anticipation, thinking, positioning. The more the team plays together, the better they end up playing. It would be right to say that it is not just the patron but every player that thinks of every other player in the team.
LAPOLO :As a businessman, you would understand the importance of marketing. Do you think polo is missing that spark?
Sunjay J Kapur : I think there is a lot of sponsorship that happens, but today it is less because of the economy and the slowdown. People are backing out of it. However, we are trying to put together everything we can, on our part. Jindals' putting a team, Sahara's putting a team, we put a team, thankfully the army puts a team as well. Then we have Aravali Polo, recently Jaisal has come back to polo with the Sujan team. We are grateful to all who have supported the game, by playing and by putting in the teams. We hope that more sponsors will come on board. At this point, the game is so important for us that we are supporting it in our own way.
LAPOLO :On the ground, the anticipation of being victorious is high for each player. How do you evaluate, digest and use it in the right manner?
Sunjay J Kapur : A, you got to combine well together; B, you got to combine as a team since it is a team sport. Four people make a team and you need to use every player. You need to go to the ground with a very positive attitude, that of a team sport and we all need to play our part. I cannot play someone else's part and someone else cannot play mine. Before going to the ground, we need to decide the role of each player and goal as a team. It is important for every team to have a plan and follow it. If you want to win, you need to practice. You cannot win if you think that four individual great players can win a game. I think a great team wins a game and not an individual player.
LAPOLO :Strategies, howsoever good, do not always work on the ground. How do you, as a player and as a patron, handle the spirit of your team?
Sunjay J Kapur :One cannot control the outcome of the game. We put together a great team and then give our best shot. Our aim remains the same, but we cannot control the outcome. Sometimes things change and you need to adapt to a new strategy and the team needs to be adaptive too.
LAPOLO :There are frequent changes in teams; in one tournament your players may suddenly be the opponents. How difficult is to adjust to that?
Sunjay J Kapur :It is always an advantage to play with the same team, however based on handicapping and tournaments, teams do change. Abby (Abhimanyu Pathak) and I play together all the time, it is an advantage as we can read each other's game. I know how he plays, he knows how I do. I know what he expects of me and he knows what I expect of him. So at least you have two players who know each other. There our players who come and leave, but we still try to keep the same team. Strategies are never the same, they keep changing. It's all about playing the best game possible.
LAPOLO :How would you define the three aspects of the sport: Anticipation, Horsemanship and Skill with the ball?
Sunjay J Kapur :Anticipation is about knowing what to do next, positioning yourself, playing well, so that you can be ready for either a pass or a defence. Horsemanship is about being able to control the horse, because it is a big part of the game, 80 percent of the game. Skill with the ball is the hand-eye coordination which is extremely important.
LAPOLO :Speed is directly proportional to the level of the game. How to maintain it while going for a high goal tournament like an Indian Masters or an IPA National to a medium goal like Bhopal-Pataudi?
Sunjay J Kapur :The speed of the game is directly proportional to the level of the game, because higher the tournament, the more organised the player is. You hit the ball, there are four players who are experienced and there is a lot of back-and-forth. Lower the goals, the more sort of mess it is. I enjoy playing the higher goals.
LAPOLO :The possession of the ball increases the changes of a goal or of the opponent creating a foul. Do players use this as a trick? There's a lot of tapping and turning these days?
Sunjay J Kapur :I think it is better to play an open sort of game where there's a lot of holding the ball and hitting it open instead of holding the ball, tapping and turning it. I like the conventional way, as a lot of turning can result in foul and penalty, so it's best to play a clean, nice game.
---
Next