---
---
Image credit: Bleacher report
Positive outlook for the equine world ahead: World of horses around the world
---
Quarantine has been lifted, sickness fund created and decks are cleared for the equine enethusiasts.
Equine Grass Sickness Fund
Carolyn and Melody Ashcroft, owners of Heald Town Highland Pony Stud, are working on their 2021 calendar marking Heald Town stallions, seven-year-old Ghamjon Ernie and four-year-old Glenmuick of Coynach, and some of the stud's foals to raise funds and awareness for the Equine Grass Sickness Fund (EGSF). They raised over £4,200 a year ago and are charmed to be supporting the cause once more. An open vote will choose which photos get featured in the calendar, opening on Heald Town's Facebook page on August 1, to be connected with the public's love for them for the 6th year in a row.
The calendars will be available to purchase online from October 1 from Heald Town Stud and the EGSF site or from Edinburgh's Royal Dick Vet and the Balmoral Castle blessing shop at £12 including postage. Kate Thomson, of EGSF, is glad to work on this project again and the funds from the calendar will be vital in sustaining the research and actions to be taken for the concerns of grass sickness.
"Marwari horse breed" Image credit: Blogspot
Decks to be cleared for Races
Marwari horse breeders nursing the dream to run their horses in races at turf clubs could soon see the light of day. Indigenous Horse Society of India (IHSI) has sent a reminder to Zavaray Poonawala, the current chairman of Royal Western India Turf Club (RWITC) in Mumbai, reminding him of the draft memorandum of understanding (MoU) prepared in February 2019 for races and auction of indigenous horses at Mahalaxmi Race course in Mumbai.
In a related development, the Karnataka government has also informed the Bangalore Turf Club on July 3, 2020 that the state government has accorded in-principle approval to conduct online betting on horse races. "The matter was almost finalised in 2019 but a major sponsor backed out at the last time. But as per my discussions with office-bearers, RWITC is keen on including indigenous horse breeds like Marwari, Kathiawari and so on, in their special category races after following strict standard protocol," Raghuvendra Singh Dundlod, Vice-President IHSI said.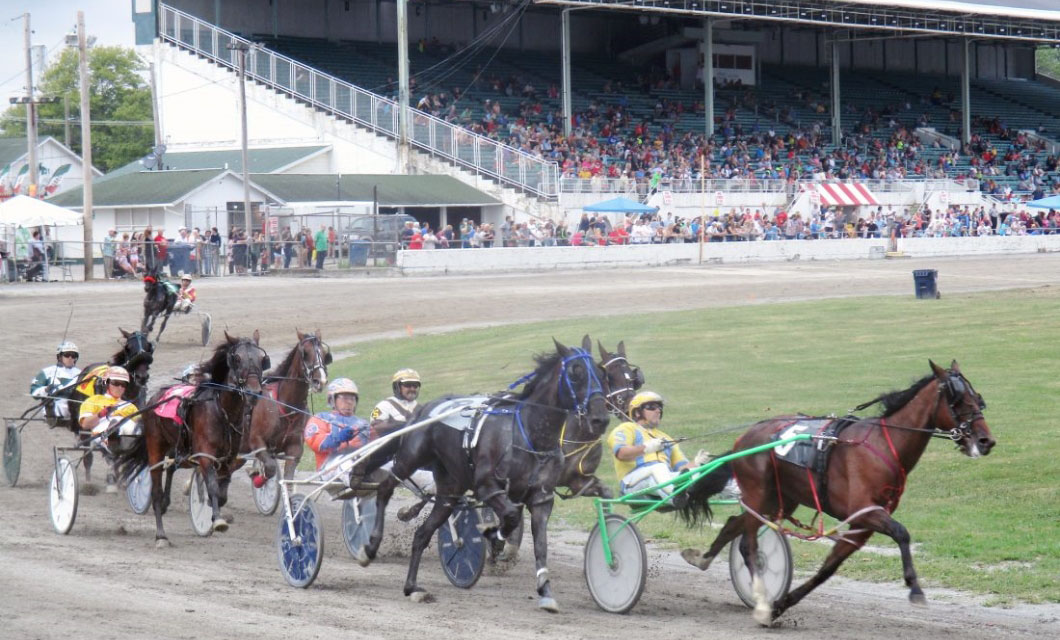 "The harness races went on as scheduled during the 2019 Canfield Fair, but there will be no fans in the stands for this year" Image credit: Ron Firth
Racing Without Spectators
The Canfield Harness Horsemen's Association (CHHA) will continue the traditional Labour Day weekend race card this year. The difference is that they will be racing like NASCAR, with no fans in the stands.
The announcement for the CHHA came when the Canfield Fair Board Directors made the decision to cancel this year's Canfield Fair and move to a Junior Fair only that will not be open to the public. "Horse racing will have only horses, drivers and owners," said Fair Director George Roman. "There will be no one in the stands."
Quarantine Lifted
Officials have lifted a precautionary quarantine on a barn at Belmont Park after test results for a horse suspected of having equine herpesvirus Type 1 were negative. The New York Racing Association said all horses in Barn 37 were found to not have fever and were asymptomatic. As a result, they can enter races and train among the general population.
The precautionary quarantine had been put in place a day earlier after a four-year-old colt exhibited fever and neurological symptoms. Freudnme is being monitored by a private veterinarian. The colt last raced at Finger Lakes in upstate New York in June 2019.
---
Next