---
---
LA POLO WITH PROFESSIONAL POLO PLAYER~ KULDEEP SINGH RATHORE
---
LA POLO sets in conversation with the polo player who made his path and wrote his own journey ~ Kuldeep Singh Rathore
For most players, polo is a legacy that has been passed over generations. For some, it is discovered as a passion. One such player is Kuldeep Singh Rathore. The young player had no one in his family associated with the sport. He chose his own path, did his best at refining the details, and is one of the most promising polo players of the country today.
LA POLO in a freewheeling, candid chat with the player who has carved out his own path and created his niche:
LA POLO: How would you introduce yourself?
Kuldeep Singh Rathore: A polo player (laughs). Well, Kuldeep Singh Rathore is first a polo player. I love horses, and remain grounded. I am aggressive on the ground but humble outside of it. I am enthusiastic about sports and love being social.
LA POLO: You studied in Delhi University. How did polo come into your life?
Kuldeep Singh Rathore: I had to finish my school and start playing. I had to make a choice. I got the opportunity to go to the UK and work with Aravali in the summers. The opportunity required me to be there for about five to six months, but the university did not allow me to do that. So, I had to make a choice. I ended up dropping out of college and went for correspondence. I had to take a call, because I wanted to work for the passion that drives me, and polo was that passion for me.
LA POLO: How was the grind initially?
Kuldeep Singh Rathore: It is always tough when you have no support from family. It's a very closed community and having no one from it, makes it difficult. My cousin, Om Singh, used to support me a lot. It was the drive in me that pushed me towards the sport. I never looked back even if it got tough. I never ran after the money, but for the charm of the game.
LA POLO: How you felt attracted to the sport?
Kuldeep Singh Rathore: I decided that I wanted to be a polo player when I was in the 8th grade. I did not look at anything else, the money part, etc. In my distant family, I had cousins who owned Marwari horses. I used to go and sit by the horses. My aunt was good friends with Maharaja Prem, a legendary polo player, and I saw him when I was seven years old. He was 90. His wife used to tell me stories sometimes, and I used to see the trophies. The fascination must have started from there. As I grew, I heard in the news about Yuvraj of Jodhpur. By the time I was in the 8th grade, I was determined. I had to wait until I completed my schooling. It was finally at 17-18 years that I started horse riding, and it has never stopped since then.
LA POLO: Unlike other sports, polo isn't popular with the masses. Was it difficult to convince the family?
Kuldeep Singh Rathore: My parents were supportive. I have always been very stubborn. Since my childhood, my family would only ask me once whether I wanted something or not. If I had made my mind, I would never be questioned. So, if anything were to go wrong, I would have no one to blame but myself.
LA POLO: We have learnt that your father helped you with the ponies. Was he interested in ponies?
Kuldeep Singh Rathore: He bought me some horses and supported me throughout. After I started making money by renting horses and playing, I stopped asking money from him. Whenever someone needed good horses, I would provide. I sold a lot of good horses, till after a stage when I started to play better, I decided that I was not going to sell any more of my horses, as they are the main thing in polo. My father never had an interest in horses. I think it was initially me who introduced him to horses.
LA POLO: Do you talk to the ponies?
Kuldeep Singh Rathore: I would have loved to. But in polo, you go through so many horses and such different string of ponies, that even though we love them, that one-on-one connection isn't there as in dressage or show-jumping.
In polo, it's all about time and change. Sometimes, you sell them, sometimes you buy them. You have to maintain a good string and then you have to get more horses. Once in a blue moon, I would talk to them.
LA POLO: Polo players often use the phrase, "this is a very beautiful pony". How would you decode the statement?
Kuldeep Singh Rathore: When they say, "it's a beautiful horse", the first thing is that it looks beautiful. For a polo pony to be beautiful, the key is that the horse needs to be compact. One thing everybody looks for in a polo pony is, not a big horse, but a smaller, lower to the ground horses because that makes it easier to hit the ball. The back should not be long…, good wide chest, fine thin neck. That would be a pretty looking horse for polo.
LA POLO: What's your normal day like?
Kuldeep Singh Rathore: If I have a match, I usually don't do much. Otherwise, I have a lot of things on my mind. I like to keep myself busy to make extra bucks to feed the ponies. I have a core job, I train people for horses. I would go to Noida and ride the horses. I try to take a lot of rest. And definitely, avoid eating Indian before a match.
LA POLO: Is the sport romantic, as it's often said?
Kuldeep Singh Rathore: Polo is romantic because of the horses, the thrill of speed, hitting the ball, scores, guys. The reason why we like it is because of the thrills, and that's more than enough to describe how romantic one can be about the game.
LA POLO: With polo comes lavish lifestyle?
Kuldeep Singh Rathore: The lifestyle is really good because you meet all the guys who have one thing in common--their interest in polo. You travel a lot and have friends in every corner of the world. That's why they say "polo is the passport to the world".
LA POLO: Anything to adopt from other countries vis-a-vis the sport?
Kuldeep Singh Rathore: There are many things, but the first thing is the grounds. The better the ground, better is the play. We don't have too much space here, but whatever we have, we can utilise it and improve the grounds.
LA POLO: How do you differentiate between a polo pony and a non-polo pony?
Kuldeep Singh Rathore: It's about the mind of the horse. Also, the conformation as we call it, does not allow them to be a polo pony. Sometimes, the horse is too long, and then the brain. Polo requires a mindset because it creates a lot of pressure as you have to run a lot, and then stop, take a turn, run again. It's run-stop-turn-run again. Some horses can't take it. A horse which can take a lot is good to go.
LA POLO: Your favourite pony?
Kuldeep Singh Rathore: HH Maharaja of Jaipur has a good string of horses. He has some ponies coming this year. He has a pony called Music and it's fantastic. It suits the Indian ground well, and was bred by Chris Mackenzie. It is my favourite right now.

Also, Team Rajnigandha Achievers have a pony called Blitz. It's a thoroughbred from England. The Jindals too have a good string of ponies. They have a mare called Pines, and she's superb, a champion here.

The x-factor of any pony defines it all. It's the impulsion that you go through, the pony understands it and goes with the ball. A big heart is a really important factor too, because a lot of horses chicken out. The good ones accelerate and beat the guy and get the ball. So, that's important.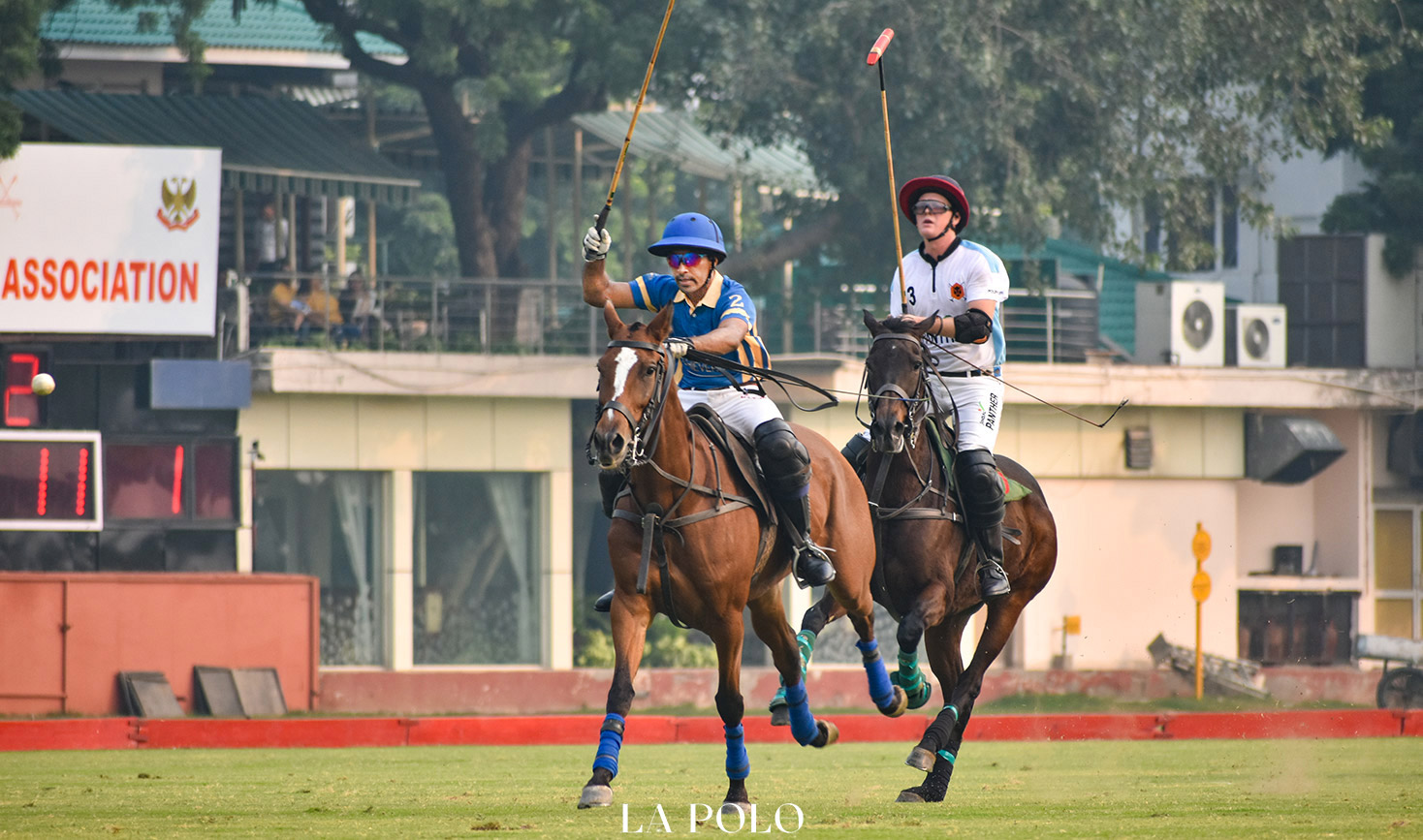 ---
Next