---
---
@chirolacabrera
Rebekah Greenhill: Riding with Elan
---
With a diversity of deeply absorbing interests like polo, wines, fashion, baking and journalism, REBEKAH GREENHILL rides high, taking the glories along in her deft stride.
She has been a pastry chef, bakery owner, a wine enthusiast, a broadcast journalist, a polo player, and has done modelling gigs on the side. Rebekah Greenhill wears many hats—and all with great aplomb. She's a game-changer in the world of women's polo, and all this might be a heavy workload for anyone else, but she considers these as hobbies and is able to creatively satisfy all her interests and commitments with elan.
Rebekah's life took a 360-degree turn at Greenhills Winery and Vineyards, for an interview. Dazzled by her knowledge of wines, food, business and journalism, she was hired to do the marketing for Greenhills Winery and Vineyards.Though that's not where the fairy tale began.
@xbryanphoto wearing @devonwindsor
In 2015, the equestrian town of Middleburg, Virginia, inspired Rebekah to turn around the marketing strategy to satiate the town's appetite for equine sports, and she got interested in riding while dating the winery owner, David Greenhill. She and David took up riding, first out of interest, and then she started pursuing it seriously.
"Middleburg and the neighbouring towns host a very active equestrian community with nationally recognised events like steeplechase races, showjumping and polo," Rebekah tells La Polo. Greenhills Winery sponsors polo events in the northern Virginia USA area where both David and Rebekah play. "There are so many talented women in polo now. My goal is to be like Dawn Jones, representing the United States of America in Argentina and England. She is a talented, brave and graceful woman," says Rebekah. With the branding of polo and Greenhill Wines together, it becomes the perfect summer pairing in Virginia, a feat accomplished by Rebekah, who foresaw the potential of both.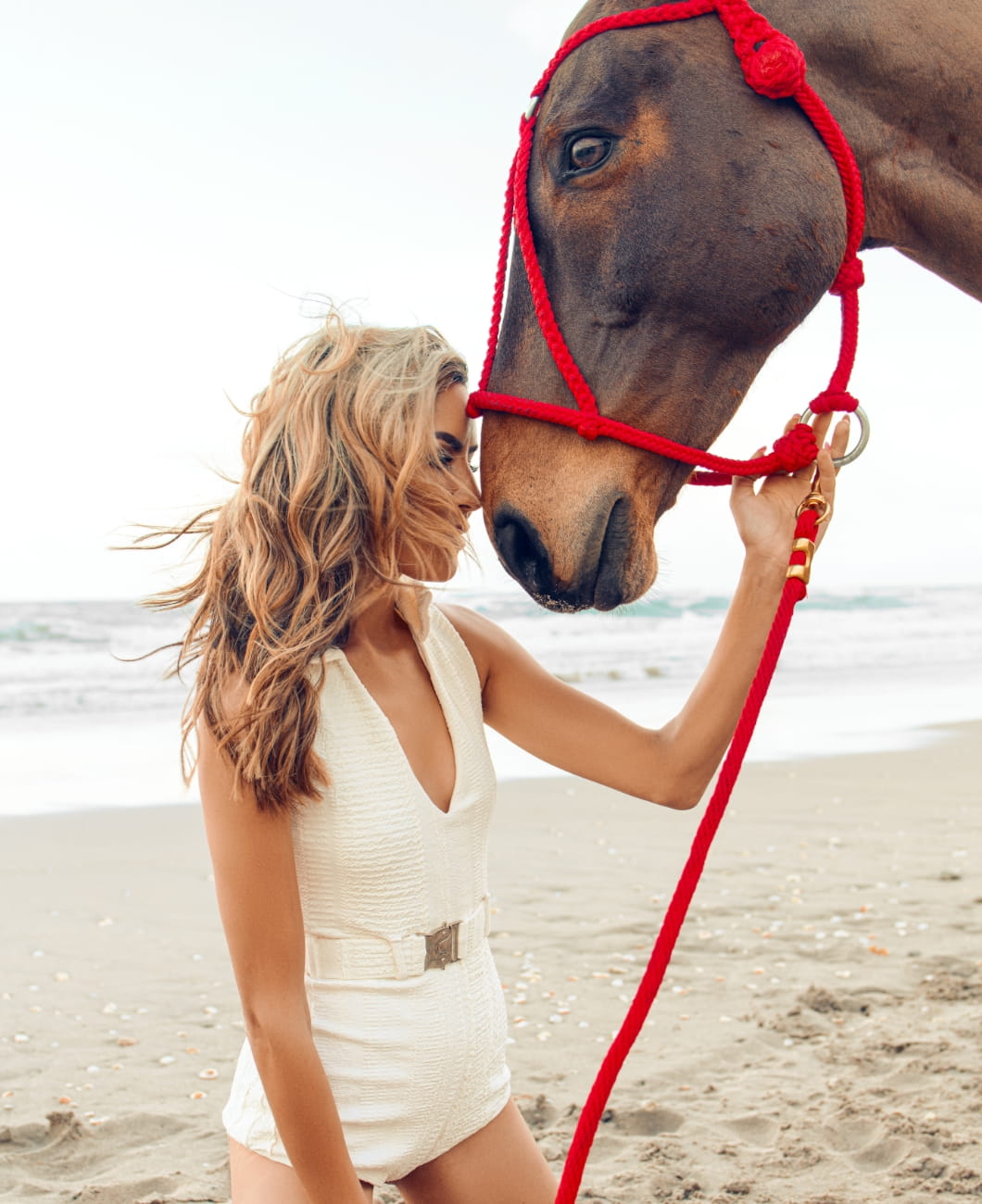 @xbryanphoto wearing @devonwindsor
About her polo journey, she says: "We took lessons every time we would travel. I've had lessons in Dubai, France, England, Germany, Malta, and Florida. We began playing in Wellington four years ago, bought a house there soon after, and now spend our winters in Wellington, and summer in Virginia." Polo helps her unwind. She describes her wonderland: "It is truly peaceful and an escape for me. I suppose it's a diversion from reality. I love checking on my horses the first thing in the morning. I wake up, walk to the barn and give them all love and kisses, hug the bunnies, feed the cats, and then drive to the polo barn to ride." Out of the aristocratic wonders she owns, she chooses to ride five regularly--her two greys, Silver and Peter Parker; the adorable light bay namely Bodie; a chestnut called Pistol; Tropero, Matero, Julia, and the utterly-buttery white-faced Nutella
"Our goal is to produce the finest wines in Virginia and be recognised as a quality producer on the international wine market," she says. With the goals already pinned neatly, there's no stopping Rebekah Greenhill from hitting the ball right on the mark
---
Next