---
---
SAHARA WARRIORS DEFEAT JODHPUR POLO FACTORY AT THE RAJPUTANA & CENTRAL INDIA CUP (10 Goals), 21ST JODHPUR POLO SEASON, 2020, WILL TAKE ON LOS POLISTAS IN THE FINALS ON 26TH DECEMBER!
---
24th December, 2020
Mr. Daniel Otamendi, the man in form led another victory for Sahara Warriors hitting five goals to conquer Jodhpur Polo Factory by 6 goals to 2.5.
The third day at the Rajputana & Central India Cup (10 Goals) 21st Jodhpur Polo Season, 2020 had Jodhpur Polo Factory playing in dark blue and orange v/s Sahara Warriors playing in blue. Syed Shamsheer Ali and Mr. Simran Singh Shergill were the umpires and Col. Umaid Singh was the referee and Th. Sidharth Singh Rohet was the commentator for the day.


| Jodhpur – Polo Factory | Sahara Warriors |
| --- | --- |
| Kr. Vikramaditya Singh Barkana ±0 | Mr. Allan Shaun Michael -1 |
| Kr. Dhananjay Singh +1 | Mr. Kuldeep Rathore +2 |
| Mr. Dhruvpal Godara +4 | H.H. Maharaja Sawai Padmanabh Singh of Jaipur +4 |
| Col. Ravi Rathore +4 | Mr. Daniel Otamendi +5 |
The match started with a +0.5 goal lead awarded to Jodhpur Polo Factory. The match started with heated tussles between both the teams with Mr. Daniel Otamendi coming out to score the opener for the Sahara Warriors, as no goal was scored by Jodhpur Polo Factory with the scores at the end of first chukker at: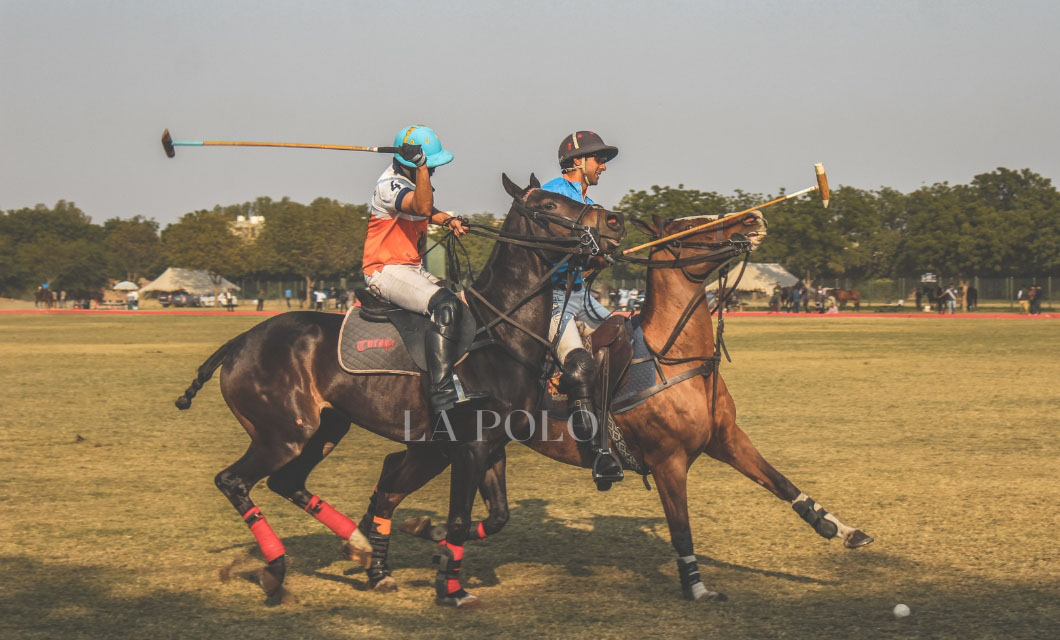 Chukker 1:
Sahara Warriors- 1
Jodhpur Polo Factory- 0.5
The second chukker had Mr. Daniel Otamendi scoring another goal for the warriors overcoming all the hard fought tackles Jodhpur Polo Factory could not open any goal yet winding second chukker scores at:
Second Chukker
Sahara Warriors- 2
Jodhpur Polo Factory - 0.5
The third chukker began with heated action with Mr. Daniel Otamendi hitting his third for Sahara Warriors and H.H. Padmanabh Singh of Jaipur adding one more goal to increase the lead for Warriors as Jodhpur Polo Factory were yet to open an account on the scoreboard as the scores at the end of penultimate chukker stood at:
Third Chukker
Sahara Warriors- 4
Jodhpur Polo Factory - 0.5
Jodhpur Polo Factory showed some fast paced action and coordination with Mr. Dhruvpal Godara hitting two goals to get on the scoreboard. The man in charge, Daniel Otamendi stroked out two more goals to clench the victory for the Warriors by 6 goals to 2.5. The final scores had:
Fourth Chukker
Sahara Warriors- 6
Jodhpur Polo Factory - 2.5
---
Next