---
---
SAHARA WARRIORS OVERPOWERED KJS ACHIEVERS TO CONQUER THE POLO FACTORY MAHARAJA OF JODHPUR GOLDEN JUBILEE CUP (10 Goals) CONCLUDING AN ENTHRALLING 21ST JODHPUR POLO SEASON 2020!
---
30th December, 2020
Sahara Warriors defeats KJS Achievers in a close encounter in the Grand Finale of the last tournament of the Season by 6 goals to 4.5 claiming its second straight 10 goal Title.
The much awaited Finals of The Polo Factory Maharaja of Jodhpur Golden Jubilee Cup (10 Goals), 21st Jodhpur Polo Season, 2020 was a clash of titans between KJS Achievers playing in black and Sahara Warriors playing in white. Col. Ravi Rathore and Kr. Dhananjay Singh were the umpires and Col. Umaid Singh was the referee for the match. Mr. Ankur Mishra and Th. Sidhant Singh Rohet were the commentators for the day.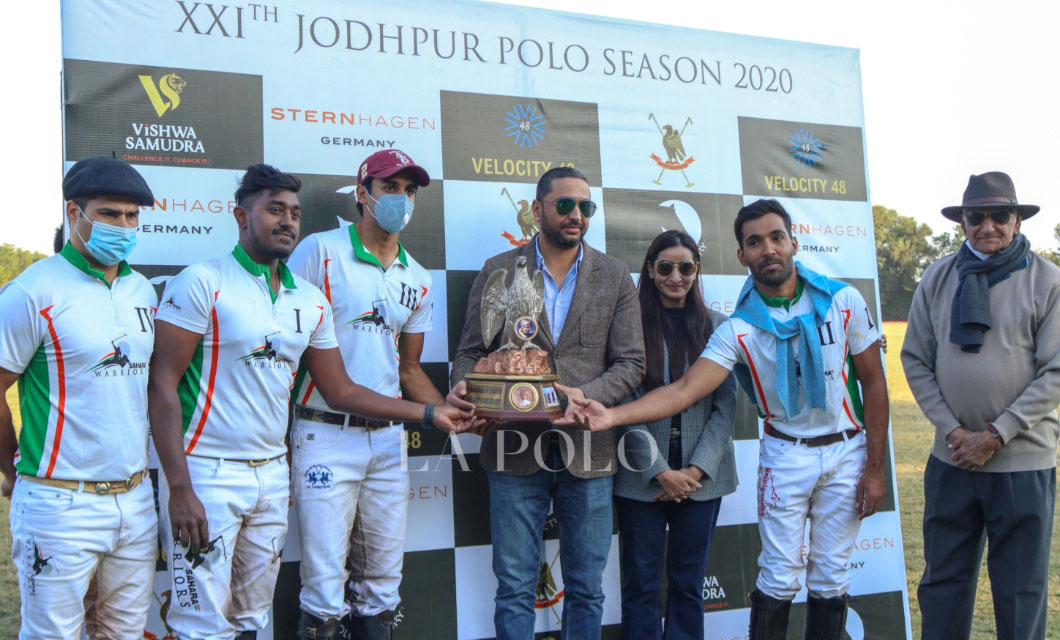 | KJS Achievers | Sahara Warriors |
| --- | --- |
| Kr. Sidhant Singh -2 | Mr. Allan Shaun Michael -1 |
| Mr. Jayvir Sinh Gohil ±0 | Mr. Kuldeep Rathore +2 |
| Syed Shamsheer Ali +5 | H.H. Maharaja Sawai Padmanabh Singh of Jaipur +4 |
| Mr. Simran Singh Shergill +6 | Mr. Daniel Otamendi +5 |
The match commenced with a half goal advantage for the KJS Achievers as the finals action kicked off as expected with early hustles and heated strokes by both the teams. Mr. Kuldeep Rathore and H.H. Padmanabh Singh of Jaipur both scored one goal each for the Warriors as Syed Shamsheer Ali hit the opener for the KJS Achievers. The first chukker scores were:
Chukker 1:
Sahara Warriors- 2
KJS Achievers- 1.5
Mr. Daniel Otamendi took the charge of the second chukker for the Warriors hitting two goals as Mr. Simran Singh Shergill scored one goal for the KJS Achievers winding the second chukker scores at:
Second Chukker
Sahara Warriors- 4
KJS Achievers- 2.5
The third chukker witnessed vigorous action as both teams gave their all in the finals, Mr. Kuldeep Rathore scored his second for the Warriors as no score was scored by the KJS Achievers with the scores at the end of third chukker at:
Third Chukker
Sahara Warriors- 5
KJS Achievers- 2.5
The fourth and final chukker had the classic duo Mr. Simran Singh and Syed Shamsheer Ali showing their synchronization striking one goal each for the KJS Achievers but after a hard fought match, it was Sahara Warriors who claimed the victory by 6 goals to 4.5 as the final scoreboard was:
Fourth Chukker
Sahara Warriors- 6
KJS Achievers- 4.5
The match thus concluded with Kr. Vikramaditya Singh Barkana, Patron and Owner of Polo Factory awarding the Runner- Ups and Winner Trophies and a note of thanks by Col. Umaid Singh, Secretary, Jodhpur Polo & Equestrian Institute who also presented prizes to the organizers and staff who all contributed to make this season a success.
---
Next