---
---
Six Types Of Shoes Every Woman Needs To Own
---
15th September 2018 | India
The types of footwear for every woman are finally here. LA POLO brings to you the list of different types of shoes that you need to have, RIGHT NOW!
Every woman needs to have the best pair of shoes for her coloquial as well as happening lifestyle. And with so many options out in the market it can not be just confusing but could be manipulative. But to all your doubts here is a rescue, LA POLO brings its explicit list of different types of shoes every woman needs to own this season.



1.BLOCK HEELS
Bringing to you different types of shoes for women, LA POLO brings to you the first shoe for women as the Block-heels. The block heels are trendy, fashionable and on point. They go well with almost every outfit you are going to pick from your collection. A black block heel, hence becomes a must for every woman to own.


2.SNEAKERS
This is that one footwear that every woman is in love with- the white sneakers. This type of shoe is the one that will take you back to the old school style, but then it is too perfect to be left behind. Sneakers have been the latest demand of the fashion town, for they are comfortable and go perfect for a casual look. Sneakers do look good with a dress, giving you a chic look. Switch to casuals with these sneakers.

3.UGLY SNEAKERS
The season is full of different types of shoes for women to choose from. But the one trend that has flooded in at large is that of the "ugly sneakers" or "grandma sneakers". The trend of wearing these ugly sneakers came into fashion when some of the top models and actresses were seen wearing them, making it the latest fashion of the year.
So now you know what you need to choose from the lot of different types of shoes displayed in the store near you. The amazing part about these ugly sneakers is that, they can be used both as trainers and for casual wears. So girl, go grab them right away!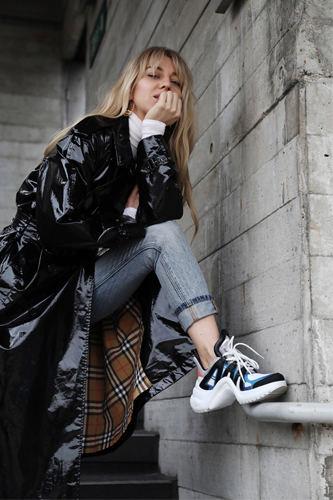 4.LOAFERS
Now among all the types of shoes that have been enlisted, this is something which is the best. Loafers are just the right thing to wear anywhere, anytime and with any thing. They are casual and elegant, both at the same time. A pair of loafers will make your outfit zero to hero by adding the counted pinch of class and attitude. Loafers surprisingly goes with everything. It's like the orange in the world of shoes.


5.BOOTS
What looks best during winters is this one pair among all the different types of shoes to choose from. Boots give a feeling of coziness and comfort in the chilling winds of the winter mornings, and also it gives sense to keep your feet warm during winters. Boots are just the right thing to adopt for such days.


6.MULES
There is a wide range of different types of shoes in the market to choose from, but it is all about comfort, elegance and the look. One shoe that can fulfill all of this are the mules. Mules have gained popularity among girls in just a blink. They are comfortable to satisfactory levels and elegant to match your professional look. Grab your pair of mules quick!


So these were some of the different types of shoes that you must own for this season to rock your days in style and also in comfort. Hurry up and buy all of them right away, right now!

---
Next