---
---
Top 20+ Quotes That Sing Of Horse Love
---
A list of top 40 quotes that convey horse love
Anyone who sits in the saddle for the first time will confess how sour their journey on the horse remained. But when asked if they will want to ride the saddle anymore, their won't be a soul who would nod in negative. The pain and the sourness of the novel practice will soon vanish away, while the horse love will keep on stepping up the ladder every day. It is this love that perceives no boundaries, and also it is this horse love that it is impossible for the human body to not to fall for them. All these years that the humans and horses have shared the same planet, the universe has witnessed how the two of them have had deepening relations. From those pages of forgotten past, LA POLO brings to you the words that sing of horse love. We have combined a list of top 20 quotes that speak of horse love and have been shaped into words by established personalities. These top 40 quotes will portray how it is unable to resist the horse love.


When I hear somebody talk about a horse or cow being stupid, I figure it's a sure sign that the animal has outfoxed them

- Tom Dorrance
The horse. Here is nobility without conceit, friendship without envy, beauty without vanity. A willing servant, yet never a slave
- Ronald Duncan
When I bestride him, I soar. I am a hawk: he trots the air; the earth sings when he touches it; the basest horn of his hoof is more musical that the pipe of Hermes
- William Shakespeare
The horse moved like a dancer, which is not surprising. A horse is a beautiful animal, but it is perhaps most remarkable because it moves as if it always hears music
- Mark Helprin
A horse is the projection of people's dream about themselves – strong, powerful, beautiful – and it has the capability of giving us escape from our mundane existence
- Pam Brown
Riding a horse is not a gentle hobby, to be picked up and laid down like a game of solitaire. It is a grand passion
- Ralph Waldo Emerson
The sunshine's golden gleam is thrown, on sorrel, chestnut, bay and roan
- Oliver Wendell Holmes
I am still under the impression that there is nothing alive quite so beautiful as a thoroughbred horse
- John Galsworthy
By reason of his elegance, he resembles an image painted in a palace, though he is as majestic as the palace itself
- Emir Abd-El-Kader
Did you ever see an unhappy horse? Did you ever see a bird that had the blues? One reason why birds and horses are not unhappy is because they are not trying to impress other birds and horses
- Dale Taylor
I can make a General in five minutes but a good horse is hard to replace
- Abraham Lincoln
Of all animals kept for the recreation of mankind, the horse is alone capable of exciting a passion that shall be absolutely hopeless
- Bret Harte
The horse, with beauty unsurpassed, strength immeasurable and grace unlike any other, still remains humble enough to carry a man upon his back
- Amber Senti
I love the horse from hoof to head, From head to hoof and tail to mane. I love the horse as I have said, From head to hoof and back again
- James Whitcomb Riley
The horse is an archetypal symbol which will always find ways to stir up deep and moving ancestral memories in every human being
- Paul Mellon
Through his mane and tail the high wind sings, fanning the hairs who wave like feather'd wings
- William Shakespeare
The horse, the horse! The symbol of surging potency and power of movement, of action, in man.
- D. H. Lawrence
Go anywhere in England where there are natural, wholesome, contented, and really nice English people; and what do you always find? That the stables are the real center of the household.
- George Bernard Shaw
I don't like people," said Velvet. "... I only like horses.
― Enid Bagnold, National Velvet
Fascination with horses predated every other single thing I knew. Before I was a mother, before I was a writer, before I knew the facts of life, before I was a schoolgirl, before I learned to read, I wanted a horse.
― Jane Smiley, A Year at the Races: Reflections on Horses, Humans, Love, Money, and Luck


I'd rather ride on a Mustang, than in one.
- BaileyAnn Neal t


A horse gallops with his lungs, Perseveres with his heart And wins with his character.
- Tesio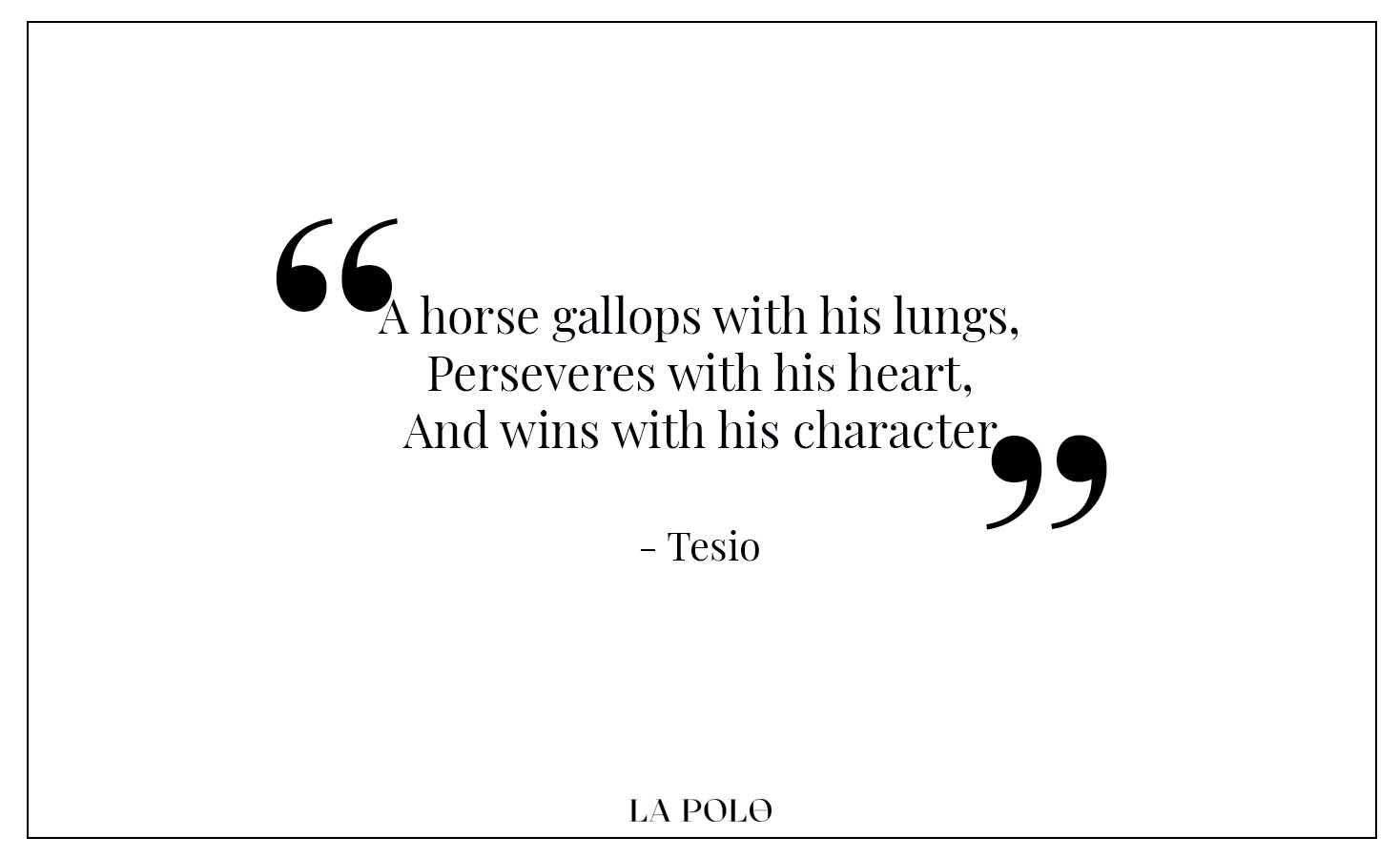 There are many wonderful places in the world, but one of my favorite places is on the back of my horse.
- Rolf Kopfle
---
Next