---
---
Trooping The Colour- Annual Queen's Birthday Parade
---
A tale of queen's birthday parade through Trooping The Colours
So, basically a colossal birthday party for the Queen?" asked Catherine as she browsed through a book.
"Well, not just that, you know. There's a lot more to it," replied Jay, a little confused.

"The look you wear on your face, says quite the contrary," smirked Catherine, rather sarcastically.

She was really looking forward to know more about this day called the 'Trooping The Colour'. From the pictures the event looked vibrant, and something told her that the day wasn't confined to the Queen of England's Birthday celebration alone. Catherine was determined to know what secrets this day held. She wanted to soak into the beauty of the vibrancy of the experience that 'Trooping The Colour' is. She headed straight to her mother's library and began to pull out editions of the distinct books until she found a story that told her exactly what she had wanted to know. Catherine found the title for the story a little odd, but soon understood that this tradition goes way back came to prominence in the eighteenth century. Those were the days of land warfare, and battalions used brightly coloured flags in order for them to be visible in the dust clouds of the battle. In a marching ceremony at the end of the day, the colours were customarily carried down the ranks, and kept at the emergency meeting point of the battalion during the night.

What had looked like an arbitrary use of colours until now, had begun to make sense to Catherine. She thought to herself, "An entire marching ceremony, in order to familiarize soldiers with the coloured flags of his unit and the emergency meeting point." It was more fascinating than she had thought. She read on, only to discover that as times changed while the ceremony continued with the same pomp and show, the colour trooped today is only the Queen's colour.

She got the most impressive display of military ceremonial that London witnesses every year. As the event marked the Queen's official birthday 1748, it came to be known as the Queen's Birthday Parade. Charlotte of Mecklenburg-Strelitz was the first ever Queen of Great Britain, whose birthday celebrations transcended into the royal ceremony. An amateur botanist, Queen Charlotte was a lover and patron of the arts. A mother of fifteen children, she held a great interest in Kew Gardens. Owing to her love for botany, the South African flower, the Bird of Paradise was named Strelitzia reginae, in order to honour her.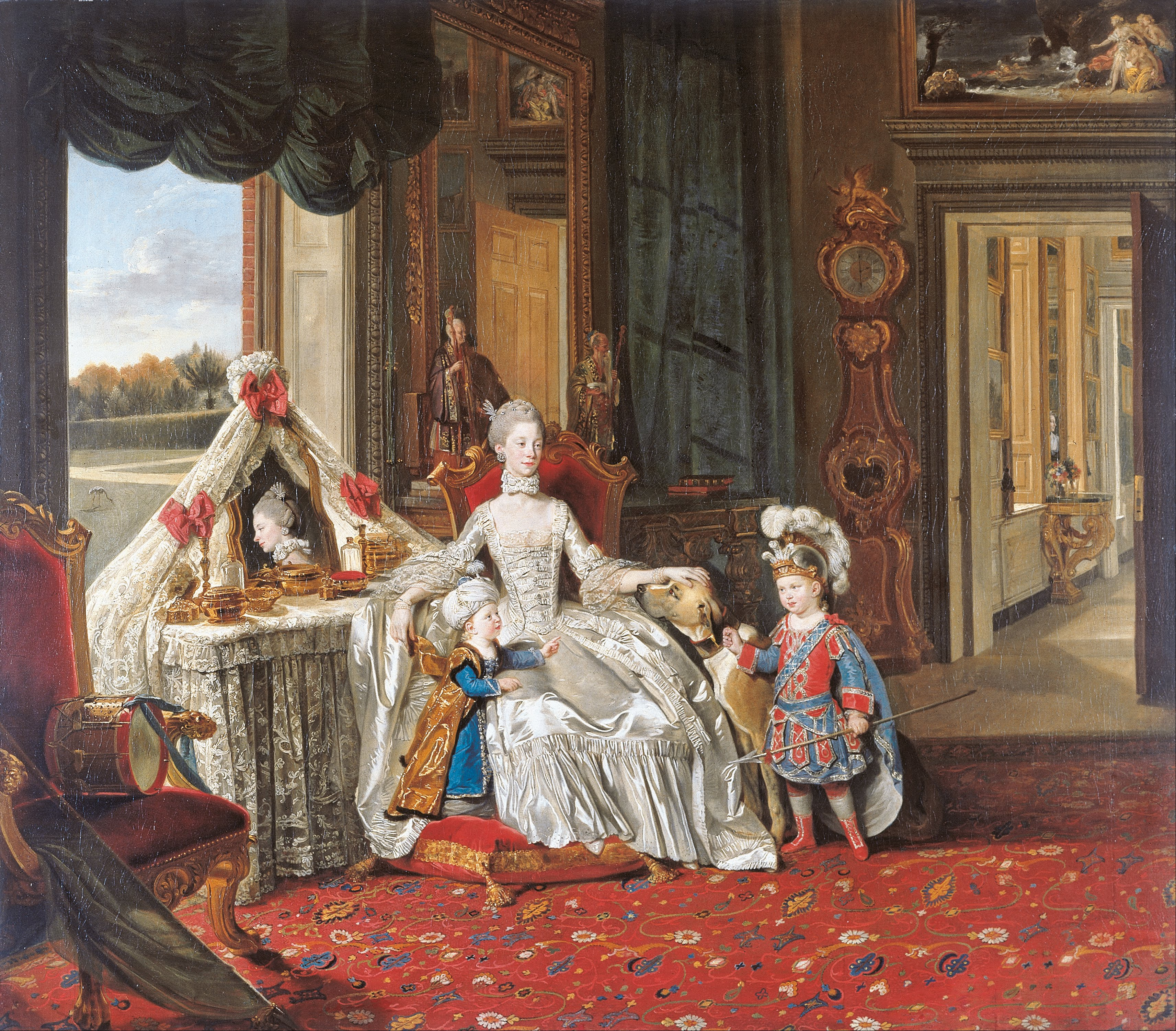 After her came Caroline of Brunswick, who was the Queen of the United Kingdom from 1820 to 1821. Her reign was cut short by her death in 1821. Queen Caroline was a student of music and was often described as amiable, lively witty and playful. It was unfortunate that she had a troubled personal and married life.

Queen Adelaide of Saxe-Meiningen continues to be remembered in the Australian state of South Australia. A bronze statue of hers continues to stand in the foyer of the town hall, in the capital city of the state, which is also named after her. After an equally influential Queen came the much loved and adored Queen Victoria, who ascended the throne of the United Kingdom of Great Britain and Ireland in 1837 and continued ruling benevolently until her demise. The Victorian era, one of the most celebrated periods of England in terms of art, technology, and development is named after Queen Victoria, as the country flourished in all arenas under her rule.

The current British sovereign Queen Elizabeth II's birthday will be celebrated this year on 8th June at the trooping the colour ceremony in London. Each year, the ceremony takes place at Horse Guards Parade by St. James's Park. Despite the extremely royal nature of the ceremony, it is open to the general public, along with guests invited from all over the world. The most fascinating aspect of the parade is that it has begun to be streamed live for all the world to witness the brilliance and panache of the celebration of the Queen's birthday. The parade is rather special as the queen traverses down from Buckingham Palace in a regal procession.

When Queen Elizabeth II was born, her mother Queen Mary said that a little darling with a lovely complexion is born. As a young princess she was dearly loved by her grandparents, while the royal household was extremely fond of their little darling. While the rest of the royalty was afraid of the king, Elizabeth fondly addressed him as Grandpa England. Adorable, isn't it? It is a fact well known that the queen is as bright in her aptitude as she is kind and benevolent towards the general population of England, and the rest of the world. As a kid she used to have a great liking for history and literature, reading which she could spend hours at a stretch. Her fondness for dogs and horses was such that on one occasion she even expressed the wish to marry a farmer in order to be close to his cattle.

Interestingly, the princess who had never left the country before deciding to go to South Africa in 1947. It was here that she celebrated her 21st birthday, a rather special age in each one's life. Even as it was the norm during those times, the young princess was ready for marriage. But who knew, one day she would become the longest reigning monarch in the history of Great Britain.

In 1954, on June 2nd Cecil Beaton's portrait of the Queen named official coronation portrait came out. Today, it is displayed at the Royal collection, for the general public to admire the beauty of not just the Queen but also of the skill of the photographer who adopted a theatrical backdrop for the photograph, and making the Queen's drawing room at Buckingham Palace look like the Westminster Abbey. Interestingly, the Queen wears the crown designed for Queen Victoria's coronation in the portrait, while holding an orb and a scepter. Another fascinatingly beautiful photograph of the Queen that won photographer Stewart, the Royal Photographer of the Year award in 2003 is one in which the Queen makes a rather surprised face as she takes tea with Eton schoolboys at the Guards Polo Club.

A few other noteworthy portraits of the Queen include William Dargie's Queen Elizabeth II, painted in 1954, when she visited Australia. The painting is displayed at the National Museum of Australia, today. Then comes Dorothy Wilding's The Queen, taken in 1952, Wilding being the first woman official royal photographer. One that is a favourite among art lovers is David Dawson's The Queen sits for Lucian Freud, taken in 2001, as Lucian Freud paints the Queen's portrait that went on to win accolades for him.

The love that the Queen garners from the people round the world is evident in the various tributes that receives from artists in the form of their art sometimes especially created for her, while sometimes dedicated to her. In a similar attempt to bring to light the beauty of the heart of the Queen to the world, author and poet Ruth Stacey wrote 'Elizabeth II' in 2015. The poem was written as a mouthpiece of the Queen, beautifully captures her will to stand by her people and let her actions speak louder than words for the love she bears for her country. The poem reads as follows:


Elizabeth II
By Ruth Stacey

In today's correspondence a poetry book
detailing the lives of British Queens—
with a note enclosed and a question:
what does it mean to be a Queen?

I could reply and say—
this precious stone set in a silver sea:
a symbol, like a banner, for mens' love.
But these are not my words.

I could reply and say—
glorying in the glories of my people,
sorrowing with the sorrows of the lowest.
But these are not my words.

I could declare—
that each Queen is tissue paper thin,
translucent but combined, are my flesh.
But I will not solidify my words,

instead I will command my secretary to write,
with many kind thanks for the little book etc,
but to say my thoughts on Queenship
can only be ascertained by my actions.


Ruth Stacey, "Elizabeth II" from Queen, Jewel, Mistress
---
Next