---
---
The Undying Love For Coffee, Or Shall We Say, Indonesian Coffee
---
A guide to the everlasting love of Indonesian Coffee.
If you're like most people and can't function without your morning coffee, chances are stopping by at Starbucks in the morning is your top priority, you'd rather show up to your morning meeting or morning lecture a few minutes late than feeling bleary-eyed and anything but humming from caffeine.
Since you're such an avid coffee drinker you must-have a go-to roast that is always brewing in your french press at home, just waiting to be consumed. Well, how about you give your taste palette a shock and introduce them to some new flavors and roasts, after all, being a coffee enthusiast it's kind of like your moral duty to taste all the coffees in the world and try as much as you can get your hands on. But there are so many roasts and countries that supply coffee, choosing where to start is a dilemma on its own so to help you take a little load off your plate, we reckon you should start with Indonesian coffee and to help you a lot more we've made a whole list of coffee beans that are produced in Indonesia, so what all you're left to do is sit back, relax and revel in aroma of some of the world's best tasting coffee.
Here are some of the coffee roasts that you should try before anything else
1. Gayo Coffee
This coffee is grown in the highlands of Central Aceh region and is one of the most distinctive tasting coffees. The taste profile of a cup of Gayo Arabica is rich and enigmatic. It has a concentrated aroma and remarkably mild bitter flavor which makes it a perfect combination of epicure coffee.
2. Kintamani Coffee
Grown natively in Bali this particular type of coffee - Kintamani is different from other Indonesian Arabica coffees thanks to its mild flavor, normal acidity, and fruity kick. The fruity taste is obtained from the coffee being grown collectively with fruits and vegetables allowing the beans to embody the taste of their surroundings. If your palette craves for an unusual cup of coffee, then Kintamani coffee is the one to pick and take home to share with other coffee enthusiasts.
3. Toraja Coffee
Endemic to the mountains of the island of Sulawesi, Toraja Coffee is a multi-dimensional coffee and is characterized by its broad flavor with mellow richness and undercurrents of ripe fruit and dark chocolate. A cusp of Torajan coffee has been characterized as deep and reflecting with mustic fruit notes and rustic palate. If you're someone who hates the acidity of beans this is the ideal coffee bean for your palette because the bitter aroma of coffee seems to marvelously disappear after the first sip, leaving a delightful impression on your taste buds.
4. Bajawa Coffee
Found in the islands of Flores, Bajawa happens to be retreat town for the alpine area along the austral coast where the coffee is produced. The farming method of this Arabica type of coffee is passed on from one generation to next using ancestral methods. The fragrance of the coffee is designated by the rich scent of flora, chocolate, earthiness and seldom of moistened tobacco. It is cultivated using a wet-hulled manner providing it with a full body and unparalleled essence not to mention a delightful aroma local only to this region.
5. Kopi Luwak
This also happens to be the world's most expensive coffee. Authentic Indonesian kopi luwak is obtained from the droppings of a wild similar to a cat-like animal called the Luwak, this nightly forest animal lurks without restrictions nearby coffee farms at night during the harvest season, eating only the finest ready coffee cherries. Since it's not able to digest the stones – or coffee beans – of the cherry, the cherry stones or the coffee beans come out completely intact when this animal excretes. The beans are then gathered, cleansed and treated by coffee producers. The fermentation process in the civet cat's stomach crumbles down the coffee protein which in turn takes away the acid after taste, improving the taste, creating the kopi luwak creamy, robust and nutty. Because of its low levels of acid, it makes it easier to digest for people suffering from stomach ulcers or any other digestive difficulties.
If you're someone who wants to do more than just sip exotic coffees from the comfort of your living room, you can plan a whole week trip to Indonesia with your family or other coffee aficionados and head down to the Njuah Njuah Festival at Lake Toba in North Sumatra, which is held in September every year, it'll lend you the experience to gawk at the local culture while feeding to your coffee addiction by revealing on a hot cup of authentic Sidikalang coffee. Kopi Sidikalang is rich in fragrance and flavor, bearing a spiciness. It's a little less bitter with a chocolatey aftertaste and is best consumed brewed tubruk style — or completely black without any added sweetness.
Since you've embarked so far on your adventure to taste and bring home the most savory coffee in the whole of Indonesia, here's a few Bistros that you should definitely hit up when you feel like you're flagging and need your daily induce of caffeine.
1. Kawa Daun Coffee, Tanah Datar
This novel coffee shop draws coffee fans because of its very distinctive black coffee. Its color and brewing process are also very distinct from your routine black coffee. Similar to the tea making process, this coffee is prepared by undeviatingly steeping coffee leaves rather than regular coffee beans. Due to this very process, the shade of the coffee also appears similar to a tea. The icing on the cake is, the coffee is served in a vessel made out of coconut shell. This makes the coffee taste way richer.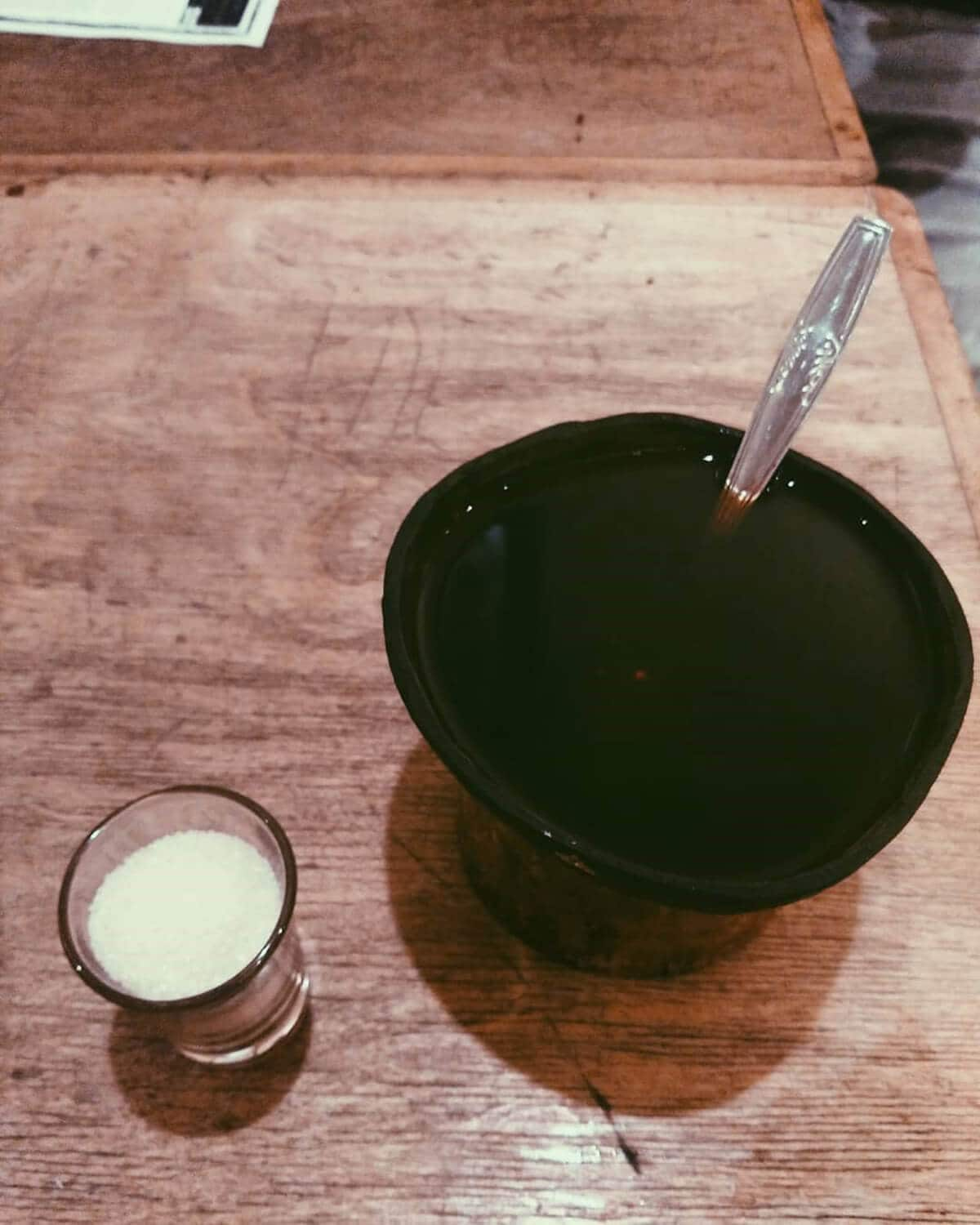 2. Joss Coffee, Yogya
Surely you've heard of charcoal face masks and other beauty regime products with charcoal as a key ingredient but did you ever thought you'd drink a coffee in which charcoal would be the key ingredient? No right? Well, Joss Coffee is a masterpiece coffee, in which a literal piece of scorchingly hot charcoal is dipped into your cup. It is assumed by the locals that having a burning piece of coal dipped in your coffee can soothe an unsettled stomach. It's worth a try if you're traveling or planning to travel to Yogyakarta in the future.
3. Kopyok Coffee, Gresik
Usually, most coffees have a really thin layer of coffee powder residue at the bottom of the cup. Here's how Kopyok coffee makes its distinction from ordinary coffees, in Kopyok coffee, powder remains in its grainy form. Boiling hot water is then emptied into the vessel and the coffee powder glides it's way up to the surface. The flavor of the coffee is pretty sour on the palette, but that's what makes it stand out from other coffees.
4. Ijo Coffee, Tulungagung
On translating Ijo coffee means Green coffee. It's favored by the locals because of its smooth kick and the novel green color that it displays inside a coffee container. This magnificent green color is courtesy of food coloring or some mysterious ingredient, it's due to its preparation process. This coffee needs old cookery utensils, persistence, and concentration to detail due to its time consuming and gradual process.
5. Transparent Coffee, Kopi Bening at 210 Brew & Roastery Jakarta
Ever wanted to sneak your coffee in establishments where it's not permitted or indulge in your daily caffeine needs without being judged by prying eyes? Then this coffee is created especially for you. This unique discovery was made by 2 baristas from Kopi Bening at 210 Brew & Roastery, Jakarta. This transparent coffee tastes and smells exactly like regular coffee just a little bitter than your usual ones but nothing can't be solved with a little sugar right?. Even though the whole coffee is transparent there's still little portions of coffee grounds that are clearly visible.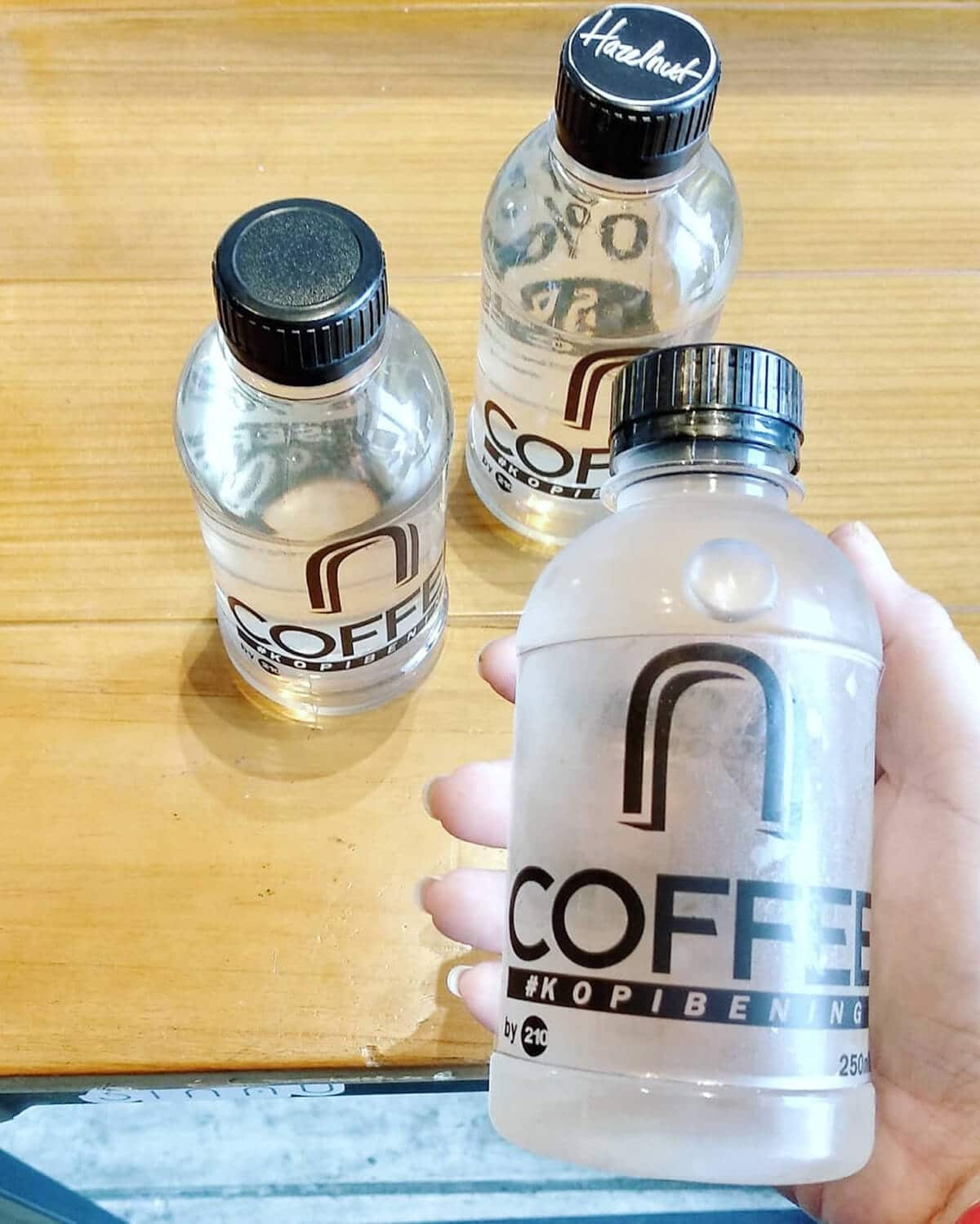 A Receptive Coffee Voyage
Venture out on a receptive coffee voyage at Starbucks Dewata Coffee Sanctuary a one-off sanctuary that demonstrates Starbucks Indonesia's coffee leadership.

Situated in Bali's prospering prime retail neighborhood on Sunset Road, the Coffee Sanctuary presents a thoughtfully curated array of reciprocal activities.
On entering the premises one will be welcomed at the attendant reception and then escorted into an operational, 1,000 square foot coffee tree nursery, which are the dimensions of a standard Indonesian nursery. You will then resume your adventure through present-day Balinese garden, running into coffee plants and a de-pulping station on your way prior to trying your own hand at washing, wilting and collecting green coffee beans. On reaching inside there's an expansive Reserve bar that extends customers a friendly encounter to savor Starbucks Reserve small-lot coffees, along with this there's also a core bar that tenders Starbucks signature core drinks.
On ascending to the second floor you'll find a seedling plantation, a greenhouse sunshade made out of mirrors to devise an open-air occurrence. Here, you can even feel the first steps of the seed-to-cup voyage, along with increasing your knowledge of the science of nursing to coffee plantations with assistance from a Balinese producer. In the connecting tasting room, your tastebuds will be brought to life as you divulge in coffee just like coffee quality testing experts do, without making use of any kind of filters – solely coffee and water – which bring out the tastes that set every cusp apart.
"Bali has an envied reputation as one of Asia's top travel destinations and Indonesia is one of coffee's most extraordinary coffee origin regions, so we're excited to invite customers here to ignite their senses and explore the seed-to-cup coffee journey at this unique Coffee Sanctuary," stated Anthony Cottan, managing director, Starbucks Indonesia, at PT Sari Coffee Indonesia Limited. "We're very pleased to further strengthen the longstanding partnership between Starbucks and PT Sari Coffee Indonesia with this truly one-of-a-kind Starbucks store, inspired by and filled with the finest examples of Indonesian art, design, and craftsmanship."
---
Next