---
Vacheron Constantin
---
24th July 2018
The watch that grew with its age.
Vacheron Constantin is one of the oldest watchmakers to ceaselessly stay in business. Currently claimed by the Richemont Group, and situated in Geneva, Vacheron is known for its Maltese cross logo embarked on the crowns of the prestigious luxury watches. Vacheron Constantin has been committed to precision, following a tradition of perfect craftsmanship, elegant design, and innovation, making them the best of the best.








"
VACHERON CONSTANTIN: An uninterrupted history of 260 years devoted to watchmaking excellence.
"
Vacheron Constantin is a luxury Swiss manufacture of prestige watches founded by Jean-Marc Vacheron, now owned by the Richemont group. The company was founded in 1755. Vacheron was an independent watchmaker in Geneva, Switzerland.

Jean-Marc Vacheron (1731-1805) opened his workshop in Geneva in 1755. His first striking creation was "The Silver Watch". It was in 1770 that Vacheron made the first complicated timepieces and later in 1779 he designed the first engine-tuned dial, a development later adopted by all watchmakers. In 1785 Jean-Marc's son, Abraham, took over the business and saw it during the French Revolution from 1789 to 1799.
Jean-Marc Vacheron died in 1805, therefore in 1810 his grandson, Jaques-Barthélemy, took over the company. He was the one to start the exports to Italy and France. In 1819, Jaques felt he could no longer run the business all by himself as he needed to travel for business. Thus, he teamed up with the business strategist François Constantin, for he had business acumen required to take the company to a higher level. This company was named "Vacheron et Constantin".

Vacheron Constantin became member of the Association for Research into non-magnetic materials in 1862. In 1880, Vacheron and Constantin started using the Maltese cross as their symbol, till date. In 1885, they made the first nonmagnetic timepiece which incorporated a total lever assortment made of materials that could withstand magnetic fields.



In 1887, Vacheron & Constantin was reorganized as a stock company. The company was awarded a gold medal for its outstanding achievements at Swiss National Exhibition in Geneva, in 1887. Fabergé's Third Imperial Egg had a Vacheron Constantin Lady's watch as the surprise.

In 1906 Vacheron Constantin opened their first boutique on the Quai de Lâ Ile in Geneva. Charles Constantin became the head of the company in 1936. In 1938 Vacheron & Constantin was bought by the Jaeger-LeCoultre family. They emerged from the 1930's as the epitome of luxury watches.

In 1979 Vacheron Constantin made Kallista, one of the most expensive wristwatches. Its initial cost was $5 million, which today stand around $11 million. Kallista had 118 emerald-cut diamonds. It took about 6,000 hours to make this watch and about 20 months for jewelers to enrich the watch.


Today the company produces about 20,000 timepieces per year. The year 2000 began the 3rd century of Vacheron watchmaking and to commend they created their Patrimony line, some of the most slender mechanical watches in the world, measuring just 5.25 mm thick. In 2003 they exhibited a sports line named Overseas, and also their first collection just for women, called Egèrie. They moved into their newly remodelled manufacture and corporate headquarters in Plan-les-Ouates, Geneva in 2004.

In 2007 Vacheron Constantin introduced the Métiers d'Art 'Les Masques' collection of timepieces featuring miniature reproductions of primitive art masks. The Métiers d'Art 'Les Univers Infinis' collection of timepieces featuring tessellation, a design of interlocking identical shapes, inspired by the work of Dutch artist Maurits Cornelis Escher introduced in 2012.



In 2015, during the manufacturer's 260th commemoration, Vacheron Constantin revealed the world's most complicated mechanical watch, named Reference 57260. It took 3 watchmakers, 8 years to manufacture the 57-complication watch at the demand of a customer. Vacheron Constantin would not unveil the correct cost of the watch but rather confirmed that it was between 8 million and 20 million US Dollars.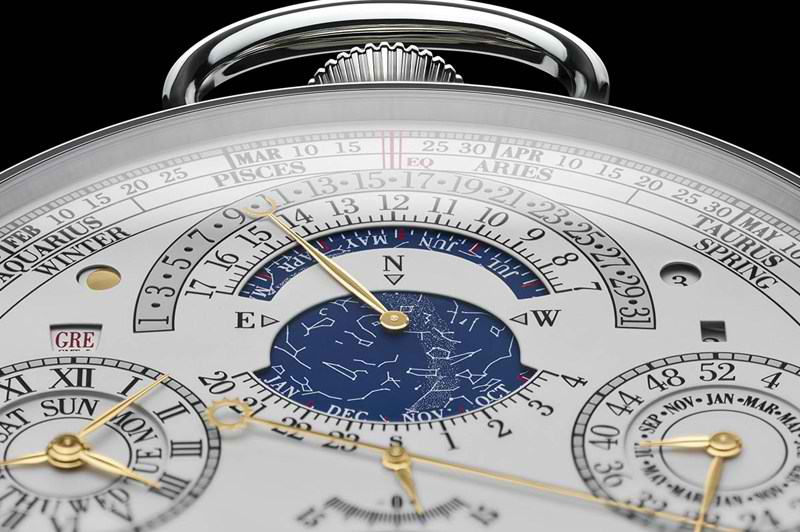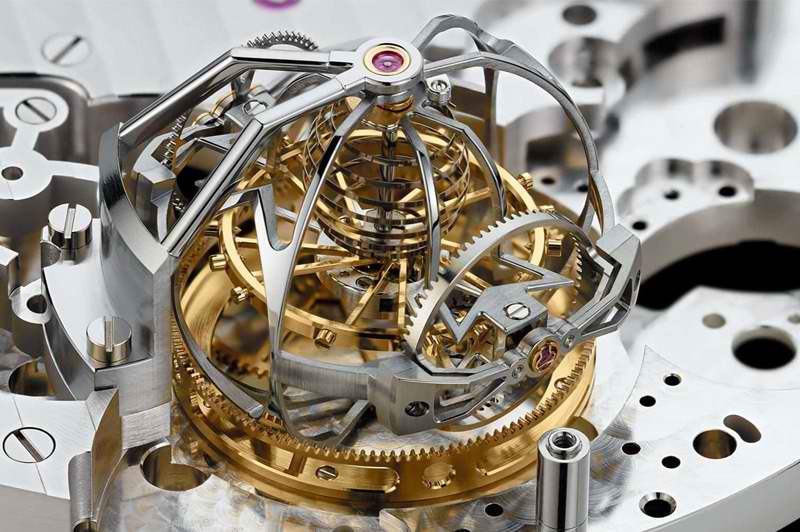 ---