---
---
When Work Is Passion
---
For Katerina Morgan, boundaries of art and commerce merge as she pursues her love for equine photography
Katerina Morgan, an equine photographer, is exploring Polo through her lens. In a candid conversation with La Polo, she delves on her craft and the challenges. "I think each person is born with an ability to be creative and it's a question of discovering it and developing it. A photographer has developed the capacity to catch visual images. We are good at transmitting an idea through an image, as writers transmit it by words. It's something natural," she says.
Talking further, she says: "For each client, we need to take from different angles. For example, the club-perfect shot is showing a polo field full of people and nice action movement; for sponsors, it's showing a logo on the background or a nice action photo with logo on a T-shirt; for the media, it's a short story showing all types of photos, a general image with a polo field to show the place, impressive action pictures, emotion of players and details, as a change of horses and moments of victory. It's like writing a story that has a start, intrigue, a culmination and a final."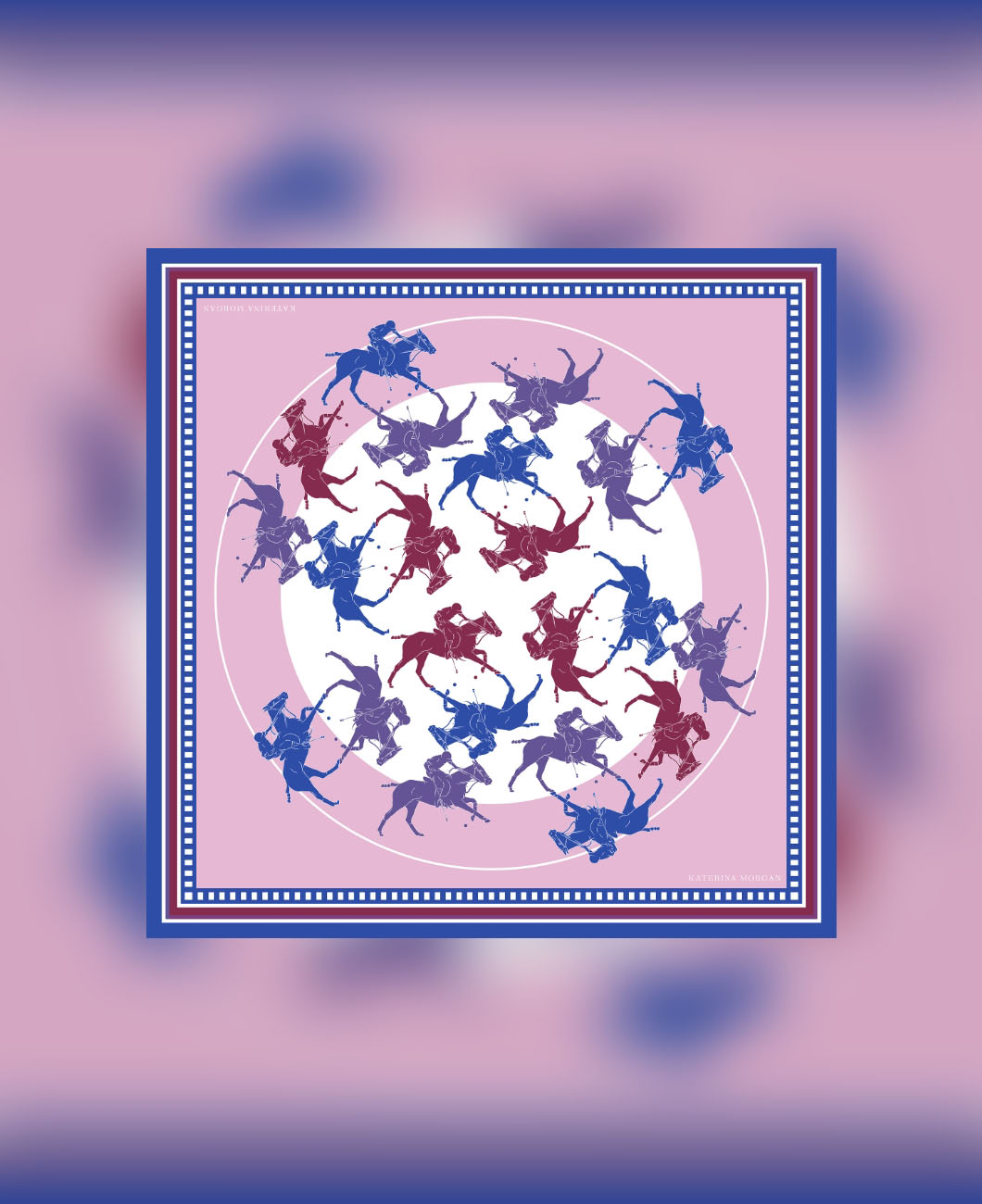 Talking further on the art of equine photography, she says: "I think the so-called perfect spot doesn't exist, and that's the reason I love polo. Each game is unique, and movements don't repeat and you never know what you will see today. After 10 years of shooting polo, I still catch images that surprise me.
I love shooting more in the evening and my favourite light is before the storm." She adds her thoughts: "First, is experience, sometimes you feel that now is an interesting moment to freeze the frame. And second, it's love for art, and visiting the best world museums with the greatest artworks created by humanity…all this is huge inspiration."
Katerina discusses some of her favourite exemplary artists and their remarkable art. "For me, as for thousands of people, one of the best examples in the history of equestrian art is paintings by George Stubbs. The favourite Whistlejacket is an oil on canvas painting from about 1762 located in the National Gallery in London. This painting makes a lasting impression. I always loved art and had the experience to work in an art gallery. Last year, I took a course in Christie's London about art business and opened my own online art gallery dedicated to polo and equestrian themes. I collaborate with the best international equestrian artists, some of them created new artworks based on my photos.
And now for me, all my artists are great exemplary artists and sources of inspiration. The horse was always a great companion to man and, in the history of art, they highlight their owner´s class, status and power. And my mission is to connect collectors and horse lovers around the world with the best creators of equestrian art. You can find in our gallery any kinds of arts, drawings, acrylic and oil paintings and sculpture with figurative and semi-abstract styles. Also, it's possible to make commissioned wall paintings and great bronze sculptures in large formats. It's inspiring to see that collectors appreciate and admire artists presented in my gallery and that we have global views (just now we sent a few artworks to Singapore). I'm very happy to see my clients' content and enjoy our artworks. "
When asked on what inspires her to pursue such an enthralling yet eccentric profession in the equine domain, she says: "I found something I really love to do. But I always thought about new ways to develop my creativity, and in 2019 I started a new project with a fashion brand. I created the first collection of silk scarves based on my polo photos with top polo players. We started our e-shop in November 2020.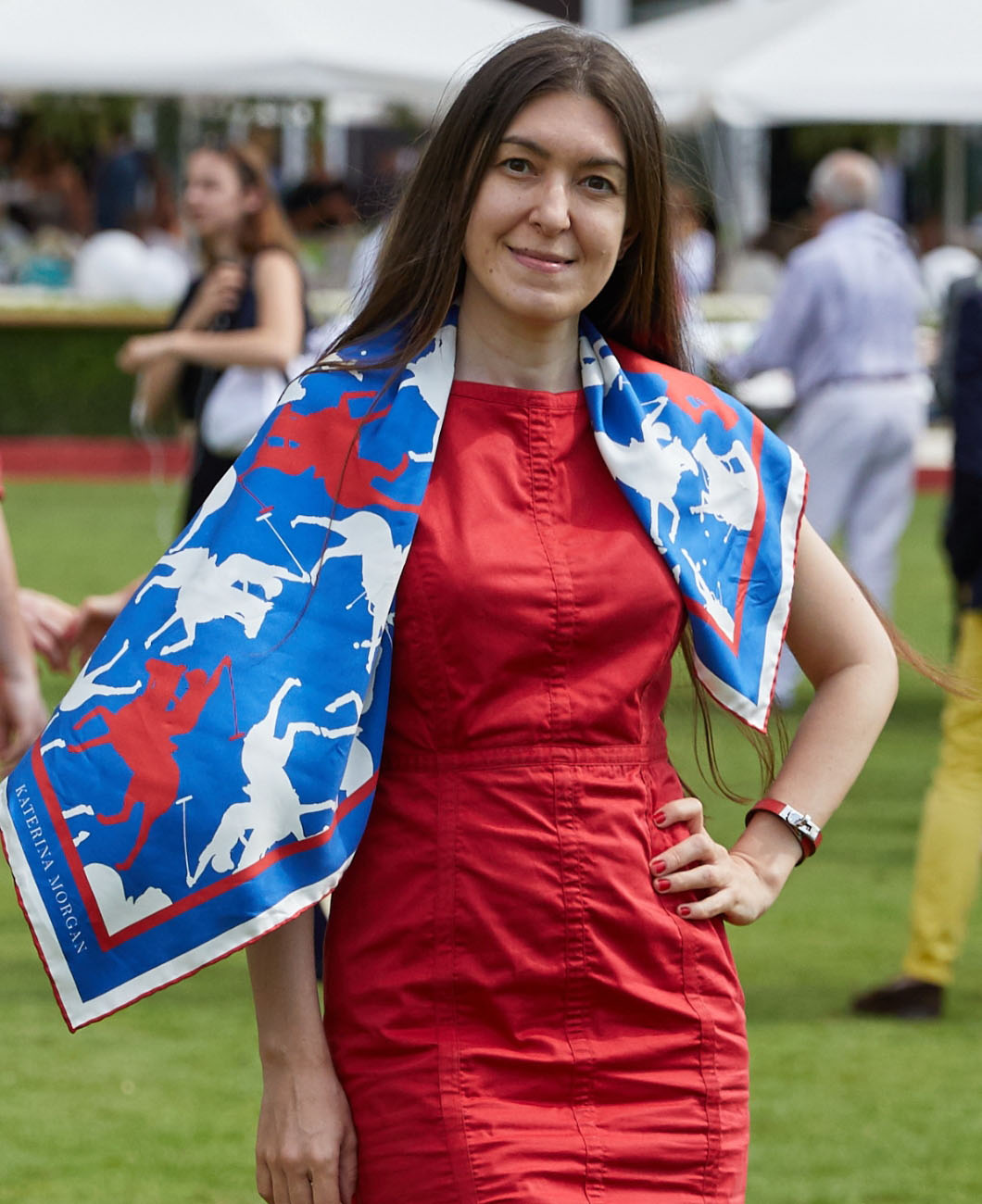 The scarves are produced in an Italian factory specialising in luxurious goods. I try to create something fresh, something that never existed before. We are proud to make the first scarf ever in fashion history dedicated to ladies' polo. This design was inspired by the only woman in Brunei who plays polo, Her Highness Princess Azemah. And with this experience with fashion, I was surprised that my clients usually ordered 2-3 or more scarves for themselves or as gifts for friends. We have sent our scarves to the USA, India, Spain, Dubai, Argentina, Switzerland and Brunei. I hope that in the coming years we will enlarge the variety of items with a polo theme. (https://katerinamorgan.shop/)."
Leaving us inspired with her vast experience and motivation, we asked her for a tip for younger aspirants. She said: "Try, study, don't be afraid to experiment with images and find your own style."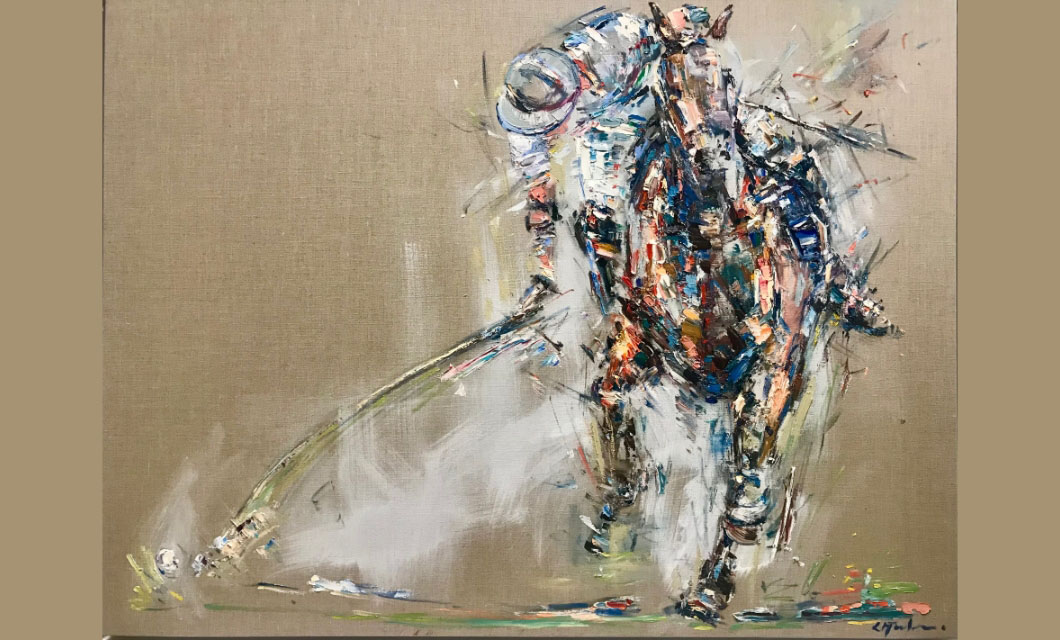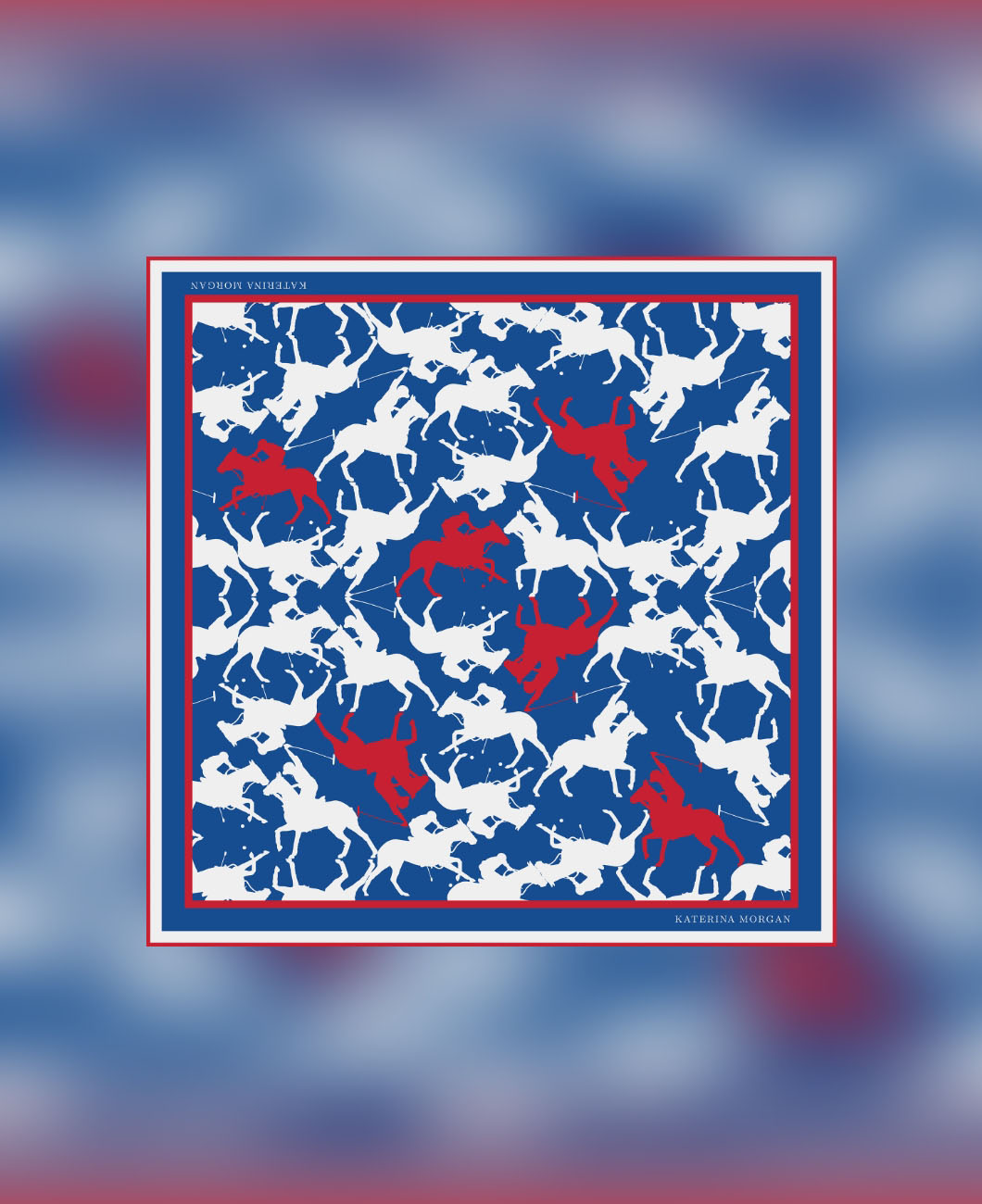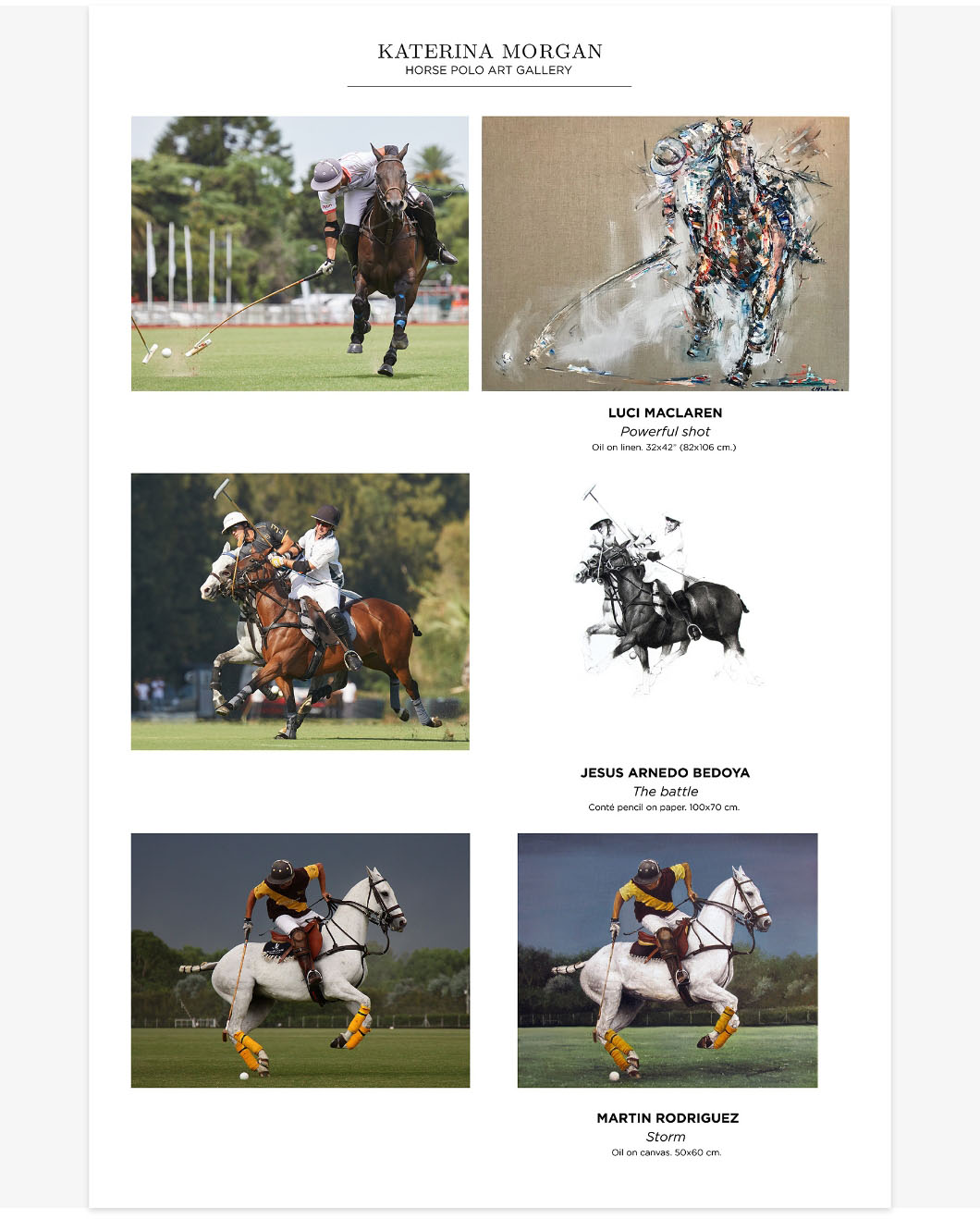 ---
Next