---
---
WINE & DINE IN NEW ZEALAND
---
With its breathtaking scenery and exciting wines, many would choose to live in the land of the long white cloud forever.
Land of the long white cloud--that's what's Aotearoa (New Zealand's name in Maori) is. Surrounded by the Pacific Ocean and the Tasman Sea, the country is known for its stunning national parks, dynamic Maori culture and incredible hiking trails. Whether you want to be mesmerised by the untouched, lush landscapes or want a world-class skiing and surfing experience with a promising adrenaline rush--New Zealand has it all! You can plan a vacation, a honeymoon, or maybe a "get away from it all" solo trip--New Zealand won't disappoint. New Zealand has a lot to offer when it comes to hospitality. There are some remarkable hotels and resorts that redefine luxury and some even add an enchanting hint of serenity to the vicinity, using nature itself as an embellishment.
Pamper yourself and enjoy the hospitality!
· The Huka Lodge
Standing firmly among one of the top luxury lodges in New Zealand, the Huka Lodge has a sophisticated air of elegance and class. Whether you are planning to celebrate the summer season or a party, the Huka Lodge is a premium choice.

https://www.hukalodge.co.nz/
· Bay of Many Coves
This place allows you to discover New Zealand in the most luxurious way possible. Relax and escape the ordinary beholding the extraordinary. Go on a special seven-course dinner carefully matched with the famous wines.

https://www.bayofmanycoves.co.nz/
· The Spire
New Zealand's premier holiday destination, The Spire Hotel Situated in the heart of Queenstown, offers award-winning luxury accommodation within a lively precinct, exceptional service and impeccable style with genuine hospitality and inner-city vibrancy. The Spire is a globally recognised establishment offering more than a luxurious escape. From the rooms to the streets, our boutique service will ensure your stay in Queenstown is every bit as indulgent and relaxing as it is lively and exciting.

https://www.thespirehotel.com/
· Intercontinental Wellington
Situated in the southern most city in the world, the establishment claims its fame as one of the most luxurious accommodations in the culinary capital of New Zealand. Here you can drink and dine in Central Otago's world-class wineries, cruise the barren beauty of the Mackenzie District, soak in geothermal pools in Rotorua or be inspired by the vibrancy of the Capital's culture and cuisine.

https://wellington.intercontinental.com/
· Hotel DeBrett
Nestled within the old-world charm of Auckland's High Street – just minutes from the bustle of the Britomart, lower Queen Street and Auckland's iconic waterfront – lies the delightfully Art Deco styled Hotel DeBrett. If you want to have elegant food sourced from local produce farms, alongside delightfully imaginative cocktails and carefully selected New Zealand wines, the DeBrett's kitchen is for you.
Call for paloozas!
Sharing food is a common and pleasant way of bringing people in New Zealand. Indulge in fresh seafood, sip local wine or be adventurous and try something you haven't yet tried! New Zealanders are quite subtle and the best way to blend in and to experience the real kiwi ways is to be a part of NZ's wine and dine events. Among a plethora of these extravaganzas there are some fiestas that really stand out.
· Toast Martinborough
For wine lovers Martinborough's picturesque setting has always been an ace since the festival started in 1992. There's no better time to try the region's best wines, the event is a perfect resonation of food with wine when top-flight Martinborough wineries team up with some of the region's best chefs. There are musicians too in case you really need to impress your lady.
· Bluff Oyster & Food Festival
Get ready to be hosted by the locals of the salty seaside town in the liveliest and most authentic manner. Besides if you can taste the famous bluff oyster in bluff itself then why not? The event promises a variety of seafood including crayfish, paua (abalone), scallops, salmon, blue cod and whitebait. So get your full coat and half belly to the arena and be ready to enjoy the eating competitions and local music.
· Marlborough Food and Wine Festival
An ethereal experience is waiting for you if you like to behold the scenic beauty with a stunning glass of wine. The definition of Marlborough Food and Wine Festival, New Zealand's most successful wine events, is combining quality wines, gourmet food and live music. Sip the famous Sauvignon Blanc, the region's statement and be entertained on one of the wine region's oldest and most beautiful vineyards, Brancott Heritage Estate.
· Hawke's Bay Food and Wine Classic
This celebration of food and wine is a way of Hawke's Bay to celebrate the prosperity that these two things bring. This festival is celebrated twice a year in November and June (since once isn't enough). Running for 10 days, F.A.W.C! gathers the east coast region's finest producers and purveyors into a feast of indulgence.
· Hokitika Food & Wine
Unlike any other food festival, Hokitika Wildfoods Festival embraces the extremity of food and drink culture. You really need to be quite adventurous to sample the local cuisine. From crocodile bites to deep fried pig's ears, you will get to see and taste the most unique and bold culinary skills
Bottles worth savouring!
"It takes a lot of good beer to make great wine," says Brian O'Donnell, a winemaker. Indeed, these are pristine, traditional wine making methods with meticulous details which enables a label to stand firm among the grand-crus. Charlotte Read, from NZ winegrowers, adds: "Sauvignon Blanc is the first to put New Zealand on the map, and it has developed a cult following with millions around the globe. The world's love for New Zealand wine continues to grow as wine lovers discover the diverse varieties on offer, including our expressive pinot noir, refined chardonnay, and refreshing pinot gris and rosé." Charlotte adds: "While much has changed in markets due to the impact of Covid-19 and there is a lot of uncertainty, the reputation of NZ wine remains intact – in fact it will likely have been enhanced by global coverage of NZ's strong response to Covid-19. Our united approach to addressing the pandemic in NZ with "our team of 5 million" has been lauded around the world. The BBC said the way we responded to Covid by relying on science and empathy was admirable." Being in New Zealand, what is it that one must try to bring back home a once-in-a-lifetime experience? In answer to this question, she says: "There are so many!

Visit https://www.newzealand.com"
New Zealand is known for Sauvigon Blanc when it comes to wines, but if you thought quality kiwi was all about that, well there's delightfully more to it. Here are some of the incredible companions for your toast:
1 – Destiny Bay Magna Praemia, Waiheke Island
Average Price: $322 – €276 – £246
Magna Praemia is a blend dominated by press fractions of Cabernet Sauvignon. Grown on Waiheke Island in Auckland Harbour by the iconic winery Destiny Bay, it is reminiscent of a "left bank" Bordeaux-style wine. What gives this wine a long-term ageing potential are fine, dense tannins. Latin for "great reward", this blend is an optimum balance achieved through the addition of free-run and press fractions of Merlot, Cabernet Franc, Malbec, and Petit Verdot. Destiny Bay ages its wines for 2-3 years prior to release to ensure they can be enjoyed from the time you receive them. Only about 2010 cases were produced (2014 vintage).

Winery

Website: destinybaywine.com
2 – Stonyridge Vineyard Larose, Waiheke Island
Average Price: $203 – €174 – £155
Stonyridge Vineyard was conceived and operated with the sole intention of making world-class Bordeaux-style red wine. Larose is classic Cabernet-dominant blend of Cabernet Sauvignon, Merlot, Cabernet Franc, Malbec, Petit Verdot, and Carménère, named Larose as a tribute to the rose, the most aromatic, colourful, intense, and beautiful of all flowers. The vineyard site was chosen specifically to produce this style of wine. The gentle north-facing slopes of the vineyard are sheltered from the cold south-westerly winds by the ridge which gives the vineyard its name. Summer temperatures regularly reach over 30°C with the highest temperature being 36°C. Combined with north-facing rows and excellent viticulture, the grapes achieve perfect ripeness in normal years. Stonyridge Larose 2015 was scored 94+ Points by Robert Parkers The Wine Advocate in March 2017
Winery
Website:
stonyridge.com
3– Mazurans Vintage Port, Henderson
Average Price: $172 – €147 – £131
The king of ports, Vintage Port is only made in exceptional years from the ripest and best grapes. Port takes on a luscious, velvety richness and develops toffee, nut and coffee flavours of an aged tawny, but with riper, more pronounced fruit elements. Vintage Ports at Mazuran's, a winery located in Henderson in the Eastern suburbs of Auckland, New Zealand, are available in many old vintages through to the 1940s with complex and rich notes, almost assuming a liqueur like quality.
Winery
Website:
mazurans.com
4 – Martinborough Vineyard Marie Zelie Reserve Pinot Noir, Wairarapa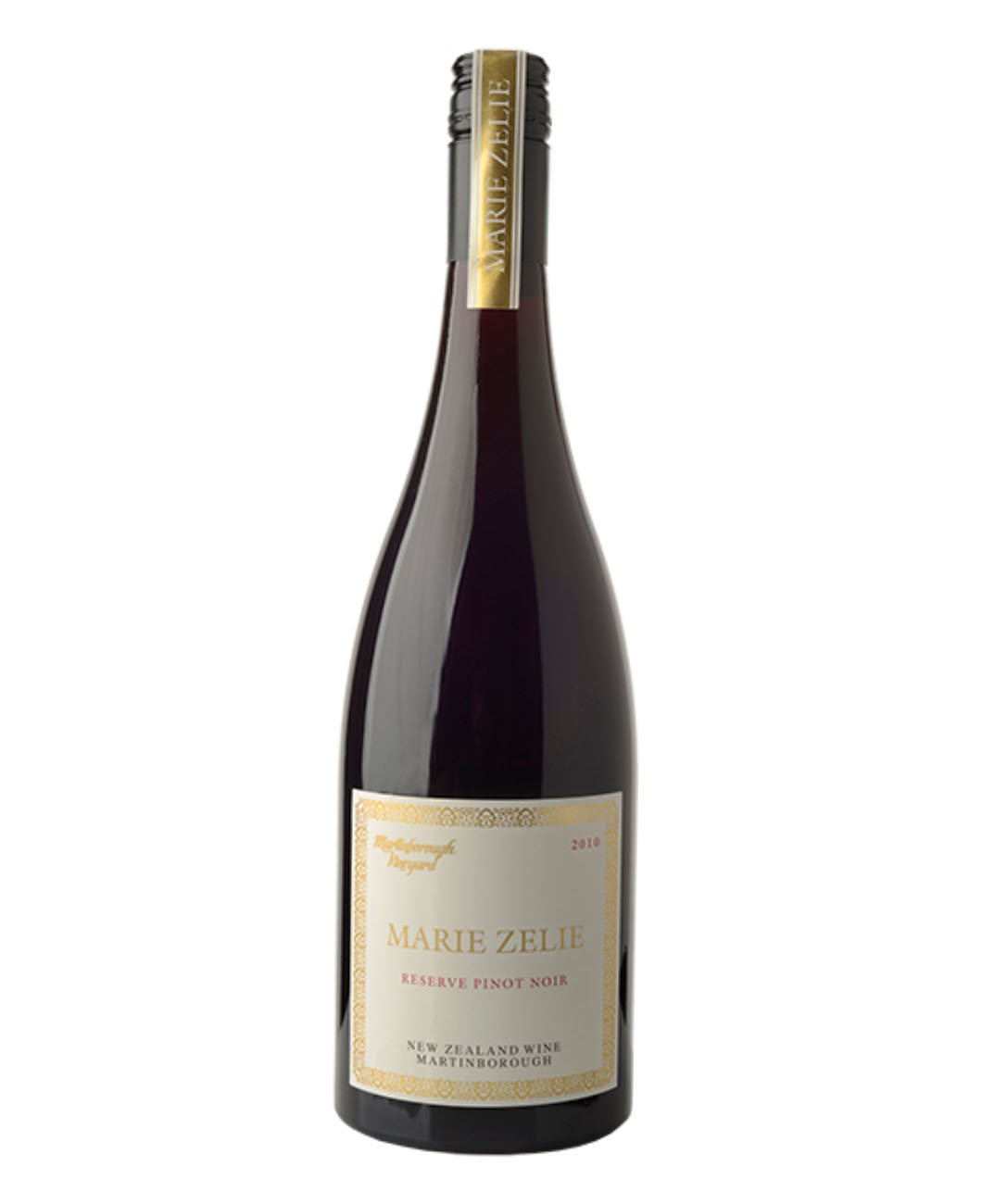 Average Price: $143 – €122 – £109
A kaleidoscope of aromas – bright red fruits, subtle Asian spices and lingering herbal notes come together to form a complex and beguiling Pinot Noir. Texture is got from the oldest vines whilst the cooler conditions experienced lend a lovely long and vibrant acidity. This wine is what Martinborough Vineyard Pinot is all about – lovely depth and richness, layers of flavour and great balance rather than raw dominating power or extraction. With careful cellaring, this wine will improve in bottle and cellar gracefully for at least 15 years. This special wine reflects the very best of Martinborough Vineyard, made from the oldest Pinot Noir vines on the estate.
Winery
Website:
martinborough-vineyard.co.nz
5 – Providence Four Apostles, Matakana
Average Price: $145 – €124 – £111
Providence is located in the rolling hills of the Matakana region, 60 kilometres north of Auckland. The vineyard is situated between the Pacific Ocean to the east and the Rodney Ranges (standing at over 400 meters), 2 kilometers to the west. Due to these features, the area enjoys a microclimate, noted for low rainfall and high sunshine hours, ideal to produce the best red wine in New Zealand. It's a blend of Merlot 34%, Cabernet Franc 25%, Malbec 21%, Syrah 20% (proportions for the 2008 vintage, 13%alc.).
Winery
Website:
providencewines.com
---
Next